Theatre Reviews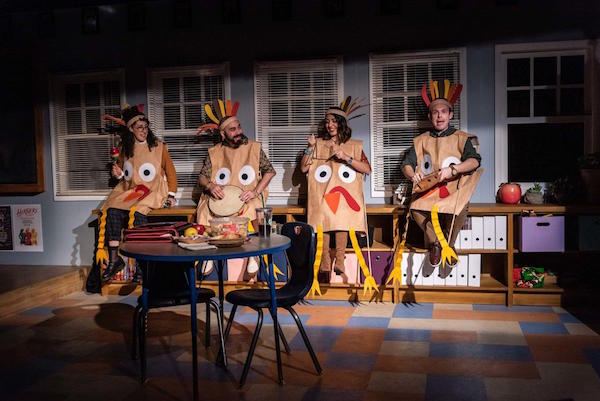 'The Thanksgiving Play' shakes up history telling in a funny, perceptive satire
Written by

Tina Farmer
The Studio season at The Repertory Theatre St. Louis delivered laughter and food for thought with the laugh out loud funny "The Thanksgiving Play." Playwright Larissa Fasthorse's pointed satire examines the ways white European Americans exclude people of color from history, with an emphasis on the presumptuous control of the narrative and perspective. The theme sounds heavy; the show is engrossing and hilarious.
The plot is centered on the creative efforts of Logan, a theater teacher and actor, and Jaxton, a local actor. The two are socially aware, with a sincere desire to create a more fully representative Thanksgiving reenactment play for young audiences at the school where Logan teaches. The story and the related school production take increasingly absurd turns when a Los Angeles actor and another teacher join them. In their attempt to derive an inclusive play, the four explore different stories than most history books tell topped with increasingly personal and comic digressions.
Logan worked all year to secure grants to fund the more accurate and, she hopes, eye opening show. She hires Alicia, a professional actor from Los Angeles, to join them and provide an authentic indigenous perspective. Caden, a history teacher, is also an amateur playwright with a love of research -- he arrives with the lengthy script he's already been working on. As the four begin the process of devising a new narrative about the holiday, we learn Logan picked Alicia from a headshot in which she's wearing some sort of headdress and never asked any additional questions. Alicia quickly explains that particular picture is one of many because, as they say in show business, she has an "exotic" look. With that simple statement, Logan and Jaxton's bubble bursts defiantly. And the results are hilarious.
Shayna Blass, as Logan, and Adam Flores, as Jaxton, are perfectly matched and just over the top enough to ensure laughs. But their positions, from Jaxton's "vegan adjacent" stance on cheese and the two consciously uncoupling before the rehearsal starts to their efforts to ensure inclusion, are sharp enough to hit home with a sting. There's also believable chemistry between the two without losing the complexity and quirks of the individual characters. Ari Djirdjirian, as Alicia, and Jonathan Spivey, as Caden, provide solid support and plenty of additional humor in the quick paced, deeply engaging show. Djirdjirian has an easy confidence that comes, in part, from the fact that she knows and accepts herself. She may not be the brightest bulb in the chandelier, but she isn't stupid or selfish. Spivey borders on lascivious, whether he's discussing his violently accurate and verbally suggestive script or eagerly wanting to fit in, but in a comic way that's awkward, not creepy or unpleasant.
Efran Delgadillo Jr. creates a believable schoolroom through a set design that's perfectly complimented with costumes by Lux Haac. Strong fight choreography by Michael Pierce, lighting design by Porche McGovern and sound design by Cricket S. Myers add well-chosen final touches, and the props are a big, bold bow on the top. The parts add up to a believable reality with a little extra personality, and the actors play off of each other with a natural, unaffected ease that encourages the audience to sympathize with each surprising twist. Even moments that make you feel uncomfortably self-aware remain laugh out loud funny and effectively thought provoking.
Director Amelia Acosta Powell ensures the delivery is purposefully emphatic and affecting, with impossibly tempered emotion and well-controlled anger, but the show isn't bitter. There are  moments, such as when Jaxton unexpectedly embraces Logan's frustrated eruption or when Logan is enraptured by Alicia's simplistic approach, when the play provides an oddly joyful release. Though the story cadence is familiar, and the audience can see the revelations coming, the trip there is fascinatingly funny. As importantly, all four of the characters stumbling through the comically plausible plot manage to remain likeable throughout; and Logan and Jaxton, for all their enlightenment, are endearing in a traditional romantic comedy way.
"The Thanksgiving Play" is decidedly a satire, however; as Fasthorse incorporates layers of references in the script, from visual gags and storytelling genres to pop culture and middle school to the essentially human desire to be liked. I don't know that the school board would agree, but the production is a fabulously constructed and performed show that delivers authentic, purposefully motivated characters telling important truths through the laughs. The Rep's Studio plays offer a chance to see what are frequently personally or thematically evocative works in a more intimate setting and concludes its season with "The Cake," opening March 11.
Related Articles