Theatre Reviews
Theatre Reviews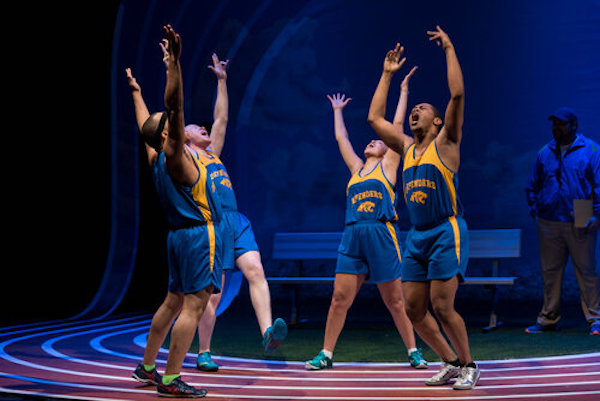 'Ghost' personalizes the never-ending race between the good and bad in the world
By
The struggles and challenges of growing up poor in a contemporary city are realistically addressed in Metro Theater Company's compelling "Ghost." The play for young audiences encourages empathy, recognition and understanding through the story of one young man. Jointly commissioned by Metro and the Nashville Children's Theatre, the play is based on the book by Jason Reynolds as adapted for the stage by Idris Goodwin.
By the time he's in middle school, Castle Cranshaw has already faced a number of serious challenges in his life. He and his mom started over again after fleeing their home to escape his father angrily shooting at them. Though they've resettled, life at school remains challenging and Castle is constantly dealing with bullying due to his address and poverty. Armed with a defensive nature and sense of distrust, it's no surprise that he sometimes gets into trouble at school, even if he's simply standing up for himself and his mom. 
When Castle stumbles across the coach and members of the Defenders track team practicing one afternoon, he laughs out loud, thinking how easy it looks. As it turns out he's mostly right, in that he has natural speed, but he still has a lot to learn about competitive running, about trust and about succeeding in life. Taking "Ghost" as his moniker, and backed by a loving but careful mom, a firm but understanding coach and the kind and helpful store owner Mr. Charles, Castle may just find his footing in life after all.
Character development that allows the cast to be multidimensional and know that the young audience will follow along is among the important hallmarks of the play. Castle is not perfect, he's just a kid. Playwright Goodwin, director Jacqueline Thompson and actor Jarvis L. Williams ensure we see the motivation as well as the consequences of Castle's choices. Williams is friendly, relatable and completely captivating as the young budding athlete. Moving seamlessly from narration to action, he expresses the uncertainties and insecurities that Castle faces everyday, as well as his joy, intelligence and personality. But there's a serious edge to his confidence, and a mix of hope and bravado that reminds us he's experienced much more of the world's evils than a boy of his age should. The script and performance are poignant, never preachy or pedantic, and easy to believe.
The talented cast surrounding Williams features stand out performances from Carl Overly, Jr., as the coach, and Alicia Revé Like as Castle's mom, as well as Joe Hanrahan as the encouraging shop owner Mr. Charles. Rae Davis, Ernest Emmanuel Peeples and Jaz Tucker are fully committed and believable as the other kids in the story -- many of whom face their own unique challenges. There are several moments that may frighten younger and more sensitive audience members, including a silhouette of Castle's father yelling and gesturing at Castle and his mom accompanied by the muffled sound of gunfire and an occurrence in the school cafeteria featuring a bully targeting Castle. The scenes are not avoided, but the impact is purposefully lessened, ensuring suitability for most audiences (there are also a limited number of sensory friendly performances scheduled during the run).
Goodwin's adaptation of Reynolds' novel for young audiences is gripping and enveloping, and the story is enhanced by excellent staging and vision by director Thompson. Inventive movement by Heather Beal incorporates elements of modern and hip hop dance into running and utilizes purposeful choreography during scene changes, keeping audiences watching and propelling the show's energy forward. Thompson and Beal also add stutter steps, pauses and a little back and forth that captures Jackie "Jackpot" Sharp's sound design while David Blake's fanciful interpretation of a running track provides a bright and cheerful backdrop, with hints of surrealism. The lighting design, by Jason M. Lawshee, lets the audience see the most upsetting moments of the story in shadow, enabling a more suggestive and less disturbing retelling, and Felia K. Davenport provides volumes of context with realistic costume design.
Suitable for all but the youngest and more sensory affected family members, Metro Theater Company's "Ghost," continuing through March 1 at the Grandel Theater, is entertaining and educational theater that's compelling from start to finish. The company and director Thompson lead a quality cast that sparkles, welcoming audiences in with warmth and a genuine affection for storytelling. In addition to its school-audience talkbacks, Metro invites interested families and audience members to a short question and answer session after most public performances.
Related Articles