Theatre Reviews
Theatre Reviews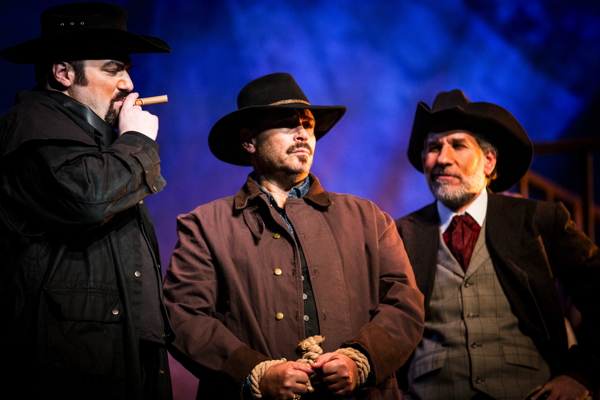 Opera Review: Winter Opera's 'La fanciulla del west' is a delightful surprise
By Chuck Lavazzi
There are number of remarkable things about Puccini's 1910 drama "La fanciulla del west" ("The Girl of the West"), not the least of which is the fact that the excellent production Winter Opera is presenting this Friday and Sunday (March 6 and 8) is the St. Louis premiere.
Karen Kanakis
Photo by Riq Dilly
Commissioned by and first performed at the Metropolitan Opera in New York, "La Fanciulla del West" is, as far as I know, the only Italian opera set in a mining town in the American west in 1850. It's based on the 1905 melodrama "The Girl of the Golden West" by the American producer, director, and playwright David Belasco, whose "Madama Butterfly" was the basis for one of Puccini's greatest hits.
Performances of it have become pretty rare over the last few decades, possibly because the score, richly orchestrated and dramatic as it is, doesn't have the big, show-stopping numbers you find in Puccini's other operas. There's no equivalent of "Nessun dorma" ("Turnadot"), "Quando m'en vo" ("La Bohème), or "Visi d'arte" ("Tosca"), for example, although there is a rapturous love duet in the second act that I'd put up against some of the best stuff in the composer's other operas.
Or maybe it's the fact that this is, to the best of my knowledge, the only non-comic opera by Puccini that doesn't end with the death of the heroine. Indeed, nobody dies at all in "La fanciulla del west" and the villainous Sherriff Jack Rance just quietly slinks off stage in disgrace while the lovers walk off into the sunrise to start a new life together.
Jorge Pita Carreras, Karen Kanakis
Photo by Riq Dilly
Minnie, the girl of the title, is also not your usual long-suffering Puccini heroine, ready to die for love. In fact, she's a saloon owner with a shotgun who isn't afraid to use it in defense of her lover, the reluctant bandit Ramerraz (he inherited the business from his father and is looking for a way out). Mimi she ain't.
Perhaps the most remarkable thing about this opera, though, is that it works so well as drama. Once you get over seeing rough-hewn, gun-toting, cigar-smoking "forty-niners" singing in Italian and getting homesick for their mothers, this story of Minnie's heroic efforts to save Ramerraz from the noose is pretty entertaining stuff, complete with a last-minute rescue from the gallows by a rifle-toting Minnie.
There's also an especially tense scene in the second act, when Rance discovers that Minnie is hiding the wounded Ramerraz in her cabin. She challenges Rance, whose lust for Minnie is as strong as his desire to put an end to Ramerraz, to a game of poker. If he wins, he gets her and Ramerraz. If he loses, he leaves them both and says nothing about Ramerraz's whereabouts. Minnie cheats and wins, but it's a nail-biter of a scene anyway, with the action accompanied only by a short, ominous motif in the lower strings.
Mark Freiman, John Robert Green
Photo by Riq Dilly
Winter Opera has had its ups and downs over the years. This exceptional cast is definitely one of their "ups." Soprano Karen Kanakis whose Giannetta lit up the stage [n Winter Opera's "L'elisir d'amore" in 2018, is just perfect as Minnie, with a drop-dead gorgeous voice and acting that is never less than credible, even in Minnie's "too good to be true" moments (which, to be fair, are probably true to the libretto's origins).
As Ramerraz (a.k.a "Dick Johnson," a pseudonym that the Sheriff sees through almost immediately) Jorge Pita Carreras once again displays the powerful bel canto tenor voice that distinguished his roles in Winter Opera's "Il trovatore" and "Carmen". This time around I found his acting far more convincing, which is one of the things that made his big duet with Ms. Kanakis so ravishing.
NYC-based baritone John Robert Green makes an impressive Winter Opera debut as the morally flexible Sheriff Jack Rance, whose dedication to law and order doesn't prevent him from promising to abandon his wife if Minnie will just submit to his unwelcome advances. From the moment he swaggers on stage in the prologue, appropriately dressed in black and puffing on a stogie, there's little doubt that he's a marginally more honorable version of Scarpia from "Tosca" (unlike Scarpia, Rance's word is actually worth something). His powerful voice can seduce or snarl as required.
Other outstanding performances include Bass Mark Freiman's Ashby, the Wells Fargo agent tracking down Ramerraz; baritone Jason Mallory in the cameo role of the minstrel Jake Wallace; and bass Aleksandar Dragojevic as Jim Larkens, whose weepy plea for money to pay his passage back home brings out an unexpected burst of generosity among his fellow miners.
Tenor Marc Schapman is a sympathetic presence as Minnie's loyal bartender Nick, and mezzo Erin Haupt and bass-baritone Jeremy Gussin have a tender comic moment as Minnie's housekeeper Wowkle and her beau Billy Jackrabbit, who are getting hitched just in time to make their baby legitimate.
The chorus
Photo by Riq Dilly
The members of the Winter Opera chorus (all male, in this case) do their usual fine job of turning each of their characters into clear individuals, whether they have solos or not, and Dario Salvi conducts a powerful rendition of Puccini's unusually colorful score, with some first-rate playing from the musicians--some of whom will be familiar to regulars at St. Louis Symphony Orchestra concerts.
Stage Director Jon Truitt manages the large cast well and keeps the story moving. Scott Loebl's scenery (including an impressive mountainous backdrop) and Felia Davenport's period costumes help to enhance the powerful feel of time and place.
The bottom line is that Winter Opera's "La fanciulla del west" is one of the weekend's "must see" shows, and not just because this may be your only opportunity to see a live production of it locally. It's an opera that, at least for me, is actually more musically and theatrically coherent than some of Puccini's more popular works (I'm looking at you, "Turandot") and Winter Opera is doing it up in fine style. Performances, which are sung in Italian with English supertitles, are Friday at 8 pm and Sunday at 3 pm, March 6 and 8, at the Skip Viragh Center on the Chaminade campus. Visit their web site for ticket information.
Related Articles