Theatre Reviews
Theatre Reviews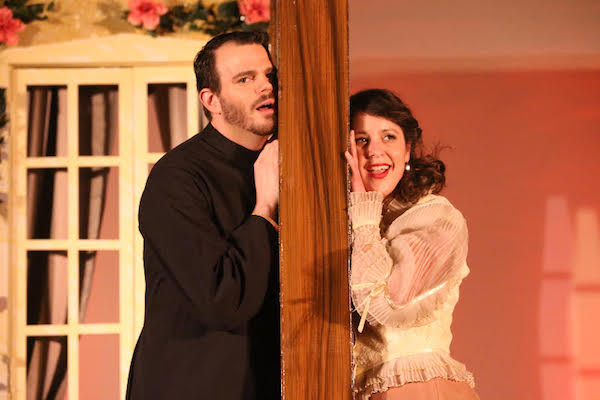 'Lucrezia' with 'Carmen vs. Lucia di Lammermoor' and 'LOLCATS teh Oper' at Gateway Opera, April 8
By
Gateway Opera is like a five-star tapas restaurant; it continues to delight its patrons with superbly delicious bite-sized offerings of that succulent dish -- opera. Pat upon the heels of its recent excellent evening of one-act operas, Gateway blossoms forth with yet another wonderful evening. This time we are treated to two bubbly little aperitifs to get us just a tiny bit tizzled before the presentation of the light and charming entrée.
The provenance of these first brief comic operas is curious indeed. At last season's "Impessario" the walls were adorned with posters for imaginary operas. These were so amusing that the company asked that brilliant lady, Caetlyn van Buren, to construct real sketch-operas to fit the posters. At their February fund-raiser five of these petite comic gems were presented. The audience voted for two to be given a further production. And those winners are what graced the stage last Friday -- "curtain-openers," as it were, for the larger work of the evening. Production values for these are minimalist: no set, just curtains and lights.
The first was Carmen vs. Lucia di Lammermoor. We see these two divas fiercely battling for ownership of the Holy Grail. Carmen (Allison Glass) is in a colorful swirling gypsy skirt, Lucia (Gina Malone) in a lovely white gown. They are visited by the Queen of the Night (Madeline Black) appropritely spangled with stars. Micaëla, the maiden from "Carmen," also appears in the person of soprano Sarah Price.
The voices are all glorious. Ms. Glass displays great passion, dramatic dynamics, and fiercely rattled Spanish "r's," and Ms. Malone meets her head-on with that beautiful soprano voice that has become a favorite at Gateway Opera. Ms. Black decorates her role with those crisply articulated laser-like staccato cadenzas we find in Bel Canto works and Ms. Price shows great vocal beauty and power in her performance.
There's a very lovely duet between the divas. There are bits and pieces from all these ladies' home operas (and perhaps from elswhere -- it's a little confusing).
It's all quite beautiful -- and it's hilariously funny. The action is rather rough-and-tumble as are the new lyrics: "Shut your mouth, scum!" cries one diva to another.
The second aperitif is called LOLCATS teh Oper. (That's not my typo--it was typed by cats.) Six singers take the stage (Madeline Black, Erika Cockerham, Sara Gottman, Darrell J. Jordan, Katie Rush and Keith Wehmeier). They are sketchily costumed as cats. Music director Robert Valentine conducts this sextet with a long baton which has a pink streamer attached. This is to tease the singing felines. Other cat toys are tossed about among the singers as we watch (on a large screen beside the stage) some of the funniest cat videos you've ever seen. A wild variety of arias and songs spring forth--a great patchwork of everything. There was "The Toreador Song," "A Wandering Minstrel I," "Habañera," "That's Amore," "The Flight of the Bumblebee," some "Carmina Burana," "Why Can't You Behave." And did I hear "The Hall of the Mountain King"? We see the death of Pagliaccio; we meet a pirate from Gilbert and Sullivan. Everything! But these musical bits are carefully chosen to exactly fit the hilarious behaviour of all those video cats as they bravely, stupidly, and unsuccessfully attempt one impossible leap after another. "Ave Maria" is beautifully sung as one pathetic pussy lifts her front paws prayerfully again and again to the refrigerator door. Cheap laughs, yes, but oh, so many of them! And the singing is superb.
These two sketches are very much in the mode of Monty Python -- brilliant, superbly trained people having gleeful fun exercising their splendid talents and imaginations.
But these are merely the amuse bouches of the evening. The real pièce de résistance is Lucrezia, a comic chamber opera by William Bolcom. This is perfection indeed. Perfection in its composition, in its clever libretto (by Mark Stephen Campbell), and in the work of every one of the performers, directors and designers involved.
Lucrezia is based on "La Mandragola," the most remembered comic play of Nicolò Machiavelli. (Yes, that Machiavelli.) It's done in the style of a zarzuela -- the Spanish folk operetta that began in the 17th Century and is still being produced. I saw a zarzuela in Madrid some fifty years ago -- and another at Opera Theatre of St. Louis only thirty or so years ago. Bolcom, Campbell and Gateway have given me the best zarzuela ever.
We see a most simple but lovely set: a rose-covered window on our left, an elegant polished wooden door to the right. These pieces later turn and instantly become a romantic bed and a confessional. A vast empty sky rises limitlessly behind -- tinted appropriately by lighting, from a romantic rosy peach to faint lavendar to rich blue. Excellent work by designers Scott Loebl and Mark Feazel.
With brisk efficiency and the toss of a rose we dive right into the plot. Young Lorenzo has caught the eye of the beautiful Lucrezia. He's immediately in love! But she's married! Her doltish husband wants a son but thinks his wife is barren. Lorenzo's clever servant, Chucho, devises a scheme to satisfy everyone: Lorenzo is to disguise himself as a doctor and offer the husband a magic potion compounded from mandrake root. This elixir, when taken by a woman, is guaranteed to make her pregnant. But there's a catch: the next man to sleep with her will die instantly. So:
A fall-guy must be found to bed the girl and take the hit. (Lorenzo disguised again -- as a wandering fool with a huge moustache.)
Lucrezia must be pursuaded that it is morally right for a young wife to go along with this scheme, so Lorenzo disguises himself as an approving priest and Lucrezia's mother is recruited to press her daughter into the game. Lucrezia is eager already, so she needs little persuasion.
Lucrezia is sung by soprano Emily Moses. She's a stunningly beautiful young woman with very stageworthy eyes and a most alluring smile. She has a heavenly coloratura voice, lucid diction and such easy access to power.
Anthony Heinemann brings a soaring, clear tenor to the role of Lorenzo. A handsome young man, he's the perfect match for this Lucrezia. There's an innocence to this Lorenzo, yet his comic sense is most professional. I loved his turn as the phony German Doctor. The opera is, of course, sung in English, but here "Dr. Hermann" speaks a nonsensical German. In this bit we are given absurd translations in projected old-fashioned magic lantern subtitles.
Bass-baritone Robert McNichols, Jr., sings Chucho, the clever servant. His voice is rich and powerful and he's a natural comic. A sturdily built man, he can scamper about the stage with great agility, occasionally swinging into a few tango steps. His glee is radiantly apparent as he is promised one bag of gold after another should his scheme be successful.
Sarah Price sings Annunciata, Lucrezia's mother, who is desperate for a grandson. She does wonderful work. Her duet, "We women . . . " with Lucrezia is one of the high-points of the evening.
Lyric baritone Darrell J. Jordan shines as the husband, Ignacio. He hits just the right tone in making Ignacio a handsome, clueless dork -- who happens to have a beautiful voice.
One of my favorite scenes is when Lucrezia meets Lorenzo-the-"priest" at the confessional. The Priest assures her that it's OK to sleep with another man as long as she doesn't enjoy it: No pleasure/no sin! Lucrezia pours out her dreams of passionate love. It gets pretty steamy in that confessiona! And in the end she leaves with the Priest's final word: "God sayeth it's OK-eth!"
Stage direction, which is most graceful, is by Mark Freiman. He keeps it lively and points every laugh beautifully.
Music director Nancy Mayo has led her singers into great, great beauty--and contributes much to the comedy as well.
The show is quite simply perfect. It's a gem!
The pace is brisk, the comedy is bright and modern and beautifully made. Dramatic surges of Spanish music sweep into the score from time to time. There is a lovely sense of melodrama. Once, as Lucrezia sings at her window, framed by its curtains, there is a definite sense of a Punch-and-Judy show. There is lovely balance and economy throughout. Truly this compact, swift comic opera makes all those things by Mozart and Rossini seem so very, very long-winded.
Gateway Opera, with its focus on short, lighter pieces and with its very high level of quality makes an ideal introduction to the art form. I strongly recommend it!
Related Articles