Theatre Reviews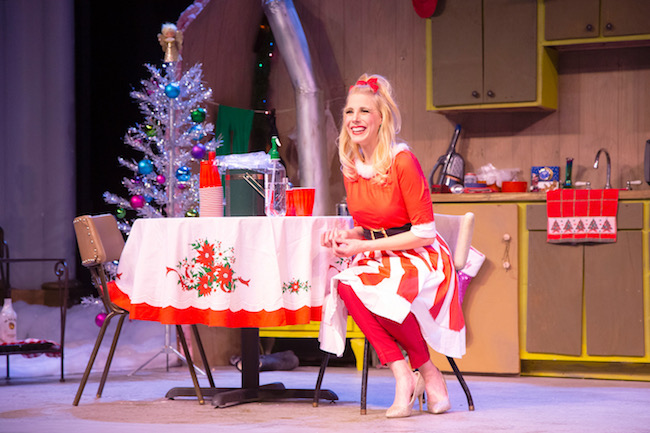 A 'Who's Holiday' revisits some beloved characters in a funny, twisted tale
Written by

Tina Farmer
If you like the holidays served up with a snarl and a little sass, you may already be well aware that Stray Dog Theatre's seasonal offering is always a twist on tradition. This year's production, by playwright Matthew Lombardo, humorously recounts what happened to the Grinch and Cindy Lou Who after the fateful Christmas made famous by Dr. Seuss. And let's just say the resulting years were not all sunshine and lollipops for the newly minted friends.
Cindy Lou Who, played with perfectly exaggerated cartoon sensibilities by Sarah Polizzi, is all grown up and living on her own. Shunned by most of the residents of Whoville, she's trying to make the best of the holiday. Cindy Lou has planned a party with other friends from the Seuss catalogue, such as Horton, the Lorax and Yertle the Turtle, and she's anxiously making her final preparations. She's also happy to chat with the audience as she finishes things up.
With that introduction, we launch into the often funny, frequently raunchy and always interesting tale of her life. Since we last saw her. Recently released from prison, she's living in the trailer her uncle left her and trying to stay hopeful and positive. She's estranged from her daughter and her so-called friends are canceling on her party, one after another. Luckily, she's got us to talk to and occasionally interact with.
Polizzi is animated and her voice affectations are a spot on recollection of the character. From the moments she bursts through her front door, she's perky and bright, with an initially cheery disposition as the cartoon character come to life. Her voice sparkles with sing song delight at the rhyming dialogue and her movements have the precise clip of the original animation. This approach works well for the majority of the show.
There are a few moments, when Cindy Lou's thoughts turn a little darker or she admonishes an audience member, that don't quite work as likely intended. When the subject matter veers towards sex or her opinions of others, including select audience members, the shift in tone occasionally comes across as harsh instead of fun with a judgey edge. What should be flip and sarcastic sounds almost mean-spirited. Polizzi gets little help from the playwright at these times, in this reviewer's opinion.
While some of the missteps may be due to Polizzi's cheerfully friendly and sweet persona, the issues with delivery are rooted in the script. The show's framing and set suggest an element of judgment, so audience members shouldn't be too surprised when the script overtly pokes fun at them. If not delivered with the right attitude and build up, however, these moments can fall a bit flat. There's an abundance of overt sexual posing written in that Polizzi looks, frankly, uncomfortable performing. Additionally, sections of dialogue, particularly suggestions of sexual grooming and underhanded quips about gay men, may make some audience members uncomfortable. Others clearly enjoy the interaction, easily taking it more as a tease.
I imagine Polizzi will lean into the snarky, teasing attitude of the character as the run continues and she becomes more familiar with her audiences. Certain lines depend on tone and attitude to land successfully and Polizzi may still be finding her voice here. Overall, the script is funny, forgiving and accepting of all types of people and love – and that message is more powerful and lasting than any potential miscues.
Director Gary F. Bell keeps the pacing lively and ensures Polizzi's Cindy Lou still tugs at our heartstrings, even if we question her choices. The show looks great from a technical standpoint as well. Josh Smith's scenic design takes us inside the trailer, and adds all the right working class touches. There's a toaster oven, small fridge and sink, compact rooms with well-worn furniture and a few festive decorations. Megan Bates costumes are another highlight. We can clearly see the transition from toddler Cindy Lou to her grown-up version, even her hairstyle reflects an updated interpretation of the toddler 'do. Polizzi's make-up underscores the character's genesis as a cartoon illustration, though her button nose was an occasional distraction.
In keeping with Covid safe theater practices, masks are worn and Cindy Lou dons her own mask before inviting anyone to the stage. Guests who may be called up to the stage are singled out before the show and agree to their participation. Additionally, Sarajane Alverson will portray Cindy Lou Who for select performances, as noted on the company's website. Finally, please note that the run of the show is essentially sold out, unless additional performances are added. The company has an active waiting list, however, and is trying to ensure every seat is filled. For holiday fun with a real attitude, Stray Dog Theatre's "Who's Holiday," continuing through December 18, is a humorous, naughty little treat that might just hit all your seasonal buttons.
Related Articles