Theatre Reviews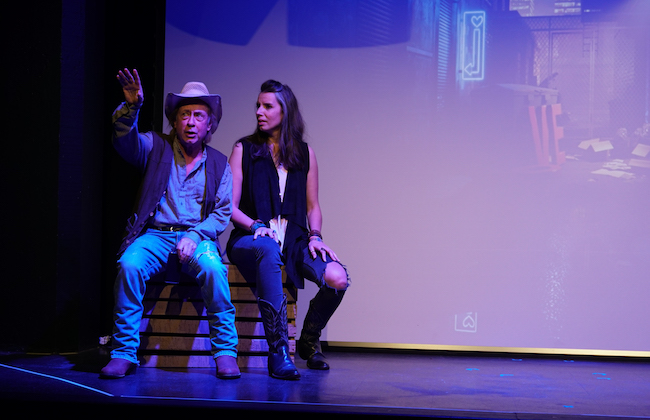 The funny, affectionate 'Tinseltown' takes on Hollywood and comes out grinning
Written by

Tina Farmer
For a small, professional theater company in flyover country, the Midnight Company clearly understands Hollywood. Their new play, penned by artistic director Joe Hanrahan, is a sharp, laugh out loud funny look at Hollywood in three short, well-connected acts.
Directed by Rachel Tibbetts and featuring Harahan and Ellie Schwetye, the show examines the connections and personalities that make show business hum in "Tinseltown." The story introduces us to three women who represent a cross section of the industry. A well-known but aging actress looking to remain busy and relevant. A singer songwriter who hopes to write songs for movies in addition to performing her one big hit. A young director who hopes to helm her passion project next. Starring the actress. With a score by the singer songwriter.
The first act introduces Schwetye as actress Beverly Montclair waiting for her agent, Hanrahan's Bobby Daniels. Not accustomed to waiting, she's several martinis in by the time Daniels arrives. The tipsy actress is a little louder and more honest than usual, perhaps, but she's as self absorbed as ever. She can't even be bothered to remember Covid or the global pandemic. To her, they're just inconveniences keeping her from her craft.
The second act introduces us to the once-popular musician Teenah Davis and sometime rhythm guitarist Hank Riley. They bump into each other in the alley behind the bar where Davis is trying out some new material. She plans to head to the studio soon, for an album and to record some songs she's working on for an upcoming movie. Things aren't quite right tonight. Still, she and Riley give each other a little hope.
The third act finds us on the set of a CGI and green screen heavy sci-fi movie with a tight schedule and budget, but a very loose script. Director Susan Dmitri is eager to get today's shoot and the entire project in the can. She has high hopes her next project will get the go ahead now that some big names – Bev Montclair and Teenah Davis – are attached. But today she needs to get Richard Hoffman, a British stage actor working on his first Hollywood film, to get this scene finished.
Each act stands alone and could easily be presented as a complete one-act play. Together, they create a triptych that humorously celebrates the people who make movies. With the two skilled actors on the stage and Tibbetts guiding the ship, each scene is stylistically different and distinct, yet clearly connected. The acts are well balanced and reference each other without dependency. Schwetye and Hanrahan have an easy, natural chemistry on stage. Each seems to genuinely enjoy the character banter. Tibbetts ensures that the interpretation and action weaves the script together as slickly as the dialogue. She uses smart pauses to briefly emphasize crossover references, helping the actors find and deliver the humor with unaffected aplomb.
The playwright peels back the shiny veneer of movie making in a similar vein as Robert Altman's "The Player," but gives the story a much lighter touch, and no death. There's a lot of inherent humor about the business, but it's clearly delivered with natural, off-the-cuff ease. Harahan's writing ensures that we're in on every joke, from Montclair and Daniels dripping with insincerity as they call each other "darling" to Davis and Riley joking about drummers to Dmitri suggesting there's a part in her new movie for Hoffman if they can just get this shoot wrapped. The script seamlessly marries our ideas and the reality of Hollywood in a way that embraces the funny bits and includes the audience.
The set design is simple, the soundtrack a thoughtful mix of popular tunes that reflect a southern California vibe. The costumes are straightforward and effective at establishing personality and status. The real technical highlight here is Michael Musgrave-Perkins' video backdrop. In addition to specifying each act's location, short montages take us from one spot to the next while noting the passage of time from day, to night, to the next day. It's a smart transition that helps draw the audience into the story of each new act.
Truth be told, "Tinseltown," continuing through December 18, is a love story. To the magic of movies and the sometimes quirky, always interesting people who make them. The performances sparkle and snap with just the right nuance, emphasizing the show's many funny moments with a sense of grace and genuine fondness. Smart choices and interesting, authentic characters revel in the well-crafted script, possibly Hanrahan's best writing yet. Schwetye and Harahan are in top form and Tibbetts keeps the pace quick while playing each bit of dialogue for maximum impact. The result is a real treat to watch.
Related Articles