Theatre Reviews
Theatre Reviews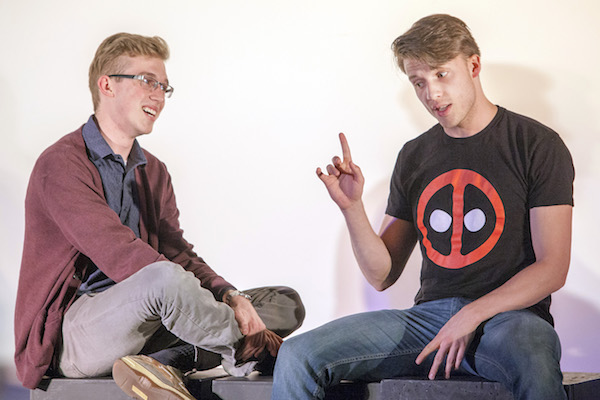 'BRIEFS' celebrates acceptance and explores identity in eight thoroughly enjoyable short plays
By
"Briefs," the fifth annual festival of short LGBTQ plays, celebrates a rich diversity of characters, stories, and talent with eight short, life affirming plays. Each year, the selection and order of stories suggests a loose theme; for me the overriding message this year was all about the comfort, protection, support, and courage we find through love.
Additionally, and perhaps as importantly, there is a universal quality to this theme. We all love, we all have conflict; we've kept secrets, ran away, been heartbroken, and made drastic life changes to be true to our self. But there are also relationships we hold dear to our heart which neither time, distance, nor sexuality can tear from us. At least, that's how it appears to this reviewer. This year, "Briefs" explored the facets of relationships from the LGBTQ perspective and found inherently human, perfectly imperfect, and beautifully flawed stories.
The stories, though not always light, are warm, filled with affection and every expression of love, from flirtation to lust to commitment and from familial to deep, abiding friendship. The short scripts were uniformly well written, with fully developed, nuanced characters and unexpected moments, with several moving me to tears of laughter and/or empathy.
"Baby Black Jesus," by Vincent Terrell Durham, directed by Jacqueline Thompson
Richard (Carl Overly) and Darryl (Darian Michael Garey) are happily committed to their long-term relationship. There's just one little issue, Richard still hasn't come out to his rather religious mother, leaving Darryl feeling ambivalent about attending another family Christmas as Richard's "best friend."
The truth in this story ensures anyone who's kept a relationship secret from a parent can relate to the situation. The humor, raw and honest, and obvious love is what makes us care. The established bond between Overly's and Garey's characters gives depth to the story, and the actors fully embrace their parts. The result is an uplifting short that reinforces the positive change love can bring.
"When Miss Lydia Hinkley Gives a Bird the Bird," by James Still, directed by Pamela Reckamp
There's a whole lot of feisty in this story about a turn-of-the-twentieth-century women's group dedicated to education, elucidation, and self improvement. Lydia (Laura Singleton) objects to a suggestion that married women be allowed to join the group. She is by turns flustered, angered, jealous, and seductive when she learns that the request has been made on behalf of Della Mann (Nicole Angeli), as she has recently become engaged.
The mannerisms and affectations of cultured society and salon clubs are expertly played off by a proper Donna Weinsting, a daft but eager Rachel Tibbets, and a prudish but easily aroused Maggie Wininger. But it is the veiled love story between Angeli, the newly betrothed, and Singleton, the jilted lover -- breathtakingly expressed by Singleton in a single, spellbinding recitation based on Henry Gray's book of anatomical drawings -- that captures our attention.
"The Grind," by Max Friedman, directed by Gad Guterman
A junior in the directing program at Webster Conservatory of the Arts, Friedman is the winner of the second Ken Haller Playwriting Competition for LGBTQ Allied Youth. His short deals with dating and hooking up, an issue singles almost anywhere can relate to, no matter their sexuality, race, or age. And while the script doesn't break new ground, it clearly brings a fresh perspective to an age-old problem.
Michael (Jared Campbell) is a college senior and Chris (Kai Klose) is a freshman in a small college town who have met up thanks to the dating app Grindr. Even those unfamiliar with the world of online dating can easily tell that are not looking for the same thing tonight. Cambell's Michael is more experienced and accustomed to hooking up, though he admits he doesn't find it very satisfying on reflection. Klose's Chris is a bit shy, and he longs to meet someone he can have a relationship with, not just a one-night stand. Campbell is persistent, Klose is resolute, and the story ends on a positive note.
"I Knew It," by Scott C. Sickles, directed by Matthew R. Kerns
Sickles' play is a devastatingly funny, wickedly frank retelling of an actual rumor about two aging rock stars. Told by their current wives, brought emphatically to life by the always spot-on Lavonne Byers and matched in pace and intensity by Shannon Nara, the tale is acerbic, hilarious, and refreshingly real.
Byers' character, Francesca Strange, comes home late one night, walking in just as Nara's Jodilyn Riggs comes stumbling, dazed and half-dressed, out of Strange's bedroom. After unleashing a string of expletive-laden assumptions, Strange marches into her bedroom preparing a second tongue lashing for her husband. She quickly emerges and pours several glasses of whisky, two of which she presses Riggs to drink before refilling. Together they discuss life as the wife of a famous rock star, and how long their two husbands have loved each other. Ultimately, this is a story of love and acceptance that may present a new challenge to some people's firmly set notions of marriage. But it is what it is, and Strange has embraced the love she has. Now it's Riggs turn to decide.
"When Oprah Says Goodbye," by Dan Berkowitz, directed by Fannie Belle-Lebby
This tender play touches on friendship betrayed and rediscovered, as well as on the realities of aging, losing touch, and finding forgiveness. That's a lot of theme to pack into a short, one-act play, but Berkowitz has crafted a concise, clever story that says volumes without saying too much.
Rose (Thomasina Clarke) is a long-time resident at a nursing home informed that she's about to receive a new roommate, Julia (Peggy Calvin). When nurse's aid Anne (Sarah McKenny) brings her in, we discover Julia is Rose's former best friend; they had a falling out after Julia and Rose's then girlfriend fell in love. Over the course of an afternoon, the two women find a way to settle their differences and rekindle a friendship deeply missed. Clarke and McKenny bring a wide range of emotion to their roles without losing control. Clarke is stubborn where McKenny is patient, and it is a pleasure, in terms of dialogue and performance, to watch their story unfold.
"Runaway," by Charles Zito, directed by Christopher Limber
Parenting is hard. Being a teenager, particularly a recently out gay teenager, is hard. Keeping secrets from your family is hard, even if you think you've succeeded. We are reminded of these simple truths in a poignant, hopeful play by Zito that uses a light, but heartfelt, touch to encourage patience and love.
Tommy (Pierce Hastings) has run away to his Uncle Tony's (Rich Scharf) house because his mom, Rose (Jenny Smith), won't let his boyfriend spend the night. Uncle Tony is also gay, though he thinks he's fooled his family and they think he's straight (they don't). The dialogue is funny, at times laugh out loud funny, and filled with well crafted arguments and cutting replies that heighten but nonetheless mirror reality. Hastings, Scharf, and Smith have a good connection, there's an easy pace to their repartee that's not too rushed, but keeps the story building.
"A Comfortable Fit," written and directed by Stephen Peirick
Peirick once again shows an instinctive knack for writing clever, perceptive dialogue in this short about a transitioned transgender father and his daughter. While shoe shopping, Gwen (Kim Furlow) bristles when daughter Jennifer (Emily Baker) refers to her by name rather than calling her dad. She then stumbles over her own size 11-1/2 feet when she tries to fix her daughter up with the salesman Charlie (Casey Boland), who flatly announces he "couldn't be more gay."
It's a lovely moment that encapsulates the essential humanity of the characters, and is made better by the well-balanced performances of Furlow, Baker, and Boland. Furlow and Baker are comfortable together and there's an authenticity to their bond that enables the humor and tone of the show to evolve organically. The result is both uplifting and endearing.
"The Adventures Of..." written by Kathleen Warnock, directed by Ryan Scott Foizey
Inspiration, self-awareness, and the feeling of recognition can come from so many influences in our lives, not the least of which is our own imagination. Creative homosexuals look to fit in, and to find themselves reflected in stories just like everybody else does. Warnock's whimsical and irreverently comic script breathes fresh life into a young lesbian's story of discovery.
Maggie (Sarah Porter) is a college student and budding cartoonist / writer retelling the adventures of her favorite TV action-adventure duo: Prince Kal (Todd Schaefer) and Zoron (Brian Claussen), his ever faithful and resourceful protector. To the delight of the audience, Schaefer and Claussen are comically suggestive, with exaggerated expressions and gestures for emphasis. In contrast, Porter is captivating, delightful, and genuine, with a free spirit and inventive nature. She effuses possibility and confidence with every phrase, ending the evening with a smile.
In addition to the actors and directors, the largely volunteer crew, which includes producers Joan Lipkin and Darin Slyman, production manager and video designer Michael Perkins, and house manager Kate Warden, are to be commended for adding stage craft and technical enhancements to the large ballroom. Though the overall feel of the evening is loose and friendly, the cast and crew put together a relatively tight show with a good pace and satisfying arc.
The Vital Voice, Missouri's premier magazine for the LGBTQ community and its allies, along with Joan Lipkin's That Uppity Theater Company, present the fifth annual festival of short LGBTQ plays, which was once again sold out or near capacity for every performance. The attendance and enthusiasm for "Briefs" shows that there is an audience eager to hear and share these stories. Visit the Vital Voice for more information and news on the LGBTQ and ally community and activities, including next year's production of "Briefs."
Related Articles