Theatre Reviews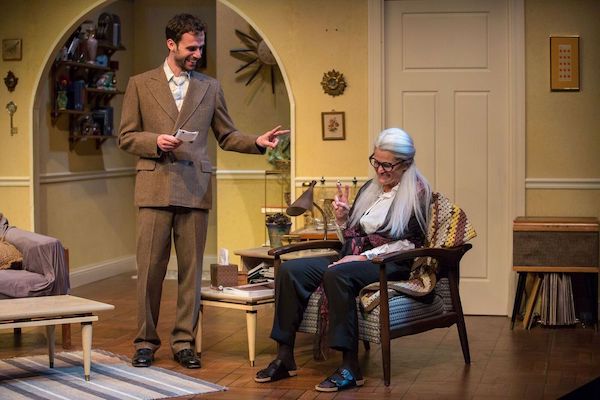 '4000 Miles' is a heartfelt journey through grief, loss, and enduring love
It is interesting to me that in spring, a time of rebirth and blossoming, many shows I've recently reviewed have been crafted around themes of distance, loss, and death. The New Jewish Theatre closes out its 20th season with a deceptively evocative interpretation of Amy Herzog's 4000 Miles that is at once deeply personal and heartbreakingly universal.
Leo, a college-aged young man with a passion for the outdoors and an idealistic nature, unexpectedly arrives at his grandmother Vera's apartment in New York at 3 a.m. one morning. Vera is slow to awaken, perhaps because she's not wearing her hearing aid, and a little embarrassed to be dropped in on unexpectedly, probably because she's not got her dentures in. It's a subtly comic moment that instantly captures a continuing dynamic of the show: both Vera and Leo are smart, fiercely independent, and slow to begrudgingly acknowledge a need for others. 
Leo has recently finished bicycling across the country, from Seattle to New York. He started the trip with his friend Micah, until Micah was killed in a freak accident in Kansas, near the geographic center of the country. Vera has grown accustomed to living on her own since the death of her husband 10 years' prior, but the passing of a number of friends has her feeling alone and all too aware of her own mortality. The truth is, the two need each other right now, even if neither wants to say so openly.
Christopher Tipp, as Leo, and Amy Loui, as Vera, have an easy, naturally affectionate chemistry, making their moments of disagreement and need all the more poignant. Tipp is energetic, always in motion, and stubbornly naïve to the emotional turmoil just underneath his surface. Loui is equally stubborn, occasionally querulous, but always sensitive to her grandson's uncertain state, even when she's prodding him it's done with gentle purpose. The relationship between the two also feels typically contemporary. Each has interests and history the other doesn't know, and while they both benefit from their time together, each recognizes the need to get on with their lives.
The two are joined by Rachel Fenton, as Leo's estranged girlfriend Bec, and Grace Langford as Amanda, a girl Leo picks up at a bar one night. Annie Barbour voices Leo's adopted sister Lily during an important Skype call where Leo begins to reach out the his estranged immediate family. The interplay works well, and the actors fully commit, but the scenes feel a bit superfluous to the story. The relationship between Leo and Vera -- the way each deals with the loss of someone they loved and the looming changes in their lives -- is so thoroughly compelling that the additional scenes feel almost a distraction even as they push the story forward.
The show moves at a constant but languid pace under the direction of Edward Coffield, subtly emphasizing the internal confusion and emotional context of each character's sense of loss. Leo's attempts at reconciliation with his girlfriend Bec, his stumbling pursuit of a one-night stand with Amanda, and even his awkward apology to sister Lily, underscore his indecision and an inability to move forward. Vera's grasping for the right words, forgetfulness, and resigned acceptance of aging reflects her desire to remain present. It's a tricky balance, but Coffield and the cast maintain a sense of urgency even as they convey the hazy fog of uncertainty that's enveloped the moment.
Tipp and Loui sparkle with affection and concern as Leo and Vera. The sense of a long shared history is immediately apparent, as is shared respect. Loui is visibly transformed in the role, her movements a bit shaky, with little head shakes and scowls that convey Vera's anger over her memory loss and more frequent mental lapses. Tipp is awkward at times and he wears his emotions on his sleeve, letting us see the confusion and pain Leo is experiencing without melodrama. With an unspoken pact, they are making their way through the stages of grief and its resulting impact on their psyches together. 
The show, which moves at a purposefully languid pace under the direction of Edward Coffield, is steeped in a fog of uncertainty that's at once compelling and easily relatable. Loss is a powerful emotion, but one that's often hard to unpack. 4000 Miles, running through May 28, 2017 at the New Jewish Theatre, delves into the subject with surprising intimacy and depth. The result is a show that feels completely authentic as it gently warms the heart. 
Related Articles