Theatre Reviews
Theatre Reviews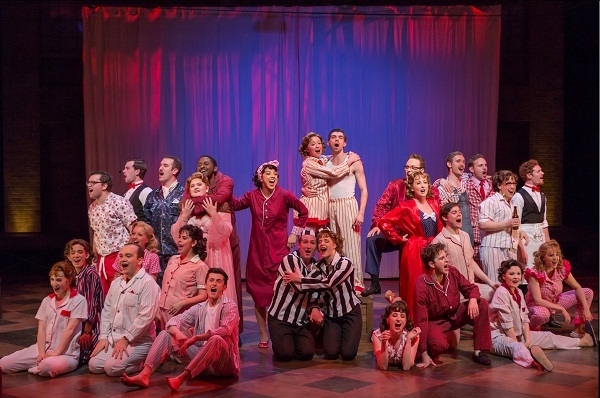 True love survives labor strife in Webster Conservatory's 'Pajama Game'
By
Superb young talent takes the stage in Webster Conservatory's fine production of The Pajama Game. 
This classic American musical first appeared in 1954. It is set in a pajama factory where a strike threatens the burgeoning romance between "Babe," head of the union grievance committee, and her ambitious young supervisor, Sid.
The premiere production was directed by the legendary George Abbott with Jerome Robbins. (Abbott also co-wrote the book.) The production won Tonys for "Best Musical," for Bob Fosse's choreography and for Carol Haney's featured performance as Gladys, the sexy secretary.
An interesting footnote to this production illustrates the fulfillment of that eternal dream of young actresses: during the run Miss Haney actually broke her ankle, giving her understudy her first chance to be in the spotlight. That understudy was the young Shirley MacLaine. (Ironically, in her childhood, as a ballet student, Miss MacLaine had herself broken her ankle during a performance, but she just tightened her laces and danced the role to the end; only then was an ambulance called.)
The Pajama Game is indeed a "well-made musical," in the sense that it has all the tried-and-true ingredients. You put 'em all in, turn the crank, and, "Hey presto!" out comes a successful musical. We have the main romance and the secondary comic romance. In each case we have boy-gets-girl, boy-loses-girl, boy-gets-girl. We have the requisite big production numbers, the romantic numbers, the comic novelty numbers. That George Abbott really knew what he was doing! He was famous for being a "play doctor" -- often being brought in to tweak a script and make it work.
Well, Mr. Abbott had plenty of time to doctor this show. He directed a revival in 1973 (with Hal Linden as Sid), and he was working on revisions of the second act a week-and-a-half before his death in 1995 -- at the age of 107! But still the book is a little creaky, a little artificial, a little slim on development of character and relationships -- even more so than the usual musical. There are some terrific songs -- "The Pajama Game," "Hey There," "Steam Heat," "Hernando's Hideaway," "There Once Was a Man" -- but as if in a throwback to the earliest days of American musicals, some songs seem just "stuck on," having really no relevance to the story. (Where does "Steam Heat" come from anyway? But it's a helluva number.)
Anyhow . . .
The Conservatory students who enact this tale delight the audience. Several in the cast merit special praise. I was particularly impressed with Ryan Jacobs, who plays Sid. He's blessed with a remarkably fine voice. He has a power and purity of tone that extend easily and undiminished into his very highest range. A soaring tenor indeed!
Jeannie Moffitt is quite perfect as Babe. Her lovely, true voice and her sweetheart face make us nicely surprised when we see her adamant commitment to her fellow workers. Her duet, "Small Talk," with Sid is very, very beautiful.
Austen Bohmer is a bombshell as Gladys. This is a gem of a funny, sexy role, and Miss Bohmer steals the show more than once. Perky, crisp and trim she is most justifiably the show's featured dancer. She masters the articulate sexuality of this Fosse-esque choreography. At the company picnic, in a terribly cute tangerine sun-suit, she is utterly irresistible. And what a sense of comedy!
Robert Riordan is cast a bit against type as "Hinesy," Gladys' fella. Riordan is a handsome leading-man type. Hinesy is really written for a character comic -- a vaudevillian. (Eddie Foy, Jr., a real vaudevillian, played the role in the first production; Cab Calloway played it in the '73 revival.) But Mr. Riordan rises beautifully to the challenge. He's a barrel of laughs in the comic numbers "I'll Never Be Jealous Again" and "Think of the Time I'll Save."
The entire cast does splendid work.
Director Tim Ocel, choreographer Lara Teeter and musical director Larry Pry have led these students into a highly professional performance.
The designers of the production (all students) do wonderful work. Brooke Henderson's costumes are charmingly period -- even to the Bermuda shorts business suit of the boss. Sets by Luke Shryock are excellent -- and quickly, fluidly shifted. The brick factory building is so convincing! Lights by Jeffrey Behm and sound by Collin Ronsonette beautifully support the production.
The Pajama Game played at the Webster Conservatory from April 20 through April 24.
Related Articles