Cabaret
Cabaret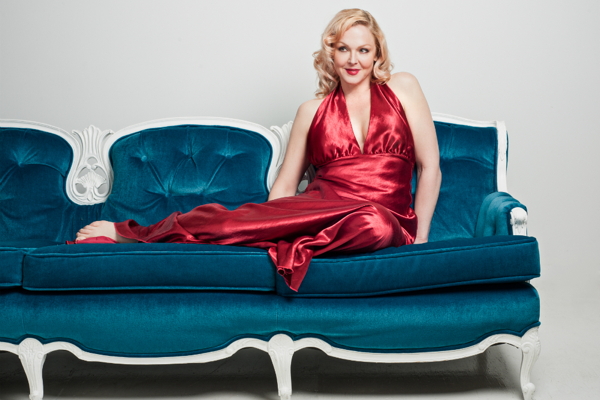 Review: High-energy holidays with Storm Large at the Sun
By
Tuesday night (December 11) there were two holiday concerts in Grand Center. In Powell Hall, the Bach Society presented their annual Christmas Candlelight Concert. A half block away, at the Sun, was "Storm Large's Holiday Ordeal."
Talk about your contrast.
Don't get me wrong: the Bach Society's event is magical, but for sheer Benzedrine-in-your-Ovaltine energy, you can't beat Storm Large and her band. Sure, most of the songs had only a tangential relationship to Christmas, but they were, as usual, delivered with that irresistible mix of rock attitude and cabaret honesty that is the hallmark of Storm Large's performances.
Ms. Large and her band have become familiar faces here in St. Louis. This was her sixth visit to town since she made her debut here in 2014 and her second appearance this year (the last one was at the Sheldon in January). She has clearly accumulated a good-sized fan base, all of which was apparently present to cheer her on Tuesday night. She gave it a hell of a great show, and probably picked up some new fans in the process.
If you have never seen Storm Large and her merry band, I'll just say (as I did when I first saw her in 2014) that she is a hypnotic, compelling, and energetic performer. Statuesque, slinky (in a glittery green gown that looked like holiday wrapping paper), and blessed with a powerful, seamless voice, she can deliver a sultry ballad or a raucous rock number with equal aplomb.
The song list this time around included some numbers that will be familiar to her fans, like Alphaville's "Forever Young" and "La Seine," by the contemporary French singer/songwriter -M- (real name Matthieu Chedid), both of which got the high-energy treatment for which Ms. Large is justifiably famous. Holiday tunes included Red West's "If Every Day Was Like Christmas" (recorded by Elvis Presley in 1966) as well as ballads in which Christmas plays only a bit part, like Chrissie Hynde's "2000 Miles" and Joni Mitchell's "River."
Some of the biggest emotional moments, though, came from Ms. Large's own compositions. That includes the lovely slice-of-romantic-life poem "Angels in Gas Stations" ("God is every damn where tonight," runs the refrain) and the encore number "Stand Up For Me," which takes a nicely poetic idea--what would Love ask of us, if it could speak?--and makes it the basis for a deeply felt anthem.
And, yes, we all stood up.
The fact that "Storm Large's Holiday Ordeal" was presented at the Sun was given a bit of additional resonance by the fact that the audience included a celebrity guest who spent a fair amount of time a half block east on the stage of Powell Hall: former St. Louis Symphony Music Director Leonard Slatkin, who was in town for a special tribute concert by the Chamber Music Society of St. Louis. Ms. Large talked about how Mr. Slatkin, in his capacity as Music Director of the Detroit Symphony Orchestra, invited her to sing with the orchestra at Carnegie Hall. It was a major turning point in her life--and yet another reason for St. Louisians to love Mr. Slatkin (as though we needed one).
Accompanying Ms. Large were, as usual, pianist and music director James Beaton, guitarist Matt Brown, bass guitarist Scott Weddle, and drummer Greg Eklund. Collectively known as "Le Bonheur," they've been playing with Ms. Large for years and, as I observed when they played here in January, they appear to have developed an almost telepathic rapport with her that allows them to easily adapt to her freewheeling performance style. These guys really know how to rock, but they can also sing in gorgeous four-part harmony when the song calls for it.
"Storm Large's Holiday Ordeal" was a one night only event, but the indefatigable singer moves on to Chicago for an extended engagement at the Chicago Symphony Center December 14-23, after which she's off to Bend, Oregon, and then her home turf of Seattle, Washington. You can keep up with her peregrinations at her web site. If you missed her this time, never fear; her remarkable energy and her popularity with local audiences will no doubt bring her back our way again.
Related Articles