Cabaret
Cabaret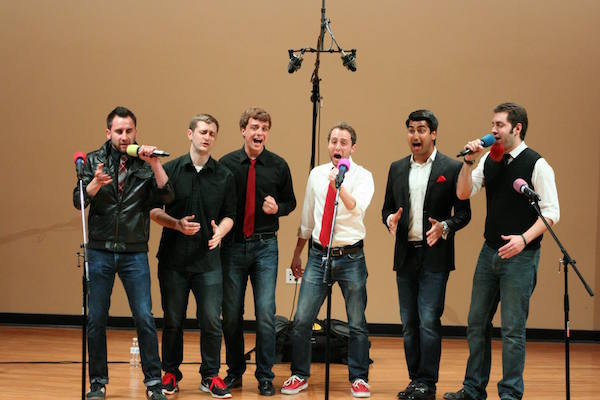 One Too Many rocked the Emerald Room with 'Presidential Circus 2016'
By
It was another marvelous evening at the Monocle down in the Grove district. In their cozy, elegant Emerald Room cabaret a quite astonishing group called One Too Many filled the night with a cappella singing. The Monocle is simply the best venue there is for cabaret in all of St. Louis--intimate, tasteful, softly abuzz, and decorated with a most skillful and imaginative hand.
One Two Many is a six-man a cappella group. They combine superb musicianship with a very hip style and an engagingly wacky comic sense. The group consists of: Daniel Copeland, baritone/tenor 2; Ryan Eversole, tenor 2/arranger; William Frazier, beatboxer/bass; Brian Poppe, bass; Amit Sood, baritone; Chris Thomas, tenor 1/arranger.
They're an attractive bunch of young men. All are clean-shaven except for the basses: Poppe is bounteously bearded like a Russian Patriarch, and Frazier is bearded like--well, like maybe one of the Smith Brothers?
Now I've been an a cappella fan for a long time--ever since the Hi-Lo's captured my teen-age musical heart; and these guys in One Too Many are right up there with the very, very top modern groups like Rockapella, the Nylons, Manhattan Transfer and Straight No Chaser. They show off splendid voices, microscopically precise synchrony, complex rhythms and fascinating six-part harmonies.
At first my purist sensibilities were offended because (I thought) they were using an electric drum-box. Then I realized that what I thought was electric was really bass William Frazier, who was vocally but very convincingly mimicking a complete drum-set: pedal base, snare, rim-shots, steel brushes--even a touch of shimmering hi-hat! And they all seemed to be going at once. Amazing!
Most of the songs last night were up-beat numbers, many with hilariously modified lyrics. But there were also beautiful old standards like Cole Porter's "You Do Something to Me." There was an occasional drift into country ("She's A'tearin' My Heart"). There was a compellingly warm and beautiful gospel number, "You Raise Me Up." They sang "The Entertainer," "Johnny Be Good, "Down Town."
All the voices were splendid--the whole spectrum: from Chris's stratospheric high notes down to the cavernous depth of William's low ones. The group's carefully controlled dynamics are most impressive.
They sang cleverly blended medleys: Their "Queen" medley included, of course, "Dancing Queen," and it eventually ended with a grand and respectful "God Save The Queen." A "St. Louis" medley included, of course, "Meet Me In St. Louis."
Halfway through the evening a quarrel broke out between their two arrangers, Eversole and Thomas. Who was the best arranger? And (as a subordinate battle) which notation software was better: Finale or Sibelius?
After a break the quarrel formalized into a presidential debate: Chris vs. Ryan. The stage was hung with red-white-and-blue bunting and Brian served as moderator. He led the two "candidates" into a glorious send-up of politicians and their amazing skill in turning a serious question into a lead-in to a their favorite topic--in this case the next song on their program. One promised to "build a Wall"--a wall of sound--which the group impressively did. This quintessentially American segment ended with the whole house happily rising as One Too Many sang a quite stirring version of our National Anthem.
One Too Many. It's a remarkable group, singing at the very highest level of polished professional a cappella. And they are non-stop FUN! They brought their "Presidential Circus" to the Emerald Room on June 4.
Related Articles