Cabaret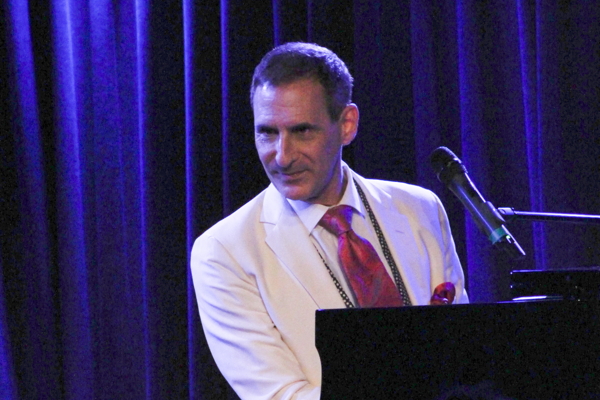 Mark Nadler gives St. Louis 'The Old Razzle-Dazzle' at the Blue Strawberry
Written by

Steve Callahan
K. T. Sullivan and Mark Nadler are long-term stars of the New York cabaret world. I first met them nineteen years ago when they brought an evening of Gershwin to the Grandel. They totally blew me away. These are artists at the very top of their profession. Ms. Sullivan returned three years ago-to the Gaslight-with a different accompanist, but last weekend (November 15 and 16) Nadler and Sullivan were together again performing in two separate evenings at a new bistro called the Blue Strawberry on North Boyle, just up the street from the Gaslight Theatre.
On Friday the 15th I went to hear Mr. Nadler present his solo show "Razzle Dazzle: an evening of Lies, Lying and Liars". When last I saw him I described him as "a young Abe Lincoln". In nineteen years he's aged well. He now resembles . . . perhaps an ambassador from Luxembourg-but one who wears a derby, bright white-and-black "spectator" shoes, and a tightish almost-tux that must have been bought on Christopher Street. And with a rhinestone-buttoned vest.
His talent remains simply amazing! He wields a rich, forceful baritone as he leads us through the song-history of lying. He is, at turns, theatrical, vaudevillian, clownish, melodramatic . . . and devastatingly, achingly dead earnest. And he's a supremely accomplished pianist.
He starts off with a beautifully nuanced rendering of a rather dark number by Friedrich Hollander: "Illusions". This song is almost owned by Marlene Dietrich and Uta Lemper. The singer, who is "in love with pain", offers to sell her romantic illusions. It's a cousin to "Love for Sale", bearing the same bitter irony.
In the romping "Blizzard of Lies" Nadler gives a sense of vaudeville, singing with a huge forced grin. He ventures into the lies we tell to children-even to Pinocchio, the archetype of child liars. So we hear "When You Wish Upon a Star", then songs about the Tooth Fairy, Peter Cottontail, Santa Claus, and the Boogeyman.
Often throughout the evening at least one of Nadler's hands is on autopilot, deftly continuing the accompaniment while the rest of him is engaged in acting, gesturing, clowning-even tap-dancing. He can give us a mighty torrent of accompaniment, and yet he is the subtlest of pianists-ever sensitive to musical nuance and showing such gorgeous use of the pause. Such a showman!
Of course Nadler includes Lane and Lerner's famous "How Could You Believe Me When I Said I Loved You?" But also The Music Man's "Trouble", which I guess really is about lying. Sometimes we really need to be lied to. Nadler gives a soft and gentle song about a woman who needs to believe "The Lies of Handsome Men". In another song written for a woman he sings a deeply moving "Guess Who I Saw Today."
"A Little Tin Box" is a novelty song about how various crooks and cheaters offer fragile alibis about their crimes. In it Nadler showers us with spot-on dialects-from the Bronx to Southern Fried. The evening is sprinkled with supposed quotes from Dorothy Parker, some of which I knew to be false. So the performer himself is dropping lies here and there.
His return to songwriter Friedrich Hollander in "Liar, Liar" is sung in impeccable German, and in almost frightening deadly earnest. The intense drama of this song is to the gentlest of piano accompaniment.
Towards the end of the evening he turns even more political than is usual in cabaret. He leaves the piano to do a (very fine) tap dance while listing famous political liars-from Nixon to Clinton to the present holder of the championship title for White House mendacity. This disrespect of our president so disturbed one old gent at a front table that he flipped Mr. Nadler the bird in mid song.
Nadler is brave. He's amazingly gifted. Don't miss him when you get the chance.
Related Articles