Cabaret
Cabaret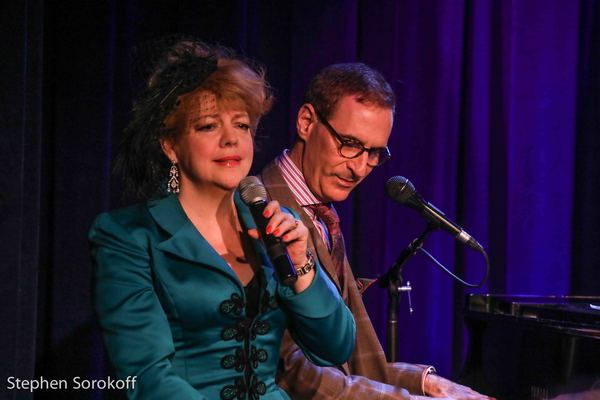 K.T. Sullivan cooks up a tribute to a musical theatre legend at the Blue Strawberry
By Steve Callahan
On Saturday, November 16, I was delighted to hear K. T. Sullivan present her delicious evening of cabaret at The Blue Strawberry. She calls it "I Can Cook: When Barbara Met Wally". It's an evening dedicated to songs from the second career of the legendary soprano Barbara Cook. Miss Cook was a bright ingénue in the '50's. She conquered Broadway in roles like Marian the Librarian and her simply stunning Cunegonde. In the late 60's and 70's her career faltered and she faced problems with drink, depression and obesity. But she met pianist/composer Wally Harper, who persuaded her to begin a new career as a cabaret and concert singer.
This second career and Miss Cook's work with Harper are K.T. Sullivan's focus in her show.
The years do not change Miss Sullivan. She retains that warm charm, those generous eyes, and that sophisticated flirtation-with the audience and with the song. She is maturing into that most knowing and attractive phase of glamour. Wearing a classy blue dress, a few glinting necklaces and a black feather boa she is the epitome of the true cabaret chanteuse.
Her voice can be warm and intimate, her high-notes are true and clear. She has great, subtle power. In many ways her voice does indeed resemble that of Barbara Cook. Well, maybe not Cook's spectacular coloratura tricks, but in the rich, cozy cabaret program which Sullivan gives us, "Glitter and be Gay" would be quite out of place.
She treats us to songs in a variety of moods. Three are from Wally Harper's pen: "Sing a Song With Me", "Let Me Sing and I'm Happy", and "Better With a Band". Harper is the referent in her version of Rodgers' and Hart's romantic "Wait Till You See Him". Barbara Cook's anxiety on entering her second career is touchigly conveyed in Jerry Bock's "Will He Like Me".
She makes Irving Berlin's 1916 "I Love a Piano" a celebration of her joy in cabaret singing. Miss Sullivan's title song, "I Can Cook" (by Leonard Bernstein) is a bright novelty.
With "Dancing In The Dark" she convincingly demonstrates the rule that consonants are merely catapults for vowels.
Two songs about strong long-lasting love touched me deeply: Leslie Bricusse's "You and I" and especially Carol Hall's "Ain't Love Easy", which she ends with one long very pure high note. She gives a cool, simple, bouncy "Sweet Georgia Brown" (arranged by Wally Harper). Her encore was Noël Coward's "If Love Were All", which she sang with a brave faux merriment ("Hey ho!).
She was accompanied by the remarkable Mark Nadler. His solo show the previous night had a definite feeling of the "Kit-Kat Klub", but here he's so utterly, impeccably presentable! The perfect accompanist.
The brand new Blue Strawberry is dedicated to cabaret, and it's off to a grand start. Their up-coming program is filled with significant artists. They have an attractive menu and a nice (if limited) wine-list. It's just the right size and acoustics are good. It's located on Boyle, just north of the Gaslight Theatre.
Congratulations to Jim Dolan for this latest in his many contributions to the St. Louis cabaret scene.
P.S. Street parking is rather limited (although valet parking is available for a fee), so arrive early.
Related Articles