Cabaret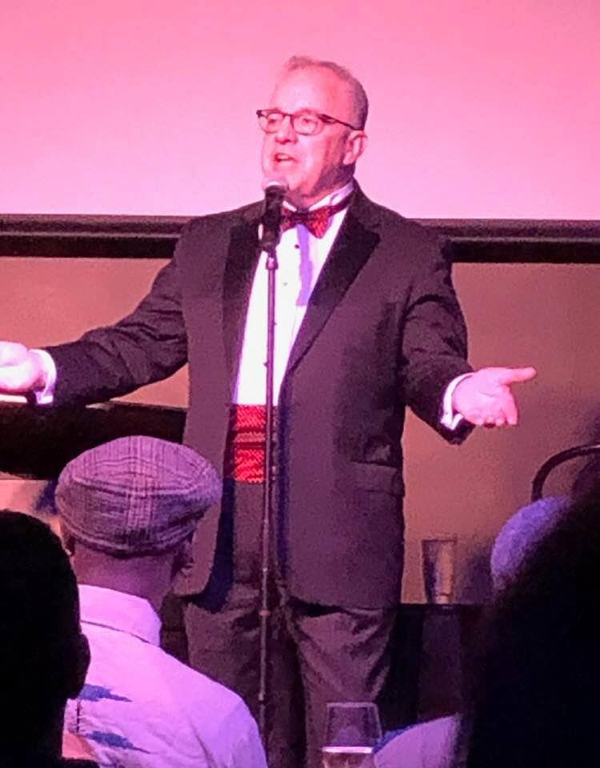 Review: Ken Haller entertainingly acts his age at the Blue Strawberry
Written by

Chuck Lavazzi
The St. Louis cabaret scene has really taken off over the last fifteen years or so, and local performers are increasingly showing up at nightspots like Davenport's in Chicago and Don't Tell Mama in New York. One of the most prolific of those performers has been singer/actor/pediatrician Ken Haller. His latest show, "When I'm 65," demonstrates why that's the case.
Presented at local impresario Jim Dolan's Blue Strawberry nightclub, "When I'm 65" was Classic Ken, with a varied and neatly balanced song list, just enough patter to let us know why the list made sense, and a perfect mix of the mirthful and the moving. Indeed, Dr. Haller and his music director Marty Fox managed the ingenious trick of putting together an evening that dealt with the experience of joining the Medicare Generation without using a lot of songs that specifically dealt with aging.
So, while the show opened with "When I'm 65" (a clever partial rewrite of the Beatles classic "When I'm 64"), that number allowed Mr. Haller (I'm dropping the "Doctor" from here on out, if we're all OK with that) to segue into the Jerome Kern classic "I'm Old Fashioned" which led to reflections on his love of the Great American Songbook and memories of how he listened to many of those memorable tunes on the black and white TV in the family living room.
That, in turn, moved logically into a medley of two Johnny Mercer standards that emerged from that tinny speaker all those years ago: "Dream" (as recorded by Ella Fitzgerald on the 1964 "Johnny Mercer Songbook" LP) and "Moon River" (from the 1961 film "Breakfast at Tiffany's"). Haller and Fox gave the latter a bit of medium-tempo swing that made it feel less cloyingly sentimental than it sometimes does-a pleasant surprise, and just one of many in the evening.
If you've seen a Ken Haller show before, you know there's always going to be a heaping helping of humor, and "When I'm 65" was no exception. That included a wry take on Lerner and Lowe's "I'm Glad I'm Not Young Anymore" (from "Gigi"), a version of "Rock Island" (from "The Music Man") done as a rap number (which it sort of is anyway), complete with baseball cap and cheesy "bling," and Kooman and Diamond's outrageous stalker parody "To Excess."
That last one was something of a risky choice, since it's usually sung by a young man to the unseen woman with whom he is obsessed. Performed by an older singer, it runs the risk of coming off as more creepy than funny, but Mr. Haller made it work and the crowd loved it.
It came at an ideal point in the evening as well, providing a necessary bit of comic relief after a moving and powerful segment on love and loss built around Mr. Haller's reminiscences of the first great love of his life, Bob Corsico, and the lessons he took from that relationship. Beginning with a beautiful duet version with Mr. Fox of William Finn's "Heart and Music" (from "A New Brain") and culminating in a performance of "The Man That Got Away" that turned that classic torch song into a declaration of emotional independence, this was the strong emotional heart of the show.
And, since this was a Ken Haller show, there was a Sondheim song. In this case, a very appropriate one: a celebratory rendition of "I'm Still Here" (from "Follies") with the original lyrics.
I'm not normally a big fan of cabaret shows that rely heavily on the personal lives of the performers, but "When I'm 65" was just intimate enough to be emotionally compelling without ever descending into self-referential navel gazing. Mr. Fox's original and inventive arrangements were a big plus as well, as was the obvious close rapport between him and Mr. Haller. Well done, gentlemen.
"When I'm 65" was presented on October 31st and November 21st at The Blue Strawberry on North Boyle in the Central West End. There are shows most Wednesdays through Sundays at St. Louis's latest cabaret venue; check out the web site for a complete list. Ken Haller, meanwhile, returns to the Blue Strawberry on December 21st with an encore of his entertaining "Happy HallerDays," first presented in 2017. I loved it then and can heartily recommend it now.
Related Articles