Cabaret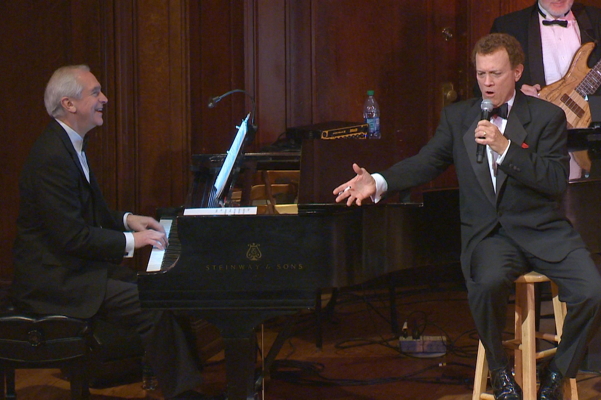 Review: Dean Christopher's 'Rat Pack' show is high-energy holiday fun at the Blue Strawberry
Written by

Chuck Lavazzi
I think I found a way to lower my energy costs. I just need to figure out how to hook up my house to Dean Christopher's "A Classic-Vegas, Rat-Pack Christmas" show that played the Blue Strawberry last night (December 6). I'd never have to pay an electric bill again.
Basically a holiday version of the "Rat Pack" tribute Mr. Christopher has been performing with great success for many years, the evening is an homage to the kind of flashy, mid-1960s Las Vegas nightclub show perfected by legendary performers like Frank Sinatra, Dean Martin, and Sammy Davis, Jr. It's also 90 minutes of rock-solid, raucous entertainment.
Make no mistake: "A Classic-Vegas, Rat-Pack Christmas" is one of the most creatively assembled, perfectly paced, and brilliantly performed acts I have seen on a cabaret stage in quite some time. Mr. Christopher is a powerful singer and an amazingly talented impressionist, capturing the stage personas of not only the core members of the Rat Pack but other period celebs as well. His "Santa Claus is Coming to Town" in the wildly oversexed style of Tom Jones, for example, is as hilarious as it is accurate, and his take on Mel Tormé's "The Christmas Song" in the style of Johnny Mathis does a neat job of straddling the fence between parody and affectionate tribute.
The pinnacle of that aspect of the show is undoubtedly his version of "The Twelve Days of Christmas," which he admits is the Christmas song he hates the most, as it might have been performed by a dozen legendary actors plucked from Turner Classic Movies films. With only a few changes in vocal quality and body language, Mr. Christopher rapidly shifts among personalities as diverse as John Wayne, Boris Karloff, Walter Brennan, Paul Lynde, and Henry Fonda. It's a remarkable piece of theatrical prestidigitation that must be seen to be believed.
The core of the show, though, is the long central section in which Mr. Christopher recreates a Rat Pack Vegas show with such fidelity that you'd swear Frank, Dean, and Sammy were all on stage together. His Dean Martin is especially impressive, completely nailing the singer's vocal quality and "drunk act" shtick with a set of lethally funny PG-rated parodies of classic holiday tunes. The Rat Pack set concludes with another theatrical tour de force in which Mr. Christopher's Jerry Lewis joins the rest of the Pack to sing "Winter Wonderland." The ease with which he changes characters with each verse is truly impressive.
The evening isn't all impersonations, though. Mr. Christopher opens with high-voltage performances of "The Most Wonderful Time of the Year" and Leroy Anderson's "Sleigh Ride" and that overflow with energy and panache. He also jokes and interacts with the audience in true Vegas style. The night I saw the show, some of those audience members had apparently been hitting the wine list a bit too enthusiastically, but Mr. Christopher handled it all with aplomb.
Backing up Mr. Christopher is a seven-piece combo that delivers classic mid-60s big band arrangements under the skilled direction of pianist Joe Dreyer (a familiar figure on the local theatre and cabaret scene). The members of the band (all of whom had solid solos) are Randy Holmes and Chris Miller on trumpets (with Mr. Miller doubling on flugelhorn), Larry Johnson on sax, Jim Owens on trombone, Kevin Gianino on percussion, and Glenn Smith on bass. Mr. Christopher insists that they don't rehearse, but you'd hardly think that based on the quality of their work.
The Blue Strawberry, 364 N. Boyle, presents Dean Christopher's "Classic-Vegas, Rat-Pack Christmas" again on Friday, December 13th, at 8 pm. If it's not already sold out (and it could be, given the size of the crowd when I saw the show) you won't want to miss it. Tickets for it and other upcoming shows are available at the Blue Strawberry web site. To learn more about Dean Christopher's shows, check out his Rat Pack and More site.
Related Articles