Cabaret
Cabaret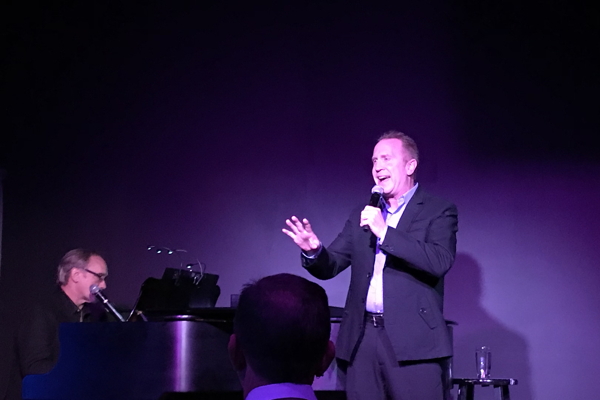 Review: Robert Breig shows a different side of the music Peter Allen
By Anna Blair
If you've had the pleasure of seeing Hugh Jackman on Broadway in the "Boy From Oz" (which I have) or even seen the outstanding production at of the same show at Stages last summer, you've seen Peter Allen as the over-the-top, bare chested, hip gyrating showman he was, prancing and singing all across the stage, leaping on pianos with his arms spread wide.
By contrast, what Robert Breig presented at the Blue Strawberry last Saturday evening (January 4th) was the calmer side of Mr. Allen's personality, but no less entertaining and even more touching. It was as if we were treated to Mr. Allen's heart and soul by being invited into his New York penthouse living room to witness his quieter moments, as if he were relating his life to a biographer, those moments when he didn't have to always be "on" and the consummate crowd pleaser.
That is, by no means, to say that the audience was not immensely pleased or entertained by Mr. Breig's cabaret, "Making Every Moment Count: The Music of Peter Allen." Breig's generous nature was evident even before he stepped on stage. He is donating the proceeds from his ticket sales to kangaroosanctuary.com to help the animals affected by the horrible fires in Australia.
Breig's experience with this material is also evident. He's performed this cabaret six times at various venues such as Davenport's in Chicago and Don't Tell Mama in NYC, and here in St. Louis. But it was his love of the music and his connection with Mr. Allen that really provided the underlying depth of feeling for the entire show.
His opener, "Tenterfield Saddler," set the tone for a loving tribute to, not only Mr. Allen, but also to the land and strength of character from whence Allen came. A touching eulogy to both his upbringing and Allen's grandfather and father, who committed suicide when Allen was young, an event that haunted Peter Allen his entire life.
Breig's strong, conversational baritone was well suited for "Not the Boy Next Door," a lively beacon that we were in for some wonderful stories and unconventional songs and "If You Were Wondering," an intimate ballad, trying to convince us that Allen is "like any other man." But his music and life clearly point out that he was not.
Another important figure in Allen's life was his mother-in-law, Judy Garland. Most accounts say that Allen wrote the song, "Quiet, Please, There's a Lady on Stage" for her but I was surprised to be told by Breig that he actually wrote it for his friend, singer, Julie Wilson. Yet another example of the attentiveness and passion Breig brings to the subject matter.
New York City features prominently in this show. Peter Allen embraced NYC as his home and NYC reciprocated. Not only did Allen thrive creatively and professionally, he was also a fixture in the NYC nightlife of the 70's and 80's. Breig presented an entire array of fun and sexy songs beginning with "Continental American," "I Could Really Show You Around," "Six Thirty Sunday Morning" and a beautiful duet with Music Director, Rick Jensen, "New York, I Don't Know About You." Jensen's impeccable piano and vocals fit perfectly with Breig's smooth style. In this lovely and honest depiction of Allen's (and possibly Jensen's) New York City, one of my favorite moments was the combination of "Back Doors Crying" and "I Honestly Love You," one of Allen's bigger hits made famous by fellow Aussie, Olivia Newton-John.
Breig pointed out that "if you want to know the truth about Peter Allen, you just have to listen." It is all right there in his music. Allen wrote honestly about his life in songs like "More Than I Like You" and "You and Me (We Wanted it All)."
Next we were treated to "The Hits Medley". My guess is that even if Peter Allen isn't a household name, you certainly are familiar with some of his hits, especially if you grew up in the 80's. Who doesn't love the Academy Award winning, "Arthur's Theme (Moon and NYC)"? As well as "I Go To Rio," "Everything Old is New Again," and "Don't Cry Out Loud," popularized by Melissa Manchester and revived by Diana DeGarmo on "American Idol."
Rick Jensen was not the only talented singer Breig brought in. St. Louis chanteuse, Deborah Sharn, joined Robert in a duet of the title song, "Making Every Moment Count." She was the Manchester to Breig's Allen.
The thing I found most profound about Breig's interpretation of Allen's music was the connection he felt and shared with the audience. Robert pointed out the similarities between himself and Allen throughout. "Midwest boy and Boy from Oz - matches up." He also stated that on every album, Peter Allen wrote one song just for himself, then proceeded to sing the ballads "I Could Marry the Rain," "I'd Rather Leave While I'm in Love," (one of my personal favorites) and "All I Wanted Was the Dream."
For his finale, Breig chose a lovely song I'd never heard before but will definitely be listening to more, "I Could've Been a Sailor," which sums up the choices made by both Allen and Breig and included one of my favorite lyrics of the night, "I settled for safer harbors of my heart."
Although Allen had what some would call a sad life, throughout the show, I found myself singing along, crying and tapping my foot to the hopefulness and joyfulness of Allen's songs presented brilliantly and compassionately by Robert Breig.
Shows continue at The Blue Strawberry, St. Louis's only dedicated bar/restaurant/cabaret showroom. Check their web site at bluestrawberrystl.com for details.
Related Articles