Cabaret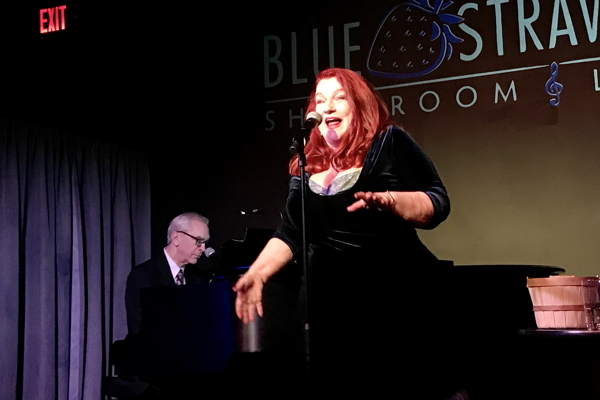 Review: At the Blue Strawberry, Christy Simmons turns sour romantic lemons into sweet tunes
Written by

Anna Blair
I've known Christy Simmons for over 30 years and watched her perform in various art forms -- Burlesque, musical theatre and of course, cabaret. I've always been a fan. In her shows she has consistently stayed true to what she does best: belting out sexy tunes.
In "When Life Hands You Lemons," presented by The Blue Strawberry last Thursday (January 9th), Simmons tackled various archetypes of the men she's experienced using a wonderfully eclectic range of songs from Vaudeville to Broadway to Bacharach and David. We took a journey through her travels and the important relationships that affected her the most. She never appeared bitter but seemed better for each experience. She pointed out, "They don't write songs about emotionally healthy women with crappy love lives."
This show originated as entertainment for a church lady banquet. She had to ask herself how to cater her bawdy, brassy burlesque style to the prim sensibilities of the church ladies. Thankfully, at the Blue Strawberry she could cut loose and be as honest and brassy as she wanted to be. She was accompanied by the incomparable Joe Dreyer, who provided jazzy solos and dramatic flourishes throughout.
Her archetypal boyfriends were: The Englishman, The Chef, The Drummer, The Frenchman, The Comic and Mr. Internet Date. "From Peter Sellers to Dudley Do-Right." Each boyfriend's title was cleverly listed on a lemon that she picked out of a wooden bucket.
Simmons' powerful belt and sultry alto were perfectly suited to all her songs. Her opening tunes, Duke Ellington's lively "Love You Madly", "Nobody Does it Like Me" from the Broadway musical, "Seesaw" and "What's New, Pussycat?" provided a strong opening. The Englishman seemed to pop up throughout her journey as chasing the girl who got away. Sometimes she went back to him, other times not. "When a man tells you he's a scoundrel, believe him," she stated, then followed with Leiber and Stoller's "Trouble". The Chef was next, "a mad genius" who took her on a lovely adventure with "Oh, You Circus Day", a delightful portrait of circus life originally published in 1912.
Of course, pain and break-ups are some of the sour lemons of life and Simmons' treated us to the ultimate break-up song, "The Party's Over" and "I Told Ya I Love Ya, Now Get Out" about leaving Los Angeles ("flipping the bird with both hands") and moving to Paris. She sped through the Drummer and the Frenchman with Cole Porter's "Tom, Dick or Harry" from Kiss Me, Kate and "C'est Si Bon".
We met when she moved back to St. Louis to help her mother. Christy Simmons does not have a classical voice but she knows how to draw out the passion and sometimes humor of every song. And, speaking of humor, boy, did she fall hard for the Comic! "Gee Baby, Ain't I Been Good to You?" and the heart-wrenching "Body and Soul" painted a clear picture of the beginning and assumed end of that relationship, until the Englishman came calling and was told to "Hit the Road, Jack" with some fun audience participation. The buoyant "Mr. Monotony" relayed her experiences with Internet dating that had the audience snapping their fingers and tapping their toes.
Christy finally closed the book on the ever-returning Englishman with her favorite song, "The Midnight Sun". She seemed to devour the microphone with the depth of her pain and longing. Noel Coward's "Mad About the Boy" told of the Comic wooing her back with "rare beef and silent movies". Sadly that didn't last either, as her finale, Comden and Green's "If You Hadn't But You Did" from the musical, "Two On the Aisle," explained. And again, we were reminded, "When a man tells you he's a scoundrel, believe him!" I certainly shall!
As mentioned earlier, Christy Simmons does not appear bitter but thankful for these experiences, and closed with her encore, "Accentuate the Positive". Life is going to hand you lemons but she left us feeling that you can control how you respond to those lemons, do the best you can and choose to be happy!
Related Articles