Cabaret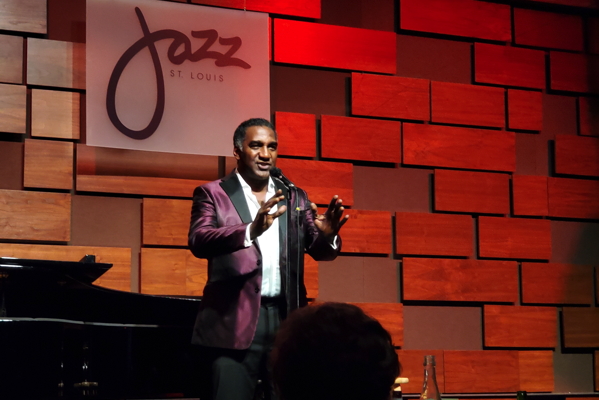 Review: Norm Lewis delivers first-class entertainment at the Jazz Bistro
Written by

Anna Blair
I should start this review by saying that I would listen to Norm Lewis sing the phone book, so getting the opportunity to see his cabaret in person Thursday evening (January 31) was a special treat.
Co-produced by Jazz St. Louis and The Cabaret Project, his show opened the show with "My Favorite Things" sung in a unique and energetic way I'd never heard before. He immediately made everyone in the full house, even those seated in the balcony, feel welcome and that he was singing directly to them.
Mr. Lewis had many friends in the audience who felt comfortable commenting on things he said. He didn't seem to mind. "This is a dialogue," he said, "not a monologue," which immediately set the tone for a relaxing give and take between audience and performer.
When Mr. Lewis started purring Peggy Lee's "Fever", I joked to my guest that I was swooning. Oh, what a lovely way to burn. He then broke into Cy Coleman and Carolyn Leigh's "It Amazes Me" which Tony Bennett first recorded. Joseph Joubert's accompanied Mr. Lewis with his flawless mastery of the keys.
Mr. Lewis then talked about the dream roles that he's been lucky enough to play, his favorite being Harold Hill from "The Music Man". He was finally able to play the role at the Kennedy Center last year and hopes to play him on Broadway as well. He then asked the audience to sing the background vocals with him, assuming everyone in the audience had performed in a production of "The Music Man" at some point in their lives, high school, community theatre, etc. The audience was in good voice, I must say, and Mr. Lewis pointed out "that is a workout of a song"!!
I enjoyed hearing how he came to show business from advertising at the Orlando Sentinel to New York City where people immediately recognized his extraordinary gifts as a singer. One of the first shows he did was "My Fair Lady" and he always wanted to sing "Wouldn't It Be Loverly". What followed was the jazziest, sexiest version of that song I've ever heard, and I've been singing that song since my 6th grade teacher taught it to us in class.
"I Got Plenty of Nuttin'" featured his crystal clear diction and was introduced by a lovely story of doing "Porgy and Bess" at the American Repertory Theatre in Boston with the 6-time Tony-winning "she who needs not be named." Someone from the House requested "Make Them Hear You" from "Ragtime" which he did at Lincoln Center and he was happy to oblige. Mr. Lewis' gorgeous baritone just soared especially on the last line, "When they hear you, I'll be near you… again."
I was lucky enough to see Norm Lewis play Javert in "Les Mis" at the Muny and it was lovely to hear that his experience there was just as special for him as those of us who got to experience his performance. "I would love to come back to the Muny and sing for you, all 10,000 of you!" His incredible stage presence filled the Muny space as well as enthralling each one of us at Jazz St. Louis. Mr. Lewis said he felt so welcome in St. Louis and having his friends in the audience "make me feel like I'm at home." His sweet and heart-felt version of "Home" from "The Wiz" made us all feel like his friends.
Although his show consisting of mostly show tunes, he pointed out that "people consider me a crooner". Norm Lewis can sing anything with his silky, smooth voice, acting skill and thoughtful interpretations. I loved hearing that, like me, he grew up watching variety shows like Sonny and Cher, Donny and Marie, Flip Wilson, Dean Martin, etc. One of his favorite guests on these shows was Johnny Mathis who he later got to sing with years later. He dedicated "Misty" to Mathis and his amazing falsetto.
And speaking of amazing falsetto, Mr. Lewis showed his incredible range in the two songs he sang from "Les Miz". His powerful "Stars" was as expected but he said, "As an actor, you always covet other people's songs, but this is my show so…" then displayed his magnificent range in "Bring Him Home", which showed every facet of his beautifully trained voice. At this point, I dropped my pen and just listened as he sang Keke Wyatt's "Peace on Earth". He had the entire audience in the palm of his hand. His accompanist, Joseph Joubert, was the perfect compliment to Mr. Lewis' powerful yet intimate voice, adding brilliant accents and fabulous flourishes.
I smiled the entire way through "Before the Parade Passes By" from "Hello Dolly" which he sang in honor of the great Jerry Herman. I understand why people think of Norm Lewis as a crooner but he also has such a powerhouse voice that fills any room he's in, including the huge amphitheater of the Muny. I return to my first statement about this show, he can sing anything!
Mr. Lewis was the first African-American to play the Phantom in "Phantom of the Opera" and as a destroyer of barriers himself, he acknowledged the heroes that preceded him and opened the door for him. Amazing performers like Robert Guillaume, Andre DeShields and St. Louis' own Ken Page (who sang with Lewis the night before and I'm sorry I missed it) paved the way for Mr. Lewis to dazzle the audience with "Music of the Night". The capacity crowd responded in kind with a standing ovation.
I was hoping that he would sing all night but alas, all good things must come to an end and we were all on the edge of our seat to see what he would sing for an encore. He stated that he gets scared to do songs that other people are known for, so he always asks permission from the artist. Then he broke into a devastatingly gorgeous version of "People". He got permission from Streisand??? Seriously??? How cool is that???
This entire show was filled to the brim with stunning dynamics, magnificent music and first-class entertainment. "People who need people.." I am a person who NEEDS Norm Lewis' voice in my life! I'm one of the luckiest people in the world!
For information on upcoming shows in the Cabaret Project's series with Jazz St. Louis, visit the Cabaret Project web site.
Related Articles