Cabaret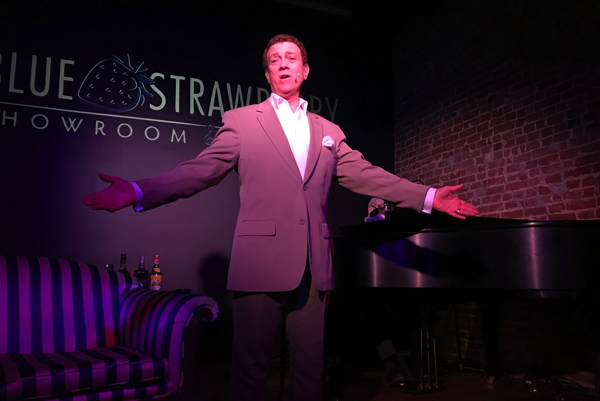 Review: Dean Christopher brings Dean Martin to entertaining life at the Blue Strawberry
Written by

Chuck Lavazzi
When I reviewed Dean Christopher's "Rat-Pack Christmas" show at the Blue Strawberry in December, I called it "90 minutes of rock-solid, raucous entertainment." The Dean Martin tribute show he did at that same venue last night (Friday, March 6) was shorter and less raucous but, yeah, still rock-solid entertainment.
Mr. Christopher is, as I noted back in December, a powerful singer and an amazingly talented impressionist. In that show he captured the stage personas of the core members of the Rat Pack as well as other period celebs, but for me his Dean Martin was the pick of the litter.
Dean Christopher
Photo by Chuck Lavazzi
Mr. Christopher looks nothing like the late singer/actor, but he has Martin's vocal quality and loose-limbed drunk act down pat. It took very little suspension of disbelief to accept him in the role Friday night, and the audience quickly began to respond as though he were Martin in the flesh. That's a neat bit of theatrical prestidigitation.
Mr. Christopher started the show in character, entering from behind the set (a large striped couch and the inevitable drinks table) introducing himself as Dean Martin and his pianist/music director Joe Dreyer as Kermit "Ken" Lane, who was the real Martin's pianist and music director on "The Dean Martin Show." He then quickly dropped out of character to talk about how he became fascinated with Dean Martin as a kid, listening to Martin's songs on the radio and watching his NBC TV show, which ran for nine seasons starting in 1965. "I didn't just like Dean Martin," he said, "I really wanted to BE Dean Martin."
Then he took out his one constant prop (a fake cigarette) and, in the blink of an eye (or swallow of "Jack Daniels" from the drinks table) he did, in fact, become Dean Martin. And credibly stayed that way for the next hour and fifteen minutes.
Dean Christopher and Joe Dreyer
Photo by Chuck Lavazzi
Personally, I always wanted to be Fred Astaire, but I can identify. I'm only a few years older than Mr. Christopher (Small World Department: we even went to the same high school) and I watched that show as religiously as he did. I grew up, after all, in an Italian-American family (my grandma's ravioli was to die for) where it was a weekly ritual. Regardless of what you might think of the rest of the "Rat Pack," I'd say that if you have any fond memories of ol' Deano, this would be your kind of show.
The show is jam-packed with Martin's hits and misses, including a trademark bit from Martin's TV nightclub act in which he'd start a familiar song and then turn it into a parody ("After you've gone / Who'll do the dishes?") in an effort to make his pianist crack up. Equally hilarious was a medley that turned classic tunes into paeans to alcohol ("Every time it rains it rains / Bourbon from heaven").
The hits included everything you'd expect: "Memories Are Made of This" (Martin's first number 1 single), "You Belong to Me" (first recorded in 1952 by Joni James), "Return to Me" (a big hit for him in the USA and Europe in 1968), Lee Hazlewood's "Houston" (the countrified hit from 1965) and, of course, "Everybody Loves Somebody," the theme song of Martin's TV show and the single that knocked The Beatles' "Hard Day's Night" out of the Billboard's #1 slot in 1964. They were all done with impeccable musicianship and in perfect Dean Martin style. An homage rather than a parody.
Dean Christopher and Joe Dreyer do Rio Bravo
Photo by Chuck Lavazzi
There were some audience participation numbers as well, like "That's Amore" and "Volare," both of which gave Mr. Christopher an opportunity to display his ability to work the crowd and ad lib in character (which he did throughout the evening). At one point, for example, he noticed a group at a table off to stage right in what had to be "limited view" seats. He joked with them about having the "cheap seats" and then made a gag out of looking back to the right periodically and asking Mr. Dreyer "are they still there?"
Through all of this, Joe Dreyer was a cheerful and elegant presence at the baby grand. Mr. Dreyer is a familiar figure on the local theatre and cabaret scene and has even done the occasional show himself with his wife, the singer Rosemary Watts-Dreyer. His arrangements were a perfect fit for Mr. Christopher, either as himself or as Martin. His voice blended well with Mr. Christopher's in a re-creation of the scene in the 1959 film "Rio Bravo," in which Martin sang "My Rifle, My Pony, and Me" in harmony with Ricky Nelson.
Judging from the SRO crowd at the Blue Strawberry, this is unlikely to be the last time you'll see Dean Christopher on that stage. When he returns, I'd say early ticket purchases are essential. Meanwhile, for information on upcoming shows at Jim Dolan's classy Blue Strawberry, visit their web site.
Related Articles