Cabaret
Cabaret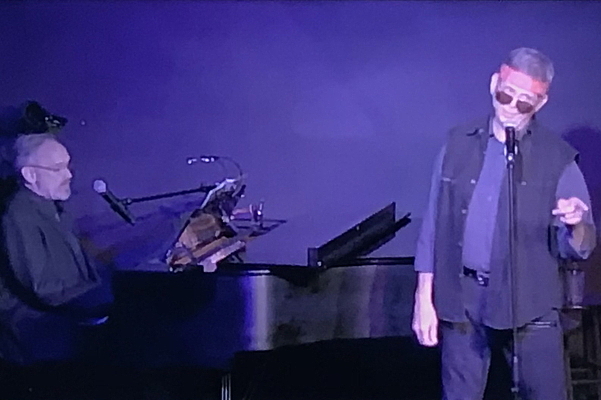 Review: Steve Brammeier's nostalgic '68: Then and Now' returns to the Blue Strawberry
By Chuck Lavazzi
"Nostalgia," someone once quipped, "is like a grammar lesson: you find the present tense and the past perfect." Steve Brammeier's show "68: Then and Now" may not find the past perfect, but it certainly does find it worth recalling fondly. A warm and cuddly evening's entertainment was the result.
Presented at The Blue Strawberry on October 23 live and via video stream (which is how I saw it), "68: Then and Now" was a whimsical look back at the songs and pop culture of 1968. It began in a blackout with a short mashup of late 1960s commercial jingles played over the sound system. Then a pin spot came up stage left on Mr. Brammeier for Dylan's iconic "The Times They Are a-Changin'" from 1964. Music director Rick Jensen's arrangement and Mr. Brammeier's singing built to a powerful close as the lights came up full for that final verse about the new world many of us thought we were building.
L-R: Rick Jensen and Steve Brammeier
It was a solid opening number that allowed Mr. Brammeier, who graduated high school here in St. Louis in 1968, to segue into a short monologue about how the songs of the late 1960s—and especially those from that pivotal year of 1968—shaped his life and the lives of so many others of his (and my) generation. It's a theme that effectively knits together an hour or so of tunes both serious and silly from (mostly) 1968.
It's a fun and diverse set list, interspersed with autobiographical bits that set the scene effectively and having impressive narrative economy. Unlike some "this is my life" cabaret shows, "68: Then and Now" never assumes that you find the singer's life as interesting as they do.
A good example of his approach was his version of Shirley Bassey's 1968 hit "The Joker," from Anthony Newley's 1964 musical "The Roar of the Greasepaint—The Smell of the Crowd." Before he gets to the final verse, Mr. Brammeier recalled how he heard about the assassination of JFK in 1963. His parents were Republicans and so he often dissed the President to his classmates.  When his teacher stopped the class to inform everyone that JFK had died, the girl next to him turned to him and said, "I hate you." Which brings him to that last verse:
There's always a joker, that's a rule
But fate deals the hand and I see
The joker is me
It gave the song a poignant personal element, which is one of the cornerstones of cabaret. It also allowed him to move seamlessly to Dick Holler's "Abraham, Martin, and John." The moving tribute to JFK, Bobby Kennedy, Abraham Lincoln, and Martin Luther King Jr. was originally recorded by Dion in, yes, 1968.
But let me not create the impression that the show didn't have its fair share of smiles and laughs. "I don't know anyone who doesn't have the music of their childhood embedded in their bones," Mr. Brammeier observed. "What were the lessons we got from the lyrics of 1968?" The answer turned out to be what he calls the "Bubble Gum Medley" of some of the more superficial songs of 1968 or thereabouts: "Yummy, Yummy, Yummy" (The Ohio Express); "Mony, Mony" (Tommy James and the Shondells)"; Hello I Love You" (The Doors);  "Judy in Disguise (With Glasses)" (John Fred and His Playboy Band, 1967) ;"Good Vibrations" (The Beach Boys, 1966); and another Tommy James hit, "Crimson and Clover" (complete with a spot-on parody of the electronically processed vocal wobble of the original).
There were also songs that were just fun without necessarily being funny, like Hugh Masekela's "Grazing in the Grass" (with the 1969 lyrics by Harry Elston) and Joni Michell's "Chelsea Morning" with its rich urban images. Mr. Brammeier introduced that one with memories of the many trips he and his partner Hugh have taken to the Big Apple.  "One day" he recalled, "I got up at dawn and just walked around the city, feeling peaceful, autonomous, and whole." Sounds good to me.
Steve Brammeier's voice is one well-suited to these songs. He has a light baritone with a rough-hewn touch that reminded me of some of the notable folk-rock singer/songwriters of the 1960s, such as Gordon Lightfoot and Cat Stevens (now known as Yusuf Islam). Rick Jensen's arrangements were, not surprisingly, a perfect match. The fine, sure hand of director Lina Koutrakos (a cabaret legend in her own right) could be seen in the expert pacing and overall shape of the show.
Every cabaret needs a big finish. This one had the medley of "Age of Aquarius" and "Let the Sun Shine In," made popular by The Fifth Dimension in 1969, complete with an audience sing-along. Because, let's face it, most of us remember the lyrics. Enough of them, anyway. Rick Jensen's power-chord arrangement kept everything upbeat and energetic.
The obligatory encore that followed—a sensitive performance of Lennon and McCartney's 1965 "In My Life"—was prefaced by a positive message that brought '68 up to '20: "We thought 1968 was crazy, Mr. Brammeier said, "and we got through it. We will get through this. Hang on."
I missed Steve Brammeier's "68: Then and Now" when he premiered it two years ago (when he was, in fact, 68) so I'm glad I finally got to see this charming and nostalgic bit of time travel. The performance took place at Jim Dolan's Blue Strawberry Showroom and Lounge, where a mix of jazz, pop, and soul acts continue through December. The next scheduled cabaret performance is Katie McGrath's "Garth and Friends in Low Places" on December 26th. Check the web site for details.
Related Articles