Cabaret
Cabaret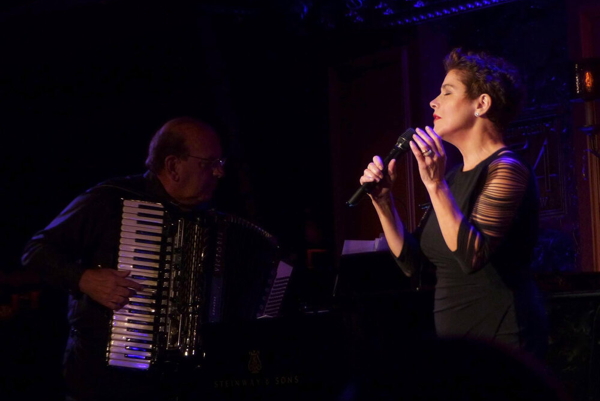 Review: In The Cabaret Project's 'Piaf, No Regrets' Christine Andreas brings Piaf to stunning life
By Chuck Lavazzi
As the second show of their on-line "Tributes" season of cabaret shows, The Cabaret Project of St. Louis presents the remarkable Christine Andreas in a stunning cabaret performance of the songs of Édith Piaf. This is definitely not a Zoom cabaret! This is a filmed performance, with the highest professional levels of lighting, cinematography and editing. If you are a Piaf aficionado you mustn't miss this show. It's called "Piaf, No Regrets." Miss Andreas has performed it internationally (before the performing arts were shut down). She is a very bright Broadway talent, familiar for several decades to much of the world.
I first saw her perform almost thirty years ago when she sang the role of Liza in a production of "My Fair Lady" at the MUNY. She captured the role and made it hers, surpassing Julie Andrews by several lengths. I was surprised, then, by her youthful appearance and energy—considering that fifteen years previously she had won a Theatre World award for that very same role.
Now she brings us Piaf. And she retains all that vivacity and radiant energy. Does this woman simply not know how to age? (I won't insult a lady with the arithmetic, but sheesh! How does she do it?)
Christine Andreas appears on a small cabaret stage. Throughout the performance she feels she has the spirit of Édith Piaf hovering by her left shoulder. I believe it. For an hour and a quarter (no intermission) Andreas brings us the songs and the life of that iconic Parisienne.
Piaf sang chansons realitistes—songs of the poor, the dispossessed, the desperate—and these songs reflected her own life. Born Édith Gassion into a family of circus and street performers, reared in a brothel run by her grandmother, Édith was singing in the streets with her father at the age of fourteen. She was tiny—4'8". When at eighteen she found work in clubs she was billed as "the little sparrow" ("piaf" being slang for sparrow).
The rest, as they say, is history.
Christine Andreas brings us this full story, wrapped in the timeless songs that Piaf made famous. We're given "If You Love Me", "The Waltz of Love", "My Legionnaire", "Under Paris Skies", "Padam, Padam". (You'll recognize them.) Much is sung in French, but English lyrics are often interwoven. This is no impersonation. Andreas makes each song her own, and she appears far too healthy and full of life to mimic the frail pallor of Piaf, and Andreas is indeed somewhat warmer than Piaf. But when one's French is good how can one convey Piaf without a bit of mimicry? Without that tight vibrato and those distinctive rattled "R's"? And without that sense of anguish, that occasional fierceness? Andreas captures it all.
It's visually simple. The singer in black, her short-cut hair just a little tousled. The only color is that of her red lips. A lonely spotlight, a grand piano at the edge of the light. But the lighting varies and shifts. It shimmers and we almost see the wisps of smoke in some Parisian boîte de nuit. She's accompanied by her husband, Martin Silvestri, who is perfect in that role. And when she sings "L'accordionist" Silvestri takes up that charming instrument and plays it with great skill and with a lovely repressed passion. There's a gravitas even in the carriage of his head. He seems almost a philosopher accordionist. And when he joins her in singing he shows a rich, lovely baritone.
Miss Andreas shows magical phrasing. She can seduce us with hushed intimacy, and she can do full-throated Broadway belting (as in "I Love Paris"). "Autumn Leaves" is perhaps the most popular ("cheesy"?) song in the evening, but Andreas makes us forget we've heard it so many times.
Piaf sang a number of Jacques Brel songs. Her version of his "Ne me quitte pas" ("Don't Leave Me") is a great favorite of mine. Miss Andreas sings it with every bit as much pain and anguish as Piaf. Another Piaf favorite is "Milord", the curious, melancholy song of a young street-walker who is enamored of a passing English gentleman. Andreas nails it.
Of course there is time for "The Marseillaise", stalwart and powerful. And of course we are given Piaf's signature song, "La vie en rose", beautifully done.
Piaf prized more than anything "a resilient heart". Christine Andreas embraces that sentiment whole-heartedly in a memorable rendition of "Non, je ne regrette rien" ("No regrets").
This terrific performance was filmed at the Katharine Hepburn Performing Arts Center in Old Saybrook, Connecticut, and is sponsored by the Cabaret Project of St. Louis.
The Cabaret Project's "Piaf, No Regrets" is available as an on-demand webcast from 7:30 pm to midnight CST on Saturday, February 27th. It's the second of three shows in their 2021 "Tributes" season of on-line performances. More information is available at The Cabaret Project web site.
Related Articles