Cabaret
Cabaret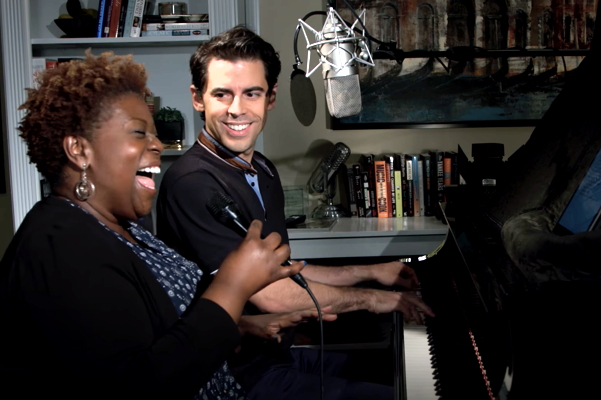 Review: The Cabaret Project welcomes spring with a tribute to Frank and Ella
By Chuck Lavazzi
It's Spring, 2021. A time of renewal, growth, and optimism. Soon we will be free to safely return to restaurants, museums, clubs, and movie theaters. Many will pack sports arenas, others concert halls, some will return to enjoying live theater. We are close. So close.
In this time of separation and isolation, we have found ways to live our lives as normally as possible. We have been offered the opportunity to fill our half-empty glasses with art and beauty. This has been made possible by creative artists striving to find alternate ways to connect, uplift, and entertain audiences. And then, modern technology to the rescue. Live Streaming or video-on-demand has been around since the 1990s. However, it recently found a new multi-generational audience due to the nationwide lockdown.
Fortunately, The Cabaret Project of St Louis's concert series answered the need for great musical entertainment, enjoyed at a safe distance. They went virtual for their most recent concert series, "Tributes—A Virtual Season." I consider myself rather fortunate to be able to enjoy these often brilliant, always memorable performances in the comfort and safety of my home. Of course, nothing is quite like a live performance, but the tribute concerts offered by The Cabaret Project this year have run a remarkably close second.
The final offering of the tribute concert season is aptly named "Frank and Ella." Of course, these music legends are so famous, they are known simply by their first names. Doubtless, I am speaking of the incomparable Frank Sinatra and Ella Fitzgerald, two of the greatest voices of their generation and they have the recording catalog to prove it, with over 500 recordings between them.
The "Frank and Ella" cabaret is a tribute performance of chart-topping tunes, made famous by these popular singers. The performers, Tony DeSare and Capathia Jenkins are deeply talented, entertainment veterans, who join forces to pay homage to these two greats.
The performance was intimate and immediate, relaxing, and yet sometimes quite stimulating. Their voices were polished and perfectly pitched for a lovely evening of music from the Great American Songbook. The youthful-looking DeSare is a gifted pianist/arranger who truly captures the spirit and memory of Frank, as he croons his way through Sinatra's most loved songs.
Capathia Jenkins, a bright-voiced joyful performer, simultaneously exudes love and reverence as she sings Ella's best-known tunes.
The pair opened with "Let's Face the Music and Dance," both showing a broad vocal range and Mr. DeSare playing brilliantly on the Irving Berlin classic. Next, Ms. Jenkins performed Duke Ellington's sultry "Satin Doll." Kicking it up a notch, Tony sang "Come Fly with Me," where he beautifully captured Sinatra's phrasing and timbre and displayed his piano chops by playing in multiple styles, including jazz, swing, and stride.
Ms. Jenkins and Mr. DeSare filled out the evening with classics, including "All the Things You Are," "The Lady is a Tramp," "Fascinating Rhythm," "Summer Wind," and a medley of "Without a Song," "They Can't Take That Away from Me," "Our Love is Here to Stay," "Moon River," "Fly Me to the Moon," "How High the Moon" and "That's Life!"
No Sinatra homage would be complete without that monumental tribute to the Big Apple, "New York, New York," and, of course, "My Way." Neither disappointed. For a touching finale, they partnered for a heartfelt rendition of "I'll Be Seeing You."
They do return at the end with a surprise bonus track, for their encore. I will not spoil it for you. I think it best to just let you discover it for yourselves.
I had the pleasure of viewing this show on Saturday, March 20. But you can still stream this concert one last time, this Saturday, March 27, any time between 7:30 pm and midnight CDT. Tickets for the show are available on line via Givesmart. For more information on The Cabaret Project's virtual season: visit their web site.
Related Articles