Cabaret
Cabaret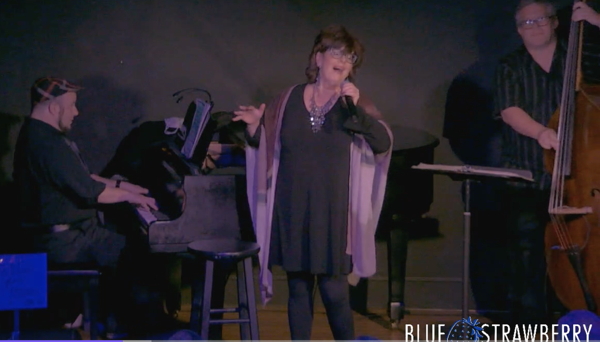 Debby Lennon and the Pfeffer Trio dazzle at the Blue Strawberry
By Judi Mann
Saturday night (May 15th) I had a delightful, memorable experience. Rather, I had a memorable experience delivered by the delightful Debby Lennon. Ms. Lennon is a St. Louis treasure and one its most respected and in-demand singers. She has appeared in opera, musical theater, cabaret, night clubs, recording studios, and with our own St. Louis Symphony orchestra as a soloist for the last 3 decades.
She dazzled the crowd at The Blue Strawberry with her show, aptly named "Setting the Standard with a Twist of Time," featuring the Pfeffer Trio. This swinging, grooving ensemble features Nick Schlueter, an absolute jazz piano virtuoso, Jeremy Pfeffer on Bass, and Joe Weber tying it all together with a myriad of drum styles and tempos.
This lady with the bright, brassy powerhouse of a voice, never disappoints. Saturday night was no exception. Her unmistakable sound always makes me think of Streisand. But Ms. Lennon is so much more than a beautiful voice. She is a song stylist of the highest order. Her set was a combination of well-known standards, with a few surprises. Irving Belin, Cole Porter, Harold Arlen, and the Gershwins, all get the Lennon treatment with a whole new groove.
Debby's renditions of "Cheek to Cheek," "Let's Fall in Love." "Anything Goes," and "But Not for Me" offered a fresh new approach to well-worn tunes, giving them an updated twist and personality. Her takes on "How Deep is the Ocean" and "The Devil and the Deep Blue Sea" were downright seductive and highlighted her range and vocal dexterity. Not many women can soar into the rafters with a soprano register and in the same song hit notes so low in her chest voice the audience was audibly surprised and delighted.
Listening to the evening's music and vocals, I was transported back to New York in the early 80s when I heard many of the greats perform at The Blue Note and The Bitter End. It was a different time a different vibe and this show captured that mood.
Oh, and by the way, Debby made her debut as a soloist at Carnegie Hall in 1992. Can you say legit? I am a big fan and pity those who missed the one-night-only event. Do yourself a favor. Next time you see Ms. Lennon's name connected to any performance, grab your tickets and be in the room where it happens. You can thank me later because I will probably be there too!
Related Articles