Cabaret
Cabaret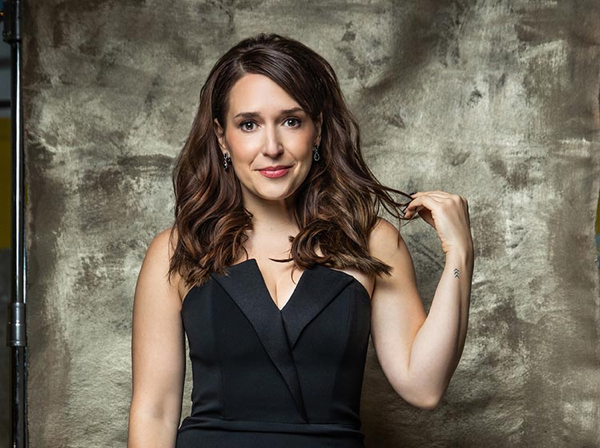 Review: Broadway's Jessica Vosk dazzles and embraces the Blue Strawberry
By Steve Callahan
I imagine that some fifteen years ago Jessica Vosk stepped into a Manhattan taxi and asked the driver: "Do you know how to get to Carnegie Hall?" The cabbie must have replied: "Foist ya gotta pay y'r dues!"
Vosk clearly got the message. In the ensuing years this lady has steadily earned her way up the golden ladder of musical theater stardom, starting with small roles and understudies, then major roles, then leads. She sang Fruma Sarah in the 2015 revival of "Fiddler on the Roof", then Elphaba in a 2016 touring company of "Wicked." In 2019 she took over the role of Elphaba on Broadway. She was there!
On November 8th Jessica Vosk enthralled an adoring audience of more than 2,800 people in her evening at Carnegie Hall. Three nights later she brought that same massive talent, energy and charm to a somewhat smaller audience—a packed house of maybe a hundred or so—at St. Louis' prime cabaret venue, The Blue Strawberry.
It was an evening of rich variety with an overall focus on the great ladies of American musical theater—Judy Garland, Barbra Streisand, Ethel Merman and such. All the great "belters"—and Miss Vosk can indeed belt. (In this intimate space she really didn't need the microphone she held.) But there were also tastings of pop music (Elton John, Whitney Houston) and of Disney ("The Little Mermaid") and others from almost every decade of American music since the '30's.
She opened with a terrific version of "This is Me" from the P.T. Barnum show, "The Greatest Showman." In that show the song is sung by the Bearded Lady, but Jessica Vosk needs no beard to make this a powerful statement about herself and how she is just exactly who—and where—she wants to be. And last night that was here singing in St. Louis!
Then there followed "Issues" (Julia Michaels quintuple-platinum single), "Part of Your World" (Ariel's song from "The Little Mermaid"), and Elton John's "Your Song". She gave us Whitney Houston's "I Wanna Dance with Somebody Who Loves Me" as well as "I Don't Know How to Love Him" from "Jesus Christ Superstar".
All gorgeous! Such power and clarity! Such intimate warmth in her lower register! And those capacious eyes! Their smallest glint carries to the upper balconies.
We get Leonard Cohen's "Hallelujah". We get Cole Porter's "Still Got My Health" which Ethel Merman introduced in "Panama Hattie" in 1940. We get "Brand New Key"—a delightfully bubbly silly novelty song that won't leave your head for days. It put the singer Melanie (Safka) high on the charts fifty years ago and its cute but risqué connotations ("Well, I got a brand new pair of roller skates / You got a brand new key") got it banned from many radio stations.
Vosk is accompanied on stage by her pianist, Ben Rauhala, who gives wonderful support, and by her singing friend and colleague Marissa Rosen. Rosen has a glowingly happy angelic face—and a killer Broadway voice. She joins Vosk in several numbers—most memorably in a weepingly beautiful homage to that historic pairing of Judy Garland and Barbra Streisand in "Get Happy" and "Happy Days Are Here Again". What a glorious duo these two give us—with the "Shout Hallelujah" in "Happy Days" echoing the Leonard Cohen song.
The high point of the evening for me was the utterly gorgeous warm, flowing rendition of "Somewhere Over the Rainbow".
Throughout the evening this older audience, when encouraged, joined in the lyrics. They remembered them! At the end the whole house rose to its feet to cheer. After Miss Vosk gave us an encore (well, two really—she'd inadvertently skipped one intended song) the audience, again on its feet, simply demanded another encore—and was gratified with "A Million Dreams"—again from "The Greatest Showman."
Jim Dolan has worked wonders to build a fine cabaret scene in our town. Many thanks to him and to the Blue Strawberry. Jessica Vosk continues there through Saturday, November 13th.
Related Articles