Cabaret
Cabaret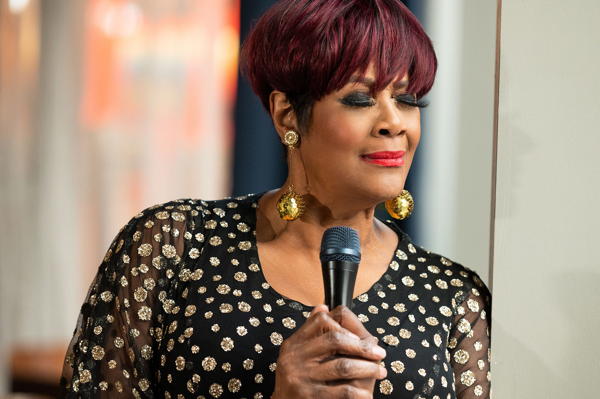 Review: Denise Thimes delivers a swinging, soulful Christmas show
By Chuck Lavazzi
Denise Thimes, backed by an excellent combo, provided the perfect antidote to the treacly torrent of recorded holiday music with a live, jazzy jaunt through some of the season's best songs at Jazz St. Louis on December 7 and 8, as part of their Contemporary Cabaret Series.
Every year, and only during the holidays, my great-grandmother made a treat called Divinity. It was white and light and fluffy, and provided a mind-blowing hit of sugar. I loved it and eagerly looked forward to a sparkling stack of it presented on a "fancy" pressed glass plate during every holiday visit. It remains one of my best taste memories, made more potent because it came but once a year.
Now, having experienced an evening of mostly Christmas songs and sass by Denise Thimes and her band at Jazz St. Louis, I have a sound memory that is just as visceral. It's the highlight of the 2022 holiday entertainments and sure to stay with me like my Mee Maw's Divinity. The two-night engagement was billed as "A Swingin', Soulful Christmas with Denise Thimes," and both sold out. And for good reason.
Thimes, along with Adaron "Pops" Jackson on piano, John King "The Pharoah" on bass guitar, Henry Johnson on guitar and Demarius Hicks drums, performed a well-curated baker's dozen of well-known Christmas classics, creatively interpreted and nuanced through Thimes' emotional sensibilities and song craft acumen. The performance, which went by way too fast (always the sign of a great show), moved effortlessly from effervescent to ephemeral and from  and from languid to showcased songs we all know by heart by elevating the meaning of the lyrics.
True to the billing, some songs like "Winter Wonderland" had swing, some like "Have Yourself a Merry Little Christmas" had soul. Introducing the latter song late in the show, Thimes cautioned that she sometimes couldn't make it through it without choking up. She made it through her version (that had an emotionally wounded vibe), but the same wasn't true for some in the audience. That song has always been plaintive since Judy Garland sang it in "Meet Me In St. Louis," but Thimes's interpretation was deeper and even more emotionally resonant.
For many of the songs, Thimes slowed them down significantly and used the effect to good use. I was reminded of how differently I experienced Tears For Fears' "Mad World" when performed by Gary Jules, David Bowie's "Modern Love" when covered by The Last Town Chorus and Joy Division's "Love Will Tear Us Apart" by Rickie Lee Jones.
She used this slower tempo to great effect on her interpretation of the McCartney-Lennon hit "And I Love Her." She swapped the lyric's pronoun and delivered an extended, confessional ode to love that may not replace the original but certainly can stand alongside it. She followed this song with a gospel-tinged "Silver Bells" (complete with an exhortation to sing along), and the transition was seamless.  
Thimes knows how to sequence a show and maintain a lively pace even with so many down-tempo songs. She sprinkled the show with ample patter and PG-rated naughtiness. Introducing "I Saw Mommy Kissing Santa Claus," she said, "I put the spank on it." And during "Winter Wonderland," she added, "Honey, you know you can jingle my bells!"
Thanks to the extended and plentiful solos, especially by Jackson and Johnson, the show's relatively modest song list felt lush and complete. Thimes is a compelling singer, even on poppy songs like "This Christmas," and the band performed to the same high standards. The musicians were true partners in the performance, rather than relegated to "backing up" Thimes.
I left  "A Swingin', Soulful Christmas with Denise Thimes" wanting more and yet also fully satisfied. This time next year, while visions of sugar plums dance in the heads of others, I'll be wishing for another helping of Thimes' divine holiday song treats. 
The Contemporary Cabaret Series is presented by Jazz St. Louis and The Cabaret Project of St. Louis. Information on upcoming shows is available at the web site of both organizations.
Related Articles