Cabaret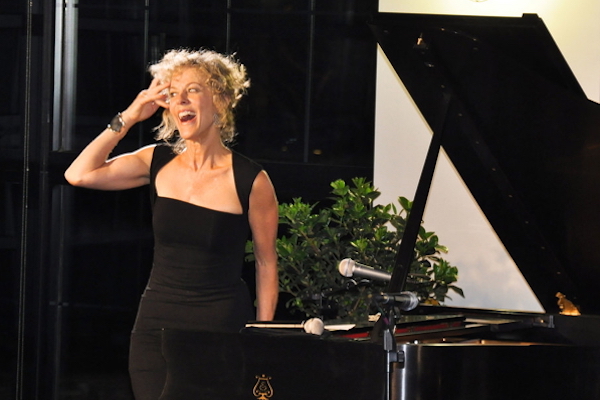 Digging the joy of stride piano with Judy Carmichael at the Gaslight Cabaret Festival
As Al Joslon once sang to Jimmy Durante, "It's a thrill when a real piano player sits down at the keys." Last Friday, November 11, at the Gaslight Cabaret Festival, singer, songwriter, Sirius/SM radio host, and stride pianist extraordinaire Judy Carmichael showed that ol' Joley knew what he was talking about.
Because, make no mistake, Ms. Carmichael is a real piano player. She's got the powerful left hand you need for that strong octave/chord alternation that characterizes the bass line of the stride style along with a nimble right for all the flashy stuff. She dove into the long instrumental jams with her performing partner, guitarist Chris Flory, with a cheerful gusto that was positively infectious. Even her one blues number--"Boisdale Blues," a Carmichael original--was accurately billed as a "very happy blues" that takes its title from a London restaurant chain where Ms. Carmichael likes to play.
In fact, if this show was about anything it was about the joy of making music. You could see it in the little verbal asides between her and Mr. Flory and you could absolutely hear it in the endless invention and unflagging virtuosity of her keyboard style. Like so many of the great pianists, Ms. Carmichael treated those 88 keys as simple extensions of her fingers; a thought became music with the speed of neural transmission.
Ms. Carmichael is also a witty songwriter, as evidence by original numbers like the "Take Me Back to Machu Picchu" ("Where have you gone, my love hypnotic? / Remember when you weren't neurotic?") and "My Manhattan." She wrote the latter when she first moved from California to the Big Apple of which, as she reminded us, Ed Koch once said "if you're one in a million, there are ten of you in New York." Her lyrics and the music of her composing partner, Harry Allen, combine to create the kind of hip, "jazz patter" numbers I associate with Lambert, Hendricks, and Ross.
There were more quiet numbers in the show, of course, including a sensitive performance of the too rarely heard "The Lamp is Low," with Mitchell Parish's lyrics grafted on to Ravel's serene Pavane pour une infante défunte. But for the most part this was an evening that brought smiles of pleasure and frequent applause for the virtuosity on display.
The fall edition of The Presenters Dolan's Gaslight Cabaret Festival concluded last Saturday, but Jim Dolan continues to produce cabaret acts on an ongoing basis in The Emerald Room at The Monocle in the Grove. Ms. Carmichael, meanwhile, continues to tour.
Related Articles