Cabaret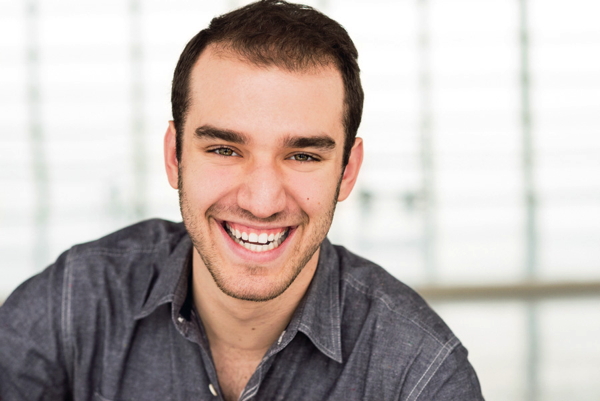 Ari Axelrod takes the wheel of an impressive cabaret debut at The Monocle
As someone who, just two years ago, had a face-off with death in the form of life-saving brain surgery, Ari Axelrod has perhaps a more mature view on mortality than many other twenty-somethings. It certainly gave Taking The Wheel, his debut cabaret show, a depth of feeling that I have not always seen in the work of some of his contemporaries.
I'm not normally a fan of the "this is my life" school of cabaret, but Mr. Axelrod and his director, Broadway star and teacher Faith Prince, provided just enough biographical detail to help the audience understand why the songs were selected and why they mattered. Towards the end of the show, for example, brief patter about how that brain surgery (to correct a condition called Chiari malformation) forced him to face the fragility of life at a young age led into a medley of William Finn's "Holding the Ground" (from Falsettoland) and Adam Guettel's "How Glory Goes" (from Floyd Collins). That second song, in which a dying Floyd Collins wonders what the afterlife will be like ("Is it warm, is it soft against your face? / Do you feel the kind of grace inside the breeze? / Will there be trees, is there light?") was especially moving for some of us older folks who are facing similar thoughts. And it allowed Mr. Axelrod to elaborate on his feelings through the songs rather than spelling them out for us in prose.
He was able to do that so effectively because he had clearly absorbed and thoroughly internalized the lyrics of the sixteen well-chosen songs in his act. That enabled him to create the illusion that the lyricists' words were his own, improvised on the spot. That's a sign of Ms. Prince's influence, and it worked very well for Mr. Axelrod, enabling him to quickly establish and hold rapport with the audience.
A good cabaret show, as I have noted in the past, should feel like a one-act play, with a strong dramatic structure and a resolution at the end. Taking the Wheel worked very well on that level, building to a big dramatic moment with the "Taking the Ground"/"How Glory Goes" medley and then segueing immediately into a pair of "lessons learned" songs by Sondheim, "Now You Know" (from Merrily We Roll Along) and "No One is Alone" (Into the Woods).
That, in turn, brought us back to a reprise of the title song (by John Bucchino, from It's Only Life). First heard at the top of the show in ballad tempo, it was clearly about self-doubt. When it returned at the end, up tempo, it became an affirmation: " Dreaming again and making those dreams real / Taking the wheel." It closed the dramatic circle neatly while setting up the encore, John Bucchino's "Grateful"—a song which feels very relevant in our current age of ingratitude.
The show was very solid musically as well as dramatically. Music director and pianist Ron McGowan skillfully performed well-thought-out arrangements that supported Mr. Axelrod's light and supple singing style. Mr. Axelrod relied just a bit too heavily on his head voice and falsetto range, in my view, but he has plenty of power and accuracy up there, so I can't really complain.
The essence of cabaret, as my friend and cabaret star Dr. Ken Haller has pointed out, is telling stories through songs. In Taking the Wheel, Ari Axelrod told us his story in a way that was unfailingly engaging and intelligent. He's off to make his fortune now in New York City, and if this show was any indication, he has a promising future ahead of him.
Taking the Wheel was performed on Saturday, December 3, in the Emerald Room at The Monocle in The Grove.
Related Articles