Cabaret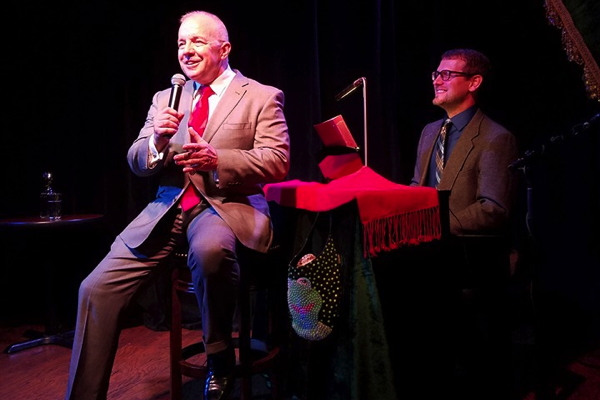 Ken Haller's 'The Medicine Show' is just what the doctor ordered
Laughter, the old saying goes, is the best medicine. If so, The Medicine Show, the newest diadem in the crown of St. Louis cabaret star Ken Haller, was just what the doctor ordered. And Mr. Haller is a doctor, so he should know.
Sure, there were serious moments in this cabaret evening inspired by Dr. Haller's long and distinguished career in pediatric medicine. That included a sensitive version of Jason Robert Brown's "Someone to Fall Back On" and a truly moving rendition of "How Glory Goes" from Adam Guettel's Floyd Collins. But ultimately The Medicine Show was about good cheer.
And that's a good thing, given that contemporary American politics often leaves the more thoughtful citizen feeling (to continue the medical theme) like a Christian Scientist with appendicitis (a joke I stole from Tom Lehrer).
The comic tone was set at the very beginning as Mr. Haller (I'm dropping the "Doctor" from here on out, if we're all OK with that) entered from the house wearing an obviously fake black wig and singing "Ken Haller's Miracle Elixir" (formerly "Pirelli's Miracle Elixir" from Sweeney Todd) with music director/pianist Marty Fox playing Todd to his Toby. 
It was fast and funny, and set an engaging tone for the rest of the evening. It also showed the strong rapport between Mr. Haller and Mr. Fox, who often added a second voice to the evening to complement his sterling pianism.
The show reached its emotional heart with a lovely medley of "Holding to the Ground" from Falsettos), "Home" from The Wiz, and that Muppet classic "The Rainbow Connection" that was all about home, hope, and holding fast to what counts in life. Through it all, Mr. Haller delivered the goods with that combination of theatrical smarts and vocal authority that has made him one of our town's principal cabaret exports.
The Medicine Show was performed on April 8 at The Stage at KDHX where it will make a return engagement on Saturday, June 24. The Stage is the state of the art performance space with seating for around 100, great sight lines, and an adjoining café, it's a welcome addition to the roster of cabaret rooms in town. 
Related Articles