Classical
Classical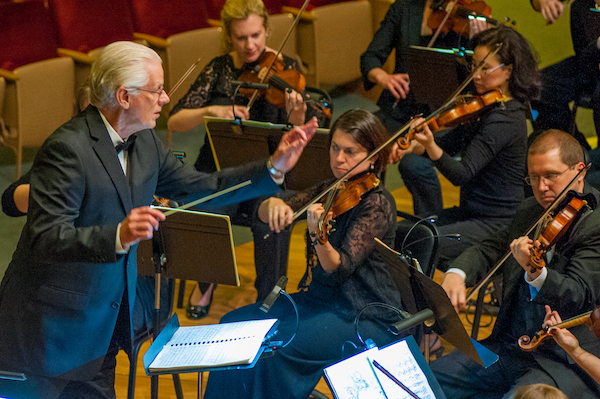 The Metropolitan Orchestra of Saint Louis celebrates Allen Larson
By Gary Scott
The world of music is filled with special moments. This weekend, our community celebrated a particularly meaningful moment as Allen Larson, Conductor Laureate of the Metropolitan Orchestra of Saint Louis, completed his last full program with the orchestra.
Anyone who knows Larson will surely realize that this milestone will simply be the first step to new ventures. Throughout his career, Larson has devoted himself to education, creativity, mentorship of young performers and outreach to the entire community. He will continue in these roles and continue to make a lasting impact on our entire region.
As always, Larson selected a program that speaks to both seasoned audiences and those who might be new to discovering the incredible range of artistic expression, style and sonority that only a symphony orchestra can offer. One reason for Larson's success is his magical ability to simply allow the music to speak for itself. Whether he conducts professionals or rank amateurs, he strives to highlight the full melodic line, enhanced by its harmony and phrasing. In other words, he allows the orchestra, and each of its individual instruments, to sing.
The concert opened with the Concerto for Oboe and Violin by J. S. Bach, BWV 1060, with oboist Ann Homann and violinist Shawn Weil as soloists. Initially, the thought of pairing a violin with an oboe may not seem like a mellifluous combination, but the two instruments blend and contrast beautifully together. To accomplish this, though, it is necessary to have soloists who play with warmth and sensitivity to the interweaving of the two instruments. Fortunately, this was not lacking with either Weil or Homann. Both are experienced performers who have honed their craft in a variety of ensembles. This concerto reflects Bach's admiration for the Italian style and spotlights Bach in a celebratory and joyous mood. Both these fine musicians are outstanding performers who need to be heard as often as possible.
The first half of the program continued with a longstanding orchestral favorite, Felix Mendelssohn's "Hebrides" (Fingal's Cave) Overture. As a young Jewish youth who loved Scotland and Italy and a prodigy equal to Mozart, Mendelssohn was only twenty when he visited Scotland and England in 1829. A year later in Rome he composed this haunting overture whose mystical melody has enchanted listeners of all ages ever since. Melody is central to this work, and Larson paid careful attention to the importance of the primary melody and its accompanying siren-like harmony. 
The concert concluded with Beethoven's Symphony No. 4 in B-flat Major. In his program notes, Glen Bauer noted that this symphony is easily passed over in the Beethoven canon. However, it is a remarkable work, full of both the fire and the contemplation that we associate with Beethoven's creative output. It makes an excellent showpiece for both orchestras and conductors to demonstrate their prowess with a work that navigates across all dynamic levels and tempos. This work was an excellent choice for the program, since it both introduced the audience to a work they might not know well, but also provided a brilliant and rousing conclusion.
In his remarks to the audience following the program, Larson noted that he is leaving the Metropolitan Orchestra in good hands, with its crew of supporters, its outstanding musicians and staff, and Music Director Wendy Lea and Assistant Conductor Andrew Peters in charge. A new generation of performers, students and listeners will have much to look forward to. 
In an era where critical thinking is of paramount importance, learning to listen effectively to serious music can greatly enhance our ability to analyze, assess and comprehend the world about us. One of Allen Larson's greatest gifts to his colleagues, his students and his audiences is his ability to draw out every musical line. That is where true communication begins in music. Leaders such as Allen Larson, and those who have worked with him to support common goals, should be applauded and honored.
Related Articles