Classical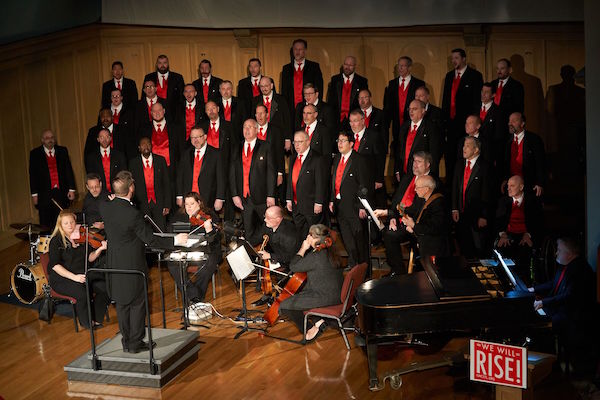 Gateway Men's Chorus rises up
Whether performing classical, jazz, contemporary, gospel or even easy-listening repertoire, the Gateway Men's Chorus of St. Louis just keeps getting better and better as they continue to stoke the musical life of our entire community. 
The concerts of March 16-17 were themed with a serious tone. "We Will Rise" dedicated the evening to observing the special challenges faced by LGBT and minority communities as they deal with issues of acceptance, discrimination and mental health. The program featured a variety of mostly new works crafted to address these concerns through music.
Artistic Director Robert Stumpf, now in his third year at the helm of the GMC, is one of my favorite conductors anywhere. He gives it all he's got and directs like an athlete. It is impossible not to be moved when you see such total commitment of body, mind and soul from such a conductor and such a spirited ensemble. Equally experienced as an instrumental conductor, that Stumpf's instrumental expertise adds an extra dimension to his choral directing. He pulls out boldness, strength, delicacy and tenderness from the ensemble.
Of particular note in these performances was the high level of talent displayed by the various soloists. Oliver Dowden brought the house down with his exuberant performance in "Here's Where I Stand" from "Camp" by Michael Gore and Lynn Ahrens, as did Terrell Thompson in his riveting gospel rendition of "Glory" from "Selma." Both men were able to imprint their own individual stamp on the music with unfaltering and seamless support from the vocal and instrumental accompaniment.  
Ben Helmers gave a lyrical and impassioned voice to a plea to those contemplating suicide in "Please Stay" by Jake Runestad. Probably each of us has been touched by the suicide of a friend or family member, which adds a particular poignancy to a piece such as this.
Balance among the sections of the orchestra was excellent, and the instrumental backup equally so. It was rather amazing to see how music united around a common theme can draw from such a variety of sources and genres.
Sometimes the spoken word combined with music breathes added power to both. Such was the case with "At the Heart" by Gerald Gurss, narrated by Liz Nelson, in which a letter from the mother of a transgender child is read against the backdrop of powerful screen images and an organic backdrop of choral music. 
A deeply profound and moving aspect of the program consisted of the onscreen statements from members of the GMC, its board and Robert Stumpf that described the personal struggles they had to face as individuals. It isn't easy to bare one's soul publicly, but doing so as part of a group ignites understanding and empowerment, and demonstrates that in unity forges strength. It would be impossible to withhold respect from individuals willing to share their personal stories. It was deeply encouraging to also read ensuing statements from each person detailing how they combatted and rose victorious from each challenge.
Special credit must be given to Principal Accompanist John Cargile. Equally at home on organ as well as piano, Cargile possesses an unerring rhythmic pulse and navigates beautifully through every style he is asked. 
For this program, the GMC was also joined by a great group of string players and a percussionist provided by the Musicians' Local of St. Louis.  In particular, violinist Holly Huelskamp performed the solo passages of the Albinoni Adagio, which opened the second half of the program, with exquisite phrasing and intonation. 
Perhaps the central work on the program was Joel Thompson's "Seven Last Words of the Unarmed," drawn from the final utterances of seven unarmed black men. The work is stark and angular, with no additional commentary. Sometimes the music that makes us think is not always the prettiest. Dancer Rickey Phoummany provided a choreographed interpretation of the words of a dying man, portrayed with vividness and fluidity.
Similarly, sign language interpreter John T. Adams is a performer and soloist just as surely as anyone else on stage. His expressive movement breathes life into the words and sound emanating from the stage, and he works tirelessly throughout each concert. 
It was a joy to realize that, with only a brief exception aimed at President Trump by a guest commentator, this program did not seek to arouse hatred of the oppressor, but rather to sow seeds of understanding and acceptance. Sometimes it seems that we discard one prejudice only to pick up another. Hatred is hatred, regardless of where it is directed. For me, that's always been a tough lesson, but loving an enemy does not have to mean accepting the status quo the person might offer. I like to think that this program was about demonstrating the path of love and acceptance, brought about by teaching and understanding. 
Related Articles