Classical
Classical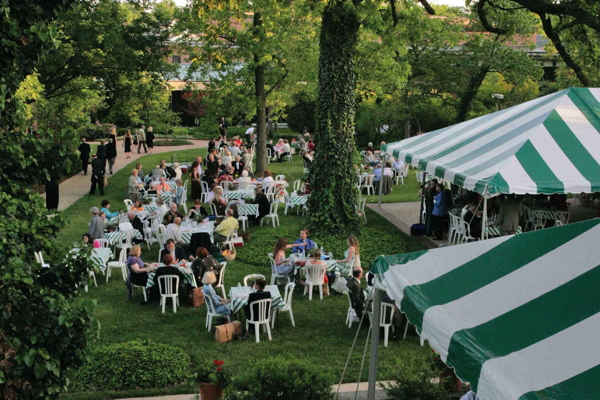 Tales of love, death, and laughter in Opera Theatre's 2016 season
By Chuck Lavazzi
Summer is almost upon us, which means it's time for picnics on the lawn, champagne receptions, and great musical theatre in Webster Groves. It is, in short, time for Opera Theatre's annual four-show season.
Travel plans will make it impossible for me to provide my usual detailed preview of each opera, so instead here's a quick look at what you can expect on the stage of the Loretto-Hilton Center on the Webster University campus starting on Saturday, May 21, and running through June 26.
But first, some basics. For four decades now, Opera Theatre has been presenting four operas in rotating repertory every summer. All operas are sung in English with projected English text, so you won't miss a single word. The orchestra is made up of local musicians, mostly from the St. Louis Symphony, and the cast members are drawn from all over the world. Critics come from all over the world as well, making the annual OTSL season a truly international event.
For the full Opera Theatre experience, come early and have a picnic supper and some wine at one of the many tables set up on the Loretto-Hilton Center's lawn or under one of the concession tents. You can bring your own food and drink or buy boxed dinners from Ces and Judy's catering. Come on opening nights and get an added bonus: a champagne and dessert reception after the show with the cast and crew under the main concession tent.
The season opens on Saturday, May 21, with a recurring favorite: Puccini's La Bohème. Directed by Ron Daniels and conducted by Emanuele Andrizzi, this will be the sixth production of the opera by OTSL. It stars Canadian tenor Andrew Haji as Rudolfo, Kentucky-born baritone Anthony Clark Evans as Marcello, soprano and BBC Cardiff Singer of the World Competition winner Lauren Michelle as Musetta, and soprano Hae Ji Chang as Mimi.
The Story: Although copies of Henri Murger's 1851 short story collection Scènes De La Vie Bohème are no longer the common sight on bookshelves that they once were, the principal characters have never fallen out of favor. Originally published in a Paris literary magazine, the stories of young bohemians living in the Latin Quarter of Paris in the 1840s inspired, among other things, one play, two operas, and most recently, the wildly successful rock musical Rent. 
It's Puccini's 1896 opera, however, that should probably get most of the credit for embedding the image of the starving artist in a Paris atelier into Western consciousness. The poet Rudolfo, the painter Marcello, and their various young, creative, and broke friends are down on their luck and preparing to burn some of their work to heat their squalid Parisian apartment when the equally poverty-stricken seamstress Mimi comes knocking. Before the first act is over, she and Rudolfo are smitten. The opera chronicles the highs and tragic lows of both their relationship and that of Marcello and the singer Musetta, Our Lady of the Relaxed Virtue.
Highlights: The long, ecstatic love scene between Rudolfo and Mimi at the end of Act I never fails to generate applause, as does the Act II scene at Café Momus, featuring Musetta's famous waltz tune, "Quando m'en vo'" ("When I go along"). And Mimi's death scene at the end of the fourth act can always be counted up on for jerking tears. Director Daniels promises a fresh and breathtaking approach to this old favorite. I look forward to seeing what that means.
Saturday, May 28, brings the local premiere of Verdi's Macbeth. Directed by Lee Blakeley and conducted by OTSL Music Director Stephen Lord, the production stars English baritone Roland Wood in the title role, along with soprano Julie Makerov, last seen here as the homicidal Queen of Hearts in Unsuk Chin's Alice in Wonderland in 2012, as the even more homicidal Lady Macbeth.
The Story: Francesco Maria Piave's libretto sticks fairly close to Shakespeare's original, although there are some inevitable expansions for the opera stage. The three witches, for example, have been turned into an entire cackling chorus. The opera currently exists in two different versions: the 1847 original and an 1865 revision prepared for the Théâtre-Lyrique in Paris. That latter version has been the more popular of the two and it's the one OTSL is using.
In an article for Opera Today, Harvard's Daniel Albright says this later version is "more spacious, sprawling, operatic" and goes on to detail why:
The Parisian ballet-pantomime for Hecate offers a glimpse at fate's control mechanisms; the new chorus for the Scottish refugees has a greater emotional amplitude; and Lady Macbeth's La luce langue is one of Verdi's great arias, a show-stopper. If mixed-mode dramaturgy, opportunities for histrionic display, are Shakespearean, then 1865 is more Shakespearean than its predecessor. 
No matter which version is used, though, this is a dramatic and fast-moving work that keeps the express-train pace of Shakespeare's original intact.
Highlights: I love Act I's Witches' Chorus, as well as Lady Macbeth's famous "letter" scene and the Act II drinking scene, interrupted by the appearance of Banquo's ghost. General Director Timothy O'Leary says we should expect "incredible vocal fireworks." And lots of blood.
On Sunday, June 5, at 7 p.m. OTSL brings us the opening performance of Richard Strauss's seriocomic Ariadne on Naxos, directed by the company's long-time choreographer Seán Curran with music direction by Rory Macdonald. The cast features globetrotting soprano Marjorie Owens as Ariadne, tenor AJ Glueckert (who has garnered praise for his ringing high notes) as Bacchus, South Korean soprano So Young Park as Zerbinetta, and Cecelia Hall as The Composer.
Yes, there is a role for The Composer. Allow me to explain.
The Story: As the comic Prologue informs us, the "richest man in Vienna" has engaged both a production of the tragic opera Ariadne on Naxos and a commedia dell'arte troupe as after-dinner entertainment for his guests. To save time, he decrees that both shows must take place simultaneously. The performers can work out the details. The resulting conflicts between the opera company's Composer (a "pants" role), Music Master, Prima Donna, and Tenor on one side and Zerbinetta and her group of buffoons on the other generate plenty of laughs, most of them at the expense of the self-important composer and his egotistical leading lady.
After intermission, we see the hybrid opera within an opera set up in the Prologue. Abandoned on Naxos, Ariadne (with the help of three nymphs) yearns for death, but her lamentations are repeatedly interrupted by Zerbinetta and company, who are determined to cheer her up. Drama eventually wins out, however, when Bacchus arrives, declares his love, and joins Ariadne in a long, rapturous love duet.
The odd structure of Ariadne on Naxos stems from the fact that it was originally written as a one-act postlude to a German translation (by Strauss's frequent collaborator Hugo von Hofmannsthal) of Moliere's comedy Le Bourgeois Gentilhomme in 1912. The difficulty and expense of mounting a play and an opera on the same bill eventually forced Strauss and Hofmannsthal to produce a rewrite that allowed the opera to stand on its own. It was first performed in 1916 and has been in circulation ever since.
Highlights: Your mileage may vary, but I have always found the comic carrying on of Zerbinetta and company to be some of the best bits. That said, the concluding love duet for Bacchus and Ariadne shows Strauss at his most rhapsodic. Look for distinguished St. Louis -- based actor/singer/playwright Ken Page in the role of the Majordomo.
On Saturday, June 11, at 8 p.m. we get the world premiere of Shalimar the Clown, composed by Jack Perla with a libretto by Rajiv Joseph based on the Salman Rushdie novel of the same name. Tenor Sean Panikkar -- an OTSL veteran most recently seen here in the St. Louis Symphony's captivating presentation of Berlioz's Roméo et Juliette -- has the title role. The production is part of the company's ongoing New Works, Bold Voices series, which emphasizes the creation of American works that tell compelling modern stories with themes of common humanity in today's world.
The Story: Shalimar the Clown is a story of paradise lost in conflict-ridden 1960s Kashmir, set also in Los Angeles and London. In a pastoral Kashmiri village, a young Muslim boy named Shalimar falls in love with a beautiful Hindu girl named Boonyi. They are performers in a traditional folk theater -- he a tightrope walker and she a dancer. Their romance manages to meet with the approval of village elders, resulting in a joyful wedding. But when a new American ambassador meets Boonyi, he seduces her with the promise of a new life, sending Shalimar down a dangerous path of revenge.
Highlights: Who knows? This is a brand-new work, so it's impossible to say what the Best Bits will be. Perhaps the biggest highlight is the fact that Salman Rushdie was in town earlier in the year to support and promote the piece. One interesting aspect will be the scoring, which incorporates traditional Indian instruments like the sitar and tabla. Opera Theatre's commitment to new works is, in any case, a reminder that opera is a vibrant, living art form.
The Essentials: Opera Theatre of St. Louis presents four operas in rotating repertory from May 21 through June 26 in the Loretto-Hilton Center on the Webster University campus. Tickets available online or by phone at 314-961-0644.
Related Articles