Classical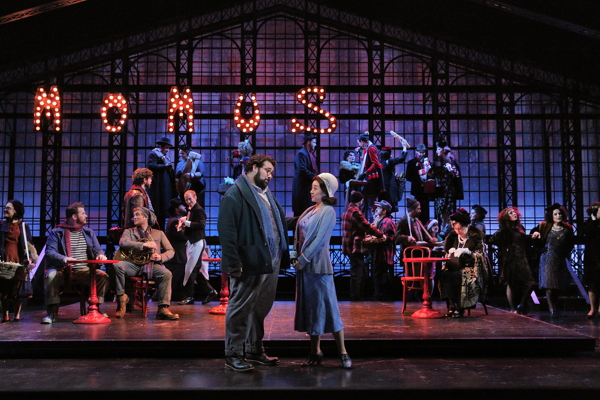 Starving artists provide a musical feast in Opera Theatre's 'La Bohème'
By the time Puccini and his librettists got around to translating Henri Murger's episodic 1849 novel Scènes De La Vie Bohème into the 1896 opera La Bohème, it had already enjoyed a considerable European vogue, so it's not surprising that La Bohème has gone on to become a favorite of opera companies around the world. That includes Opera Theatre of St. Louis, which has presented it five times since 1978.
For its sixth run at this classic tearjerker, OTSL has assembled a fine cast, with particularly strong performers in the supporting roles. Combine that with generally very smart direction and superb orchestral playing and the result is a very gratifying production which, despite a few missteps, serves both Puccini and his librettists very well.
For those of you who have somehow missed being exposed to this tale of starving artists in the Latin Quarter of Paris, here's a quick summary. On Christmas Eve, the poet Rodolfo, the painter Marcello, the philosopher Colline, and the musician Schaunard are young, creative, broke, and preparing to burn some of their work to heat their squalid Parisian apartment when the equally poverty-stricken seamstress Mimi comes knocking. Before the first act is over, she and Rodolfo are smitten. The opera chronicles the highs and tragic lows of both their relationship and that of Marcello and the singer Musetta. Mimi dies, Musetta doesn't, and nobody lives happily ever after.
Bass-baritone Bradley Smoak and baritone Sean Michael Plumb turn in two of the strongest performances as Colline and Schaunard, respectively. A regular on the OTSL stage, Mr. Smoak once again displays the ideal combination of vocal power and theatrical prowess that made him a welcome addition to (among others) the company's Pirates of Penzance in 2013 and Don Giovanni in 2011. Mr. Plumb, in his OTSL debut, proves to be a skilled actor with a fine sense of comedy and an accurate, robust voice.
Also making his company debut is baritone Anthony Clark Evans as Marcello, who can't decide whether he's less happy with Musetta or without her. His battle and reconciliation with her in the big Café Momus scene of Act II was a highlight of the evening.
Speaking of Our Lady of the Relaxed Virtue, soprano Lauren Michelle (yet another newcomer to the OTSL stage) gives Musetta a bit more of a comic edge than I have seen in other productions. It makes her great fun to watch, even if it makes Marcello's obsession with her a bit less credible, but she sings up a storm in the famed "Musetta's Waltz" sequence and makes the character's compassion for Mimi in the last act very moving.
As Rodolfo, Andrew Haji (a late replacement for the originally scheduled Anthony Kalil), displays a smooth and appealing tenor voice which is not, unfortunately, quite as powerful as that of his fellow cast members, so he tends to get a bit swamped in ensemble numbers. He also is a bit overpowered by his Mimi, Hae Ji Chang, who has the kind of big, rich soprano required for this "full lyric" role. They're fine singers, but neither seemed to be fully invested in their characters, resulting in performances that felt a bit one-dimensional to me.
Even so, Mimi's death scene, which OTSL General Director Tim O'Leary calls "one of the most heartbreaking scenes in all of opera," manages to generate the right amount of pathos, so on the whole I can't really complain.
Bass-baritone Thomas Hammons, whose cameo in Tabarro was so moving back in 2013, shows solid comic chops as the befuddled landlord Benoit and Musetta's equally confused sugar daddy Alcindoro.
Director Ron Daniels, Set Designer Riccardo Hernandez, and Costume Designer Emily Rebholz have moved the action from the mid-nineteenth century to the early twentieth, using silent film clips and non-singing actors (including a pair of Charlie Chaplin imitators on roller skates and stage veteran Joneal Joplin as Santa Claus) to set the tone between acts. This makes a certain dramatic sense, in that Paris in the 1920s probably has the same kind of nostalgic feel for the modern audience that the mid-1900s Paris would have had for Puccini's audience at the end of that century.
Mr. Daniels's direction is, in any case, fluid and creates interesting visuals, even if he does have the crowd at the beginning of Act II mill around the stage in circles for a bit too long. He has also found more humor in the opera than I have sometimes seen in the past, especially in the opening scene with Rodolfo and his flat mates.
Conductor Emanuele Andrizzi is making his OTSL debut, and it's an auspicious one. His tempi are well chosen, his vocal/orchestral balances are good, and he keeps everything running smoothly. That includes the complex Café Momus scene, with both adult and children's choruses and even an offstage marching band parading through the house. The orchestra plays beautifully, with a big, rich sound that does Puccini proud.
Finally, I'd like to offer praise for the excellent rhyming English libretto by Richard Pearlman and Francis Rizzo. Too often, translators make little or no attempt to duplicate the scansion and rhyme schemes of the original material. It's nice to see it done so well here.
Opera Theatre of St. Louis's La Bohème may not be perfect, but it's awfully good and gets the company's fourty-first season off to a gratifying start. It runs through June 25 at the Loretto-Hilton Center on the Webster University campus. Tickets available online or by phone at 314-961-0644.
Related Articles