Classical
Classical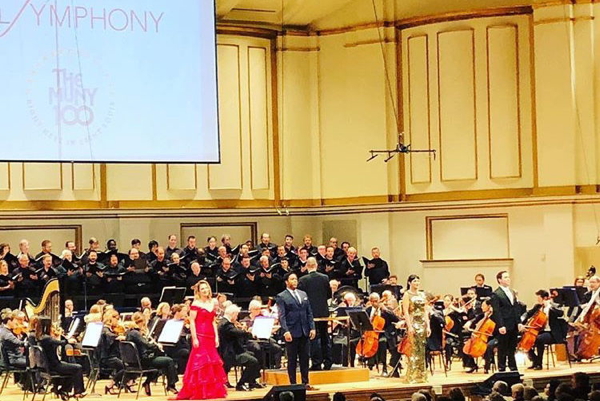 Review: The St. Louis Symphony Orchestra celebrates the Muny's first half-century
By Chuck Lavazzi
When I saw that the title of the special St. Louis Symphony Orchestra concert on Sunday, October 7, was "A Celebration of the Muny at 100," I assumed it would be a survey of nearly a century of Broadway with maybe a few nods to operetta and an emphasis on newer shows.
Then I saw the program (which wasn't available until the day of the concert) and found I could hardly have been more wrong. And I could hardly have been happier.
"A Celebration of the Muny at 100: Its Opening Act in Song and Symphony" (the full title) was, in fact, a delightful tribute to operetta, that bridge between opera and the Broadway musical that formed the mainstay of Muny seasons for most of the company's first half-century. Yes, there were some selections by Richard Rodgers, Cole Porter, and Irving Berlin, but for the most part Sunday's program was dedicated to Sigmund Romberg, Victor Herbert, Jerome Kern, and even Gilbert and Sullivan and John Phillip Sousa.
It's rare to see operetta performed here at all, let alone with a full symphony orchestra, chorus, and top-notch singers from the worlds of musical theatre and opera. As someone who loves this music, I found the concert to be a real treat. And judging from the audience response, I wasn't alone.
The show was assembled and conducted by Ben Whiteley, who in addition to his many other credits, has been the music director for many Muny shows--most recently this year's excellent "Singin' in the Rain." His selection was impeccable, ranging from favorites like "The Italian Street Song" from Herbert's "Naughty Marietta" and "Stouthearted Men" from Romberg's "New Moon" to rarities like "Some Girl is On Your Mind" from Kern's "Sweet Adeline" (a follow-up to the hit "Show Boat" that had the misfortune to open on the eve of the 1929 stock market crash).
Better yet, the entire affair was narrated by Muny Artistic Director and Executive Producer Mike Isaacson, who introduced each number with fascinating bits of Muny and SLSO history, illustrated with images of classic Muny programs and press materials projected on Powell Hall's big screen. Did you know, for example, that George Gershwin actually conducted the SLSO in a benefit concert on March 1st, 1936, the year before he died? The program included Gershwin's "Concerto in F" and selections from "Porgy and Bess," as you might expect, but it concluded with Tchaikovsky's "Symphony No. 6." I wish I had Dr. Who's T.A.R.D.I.S. for that one.
The four singers on the program represented a perfect balance of styles. Soprano Cree Carrico and baritone Justin Michael Austin have substantial operatic backgrounds. Ms. Carrico showed off her prowess in "coloratura lite" classics like "The Italian Street Song" and "Poor Wand'ring One" (from Gilbert and Sullivan's "The Pirates of Penzance"), soaring through the elaborate vocal lines with apparent ease and good humor. Mr. Austin's big, robust voice was an ideal match for the lyrical "Gypsy Love Song" from Herbert's "The Fortune Teller" as well as for the martial "Stouthearted Men."
From the world of musical theatre, we had soprano Elizabeth Stanley and tenor Daniel Berryman. Ms. Stanley sang a touching "Bill" (from "Show Boat") and a bravura "Johnny One-Note" (from Rodgers and Hart's "Babes in Arms"). Mr. Berryman gave us a beautiful "Serenade" (from Romberg's "The Student Prince") along with some great duets with Ms. Stanley and Ms. Carrico, including one of my favorites: "You're Just in Love" from Irving Berlin's "Call Me Madam."
All four singers were strong actors as well, bringing the songs to rich theatrical life. That was apparent throughout the concert, but most notably when they joined forces for the three selections from the Gershwins' 1931 operetta/political satire "Of Thee I Sing," the first musical to win the Pulitzer Prize for Drama. St. Louis's own Keith Boyer, Debby Lennon, and Phil Touchette also joined Mr. Austin and Mr. Berryman to create the solo quintet for "Some Girl in On Your Mind."
I'm not convinced that the singers really needed their wireless body mics, though. All four were very strong vocalists who would probably have been able to project effectively without them, and the resulting sound mix seemed to me to be distorted in a way that it never is for the orchestra's regular amplification-free concerts.
The St. Louis Symphony Chorus sounded fine as always and the orchestra had a chance to shine in the overtures to "Eileen" with its evocation of 19th-century Ireland, and Gershwin's "Girl Crazy," as well as the "El Capitan" march from the Sousa operetta of the same name.
Next at Powell Hall, Gustavo Gimeno conducts The St. Louis Symphony Orchestra and piano soloist Javier Perianes Friday and Saturday at 8 pm, October 12 and 13 in Ligeti's "Concert Românesc," Bartok's Piano Concerto No. 3, and Rimski-Korsakov's "Scheherazade." Then Lee Mills conducts orchestra and narrator Omega D. Jones in a Family Series concert featuring "Lemony Snicket's The Composer is Dead" by Nathaniel Stookey on Sunday, October 14, at 3 pm. The concerts take place at Powell Hall in Grand Center.
Related Articles