Classical
Classical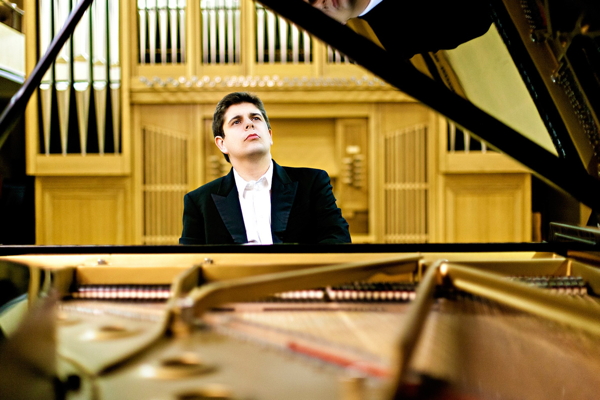 Review: Widescreen 'Scheherazade' highlights a pair of promising debuts at the St. Louis Symphony
By Chuck Lavazzi
Last weekend the St. Louis Symphony Orchestra brought us new music performed by a pair of familiar faces. This week (Friday and Saturday, October 12 and 13) was the Yang to that Yin with a program of works that were all familiar to varying degrees performed by two new faces on the St. Louis scene: conductor Gustavo Gimeno and pianist Javier Perianes. It was an impressive pair of debuts.
[Find out more about the music with my symphony preview.]
Mr. Perianes, who appears to be heavily in demand as a soloist these days, performed Béla Bartók's Piano Concerto No. 3, a work which he recorded earlier this year with the Munich Philharmonic. That recording was praised for its "great warmth" by The Gramophone, and you could certainly hear that quality in Mr. Perianes's playing, especially in the Adagio religioso second movement. But I also heard a crystalline grace and precision in the first movement and real virtuoso flash in the Allegro vivace finale, with its lively "call and response" between the soloist and the orchestra. Mr. Perianes appeared to be in close communication with Mr. Gimeno all the way through, resulting in a sense of seamless integration between pianist and orchestra.
Mr. Gimeno is also rather popular these days. His upcoming guest conducting gigs include appearances in Cleveland, Vienna, Los Angeles, and London, and he will take over the Music Director job in Toronto in 2020. After seeing his perfectly balanced and entirely compelling interpretation of Rimsky-Korsakov's "Scheherazade" Friday night, I can understand what all the fuss is about.
This colorful evocation of scenes from "The Thousand and One Nights" is, of course, a solid member of the Classical Greatest Hits Club. Like most classical music lovers, I've heard it more times than I can count. Even so, this was one of the most captivating performances I have ever experienced. The first movement, "The Sea and Sinbad's Ship," had a wonderful epic feel. The Allegro molto--Vivace scherzando central section of "The Story of the Kalendar Prince" had great dramatic tension. "The Young Prince and the Young Princess," was sweepingly romantic without ever becoming syrupy (as can sometimes happen). And the final movement with its vivid description of the "Festival at Baghdad" and Sinbad's ship being dashed against a cliff was the musical equivalent of a widescreen, high definition action film. It was gripping, dramatic, and perfectly paced.
Conductor Gustavo Gimeno
Photo by Anne Dokter
Rimsky-Korsakov literally wrote the book on orchestration (you can still purchase his "Principles of Orchestration" from Dover Books), and he filled "Scheherazade" with brilliant orchestral writing. The solo violin, representing the voice of Scheherazade, is probably the most notable example, and Concertmaster David Halen played it exceptionally well. But the fact is that the composer filled this music with choice bits for all the first chair players.
As a result, we had splendid solo performances from (among others) Principal Cello Daniel Lee, Principal Bassoon Andrew Cuneo, Principal Clarinet Scott Andrews, Principal Oboe Jelena Dirks, Principal Flute Mark Sparks, and Principal Harp Allegra Lilly. Roger Kaza and the horn section were all in fine form, as were the trumpets, led by Associate Principal Tom Drake, the low brasses, and the percussion section. The strings had a pleasing richness and depth, and the orchestra in general played at the high level of virtuosity this music demands.
There was plenty of excellent playing in the piece that opened the program, as well, the "Concert Românesc" by Hungarian composer Görgy Ligeti (1923-2006). Although Ligeti was widely known as an avant-garde composer of sonically dense, complex works, you wouldn't know it from this highly entertaining tribute to the Romanian music and folklore that were an important part of the composer's childhood. Its four short movements bristle with good cheer, including some of what the composer called "tonal jokes," like the use of natural (valveless) horns (expertly played by Associate Principal Thomas Jöstlein and Todd Bowermaster) to mimic the sound of folk instruments and a wild, technically hair-raising "gypsy" violin solo in the final movement (brilliantly rendered by Mr. Halen).
Next at Powell Hall: Jun Märkl conducts The St. Louis Symphony Orchestra and Elizabeth Joy Roe, piano; Celeste Golden Boyer, violin; and Melissa Brooks, cello on Friday and Saturday at 8 pm and Sunday at 3 pm October 19-21. The program consists of Beethoven's Triple Concerto and orchestral selections from Wagner's "Ring" operas. The concerts take place at Powell Hall in Grand Center.
Related Articles