Classical
Classical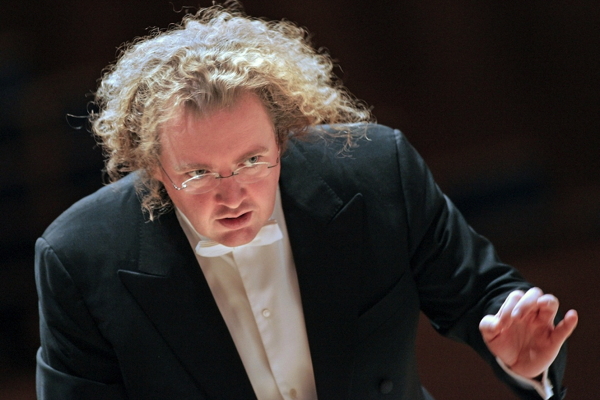 Symphony Preview: Sex and violins
By Chuck Lavazzi
This weekend (November 10 and 11) the French conductor Stéphane Denève makes his first appearance with the St. Louis Symphony Orchestra since being named Music Director Designate earlier this year (he takes over officially as Music Director next season). He considers this his "engagement season" with the orchestra, so I guess it's appropriate that he sees this weekend's concerts as (according a recent interview for Playbill by René Spencer Saller) "all about love at first sight."
Three of the four works on the program will be familiar to local audiences, but the piece that concludes the first half--the 2005 "Neruda Songs" by contemporary American composer Peter Lieberson (1946-2011)--is getting its St. Louis premiere. So let's talk about that first.
Co-commissioned by the Los Angeles Philharmonic and the Boston Symphony, the "Neruda Songs" were written with the composer's wife, the noted mezzo-soprano Lorraine Hunt Lieberson, in mind. Before her untimely death at the age of 52 in 2006 of breast cancer, Ms. Lieberson was highly regarded for the breadth of her repertoire, which ranged from the Baroque to the contemporary, and included roles as diverse as Carmen, Ottavia (Monteverdi's "L'incoronazione di Poppea"), and Myrtle Wilson (John Harbison's "The Great Gatsby"). Quoted in her Los Angeles Times obituary, Opera Theatre of St. Louis co-founder Richard Gaddes described Hunt Lieberson as "a deep, serious musician [who] had a great sense of theater," so it's not surprising that the music her husband wrote for her is passionate and dramatic.
In his notes for the premiere performance (quoted in the SLSO program), Mr. Lieberson wrote that each of the five poems "seemed to me to reflect a different face in love's mirror," ranging from the "pure appreciation of the beloved" in the first song to the "joyful and also mysterious...evocation of nature's elements" of the second to (finally) the sober contemplation in the final song ("My love, if I die and you don't") of the fact that "no matter how blessed one is with love, there will be a time when we must part from those whom we cherish so much."
But even that consideration of death is simultaneously "sad and peaceful," Mr. Lieberson notes: "Neruda reminds one that love has not ended. In truth there is no real death to love nor even a birth: 'It is like a long river, only changing lands, and changing lips.'" Ms. Hunt Lieberson died a little over a year after she first performed the songs her husband wrote for her, and Mr. Lieberson himself succumbed to cancer a few years later. Listening to her recording of that last song with the Boston Symphony from the fall of 2005 would be moving enough in any case, but the realization that she would be gone eight months later makes it that much more poignant.
The soloist for the "Neruda Songs" this weekend is mezzo Kelly O'Connor, who was so compelling in John Adams' "The Gospel According to the Other Mary" with the SLSO last March. Her 2010 performance of the "Neruda Songs" with the Colorado Symphony garnered considerable praise at the Denver Post. "With singing that managed to be at once seductive and haunting," wrote critic Kyle Macmillan, "O'Connor was equal to this smoldering music in every way. She possesses an amazing, dark-hued lower register but can agilely soar into her upper range as needed... This was the kind of transporting, transformative singing that is deeply moving, life-affirming and all too rare." That bodes well for this weekend.
The concerts will open with instrumental selections from one of the greatest works of music ever to emerge from a stalking incident, Hector Berlioz's 1839 "Roméo et Juliette." As I wrote in my preview of the SLSO's performance of the complete "Roméo et Juliette" in 2016, the incident began in 1827 when Berlioz saw the Irish actress Harriet Smithson as Ophelia in a highly edited production of "Hamlet" by the actor Charles Kemble (who also played Hamlet) at the Odéon in Paris. Although considered a somewhat mediocre performer in Britain, she bowled the French over with her sensitive "mad" scene and completely transfixed poor Berlioz, even though he didn't understand a word of English.
The composer's pursuit of Ms. Smithson did not end well-their marriage was a disaster-but his infatuation at least led to the composition of a work which would prove to be a grand mashup of opera, oratorio, and symphony that both looked backward to Beethoven's monumental "Symphony No. 9" and forward to the integrated music dramas of Wagner. This weekend, we'll hear Part 2 of "Roméo et Juliette" which, as Peter Gutmann writes at Classical Notes, depicts "the Romantic soul of the work...Here, Romeo at first is adrift in thoughts that coalesce into yearning, surges with anticipation as he approaches the Capulet ball, and finally explodes with the splendor and thrill of the dance where he will meet the fulfillment of his dreams."
The concerts will conclude with two very different works with erotic subtexts: the Prelude of Richard Wagner's 1875 opera "Tristan und Isolde" and the "Poem of Ecstasy" from three decades later by composer, pianist, and mystical loony Alexander Scriabin. The two will be played attacca (i.e., one after the other with no pause), resulting in around a half hour of music that can, without stretching a point too far, be seen as the equivalent of intense foreplay followed by a massive orgasm.
It all begins with the famous chord that opens the "Tristan" Prelude. Dissonant-sounding even to modern ears, the famous "Tristan chord" anticipated (as I noted in a 2014 symphony preview article) the expanded harmonic palette of post-Wagnerian composers like Richard Strauss, Gustav Mahler and (for that matter) Scriabin. But its significance goes beyond that. What's really revolutionary about it is that it never really resolves. The tension it creates isn't fully released, in fact, until nearly four hours later when Isolde, in the rapturous "liebestod," wills herself to join her lover Tristan in death.
This weekend, the tension will be released by the work that comes next. A mystic who came to see himself as divine, Alexander Scriabin created for himself what Paul Schiavo, in this weekend's program notes, calls "an elaborate personal philosophy that combined art, religion and eroticism in a quest for enlightenment"--a philosophy expressed most vividly in his music.
Composed between 1905 and 1907, when (as I wrote in my 2007 review of the SLSO's last performance of the work) the composer was actively involved with the Theosophical Society (and, not incidentally, pursuing one of his many extramarital affairs), the "Poem of Ecstasy" is accompanied by a long series of verses by Scriabin, ending with: "I am a moment illuminating eternity....I am affirmation...I am ecstasy." Although scored for an orchestra of (Richard) Straussian proportions, including a massive brass section, two harps and an organ, the "Poem" has sections of great lyricism and transparency that are reminiscent of the French impressionists. They contrast nicely with the rock concert-level sound of the more (ahem) climactic moments.
Some commentators have been a bit coy about the exact kind of ecstasy the composer had in mind, but Scriabin biographer Faubion Bowers, referring to the 300+ lines of verse that accompany the score, concludes that "behind this distillation of Scriabin's world-view there was something blunt - sex." Indeed. With ebb and flow between states of languor and near-hallucinatory excess and its rather orgasmic coda (the piece was, after all, originally titled "Orgiastic Poem"), Scriabin's Poem is probably one of the more R-rated pieces in the repertory. And a fitting finish to a downright lubricious evening of music.
The Essentials: Stéphane Denève conducts the St. Louis Symphony Orchestra and mezzo-soprano Kelley O'Connor Saturday at 8 pm and Sunday at 3 pm, November 10 and 11. Performances take place at Powell Hall in Grand Center.
Related Articles