Classical
Classical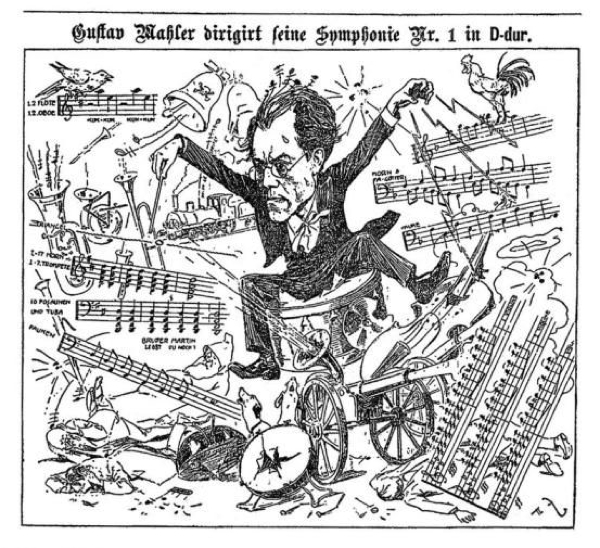 Symphony Preview: Heaven, I'm in Heaven
By Chuck Lavazzi
This Friday and Saturday (September 27 and 28) Stéphane Denève leads the St. Louis Symphony Orchestra and Chorus in Mahler's awe-inspiring Symphony No. 2 in C minor ("Resurrection"). Running around eighty minutes, it's the only work on the program but, trust me, you won't feel short changed.
Stéphane Denève
According to musicologist Donald Mitchell, Mahler once told Sibelius that a symphony "must be like the world. It must embrace everything." His "Resurrection" Symphony takes that "one stop beyond" to embrace not only the world but also what comes after the world has been left behind. Death, rebirth, transcendence--it's all here and delivered with that dramatic punch that characterizes Mahler's best work.
The "Resurrection" had a long gestation period. Mahler composed the grandly tragic first movement--which he titled Todtenfeier ("Funeral Rite")--in 1888, shortly after the completion of his popular Symphony No. 1. Indeed, as Richard Freed points out in program notes for the National Symphony Orchestra, the composer originally intended this movement as "a direct sequel to his First Symphony, representing the funeral of the hero celebrated as a young man in that just-completed work."
In 1889, during his tenure as director of the Budapest Opera, he began work on the sweetly nostalgic second movement, with its reflection of earthy joys left behind, but didn't manage to finish it until 1893, when he had relocated to Hamburg. There, he also wrote the witty scherzo that became the symphony's third movement. Based on Mahler's earlier setting of a poem from the collection of folk poetry "Das Knaben Wunderhorn" ("The Boy's Magic Horn") about St. Anthony trying to preach to fishes--who, like humans, listen politely and then and go on their merry way--it becomes a metaphor for the endless whirl of daily existence.
At the same time Mahler wrote another "Wunderhorn" song, "Urlicht" ("Primal Light") which would become the basis for the mysterious fourth movement. It represents, in Mahler's words, "the soul's striving and questioning attitude towards God and its own immortality."
The grand final movement, with its overwhelming depiction of the end of the world and the final spiritual rebirth of all things, didn't take shape until 1894 when Mahler attended the funeral of Hans von Bülow, the renowned pianist and conductor who was a major figure on the 19th-century German musical scene. At the funeral, the chorus began to intone the first words of Friedrich Gottlob Klopstock's "Resurrection Ode"):
Rise again, yes, you will rise again,
My dust, after brief rest!
Immortal life! Immortal life
Will He, who called you, grant you.
Soprano Joelle Hervey
Photo courtesy of the artist
As Mahler wrote in an 1897 letter to Arthur Seidl "It flashed on me like lightning, and everything became plain and clear in my mind! It was the flash that all creative artists wait for--"conceiving by the Holy Ghost!" He fleshed out Klopstock's original with lyrics of this own (see below) and the symphony was finally born.
First performed in Berlin in 1895 with the composer conducting, the work was the most popular of Mahler's symphonies during his lifetime and it was voted the fifth most popular symphony of all time by a worldwide poll of high-profile conductors conducted by the BBC Music Magazine in 2016.
Maestro Denève articulates the work's universal appeal quite well in this week's program notes. "Maybe the 'Resurrection' is the most global of Mahler's symphonies. It is beyond religion. He had lost his mother, his father, his sister. At the end of the Second Symphony, the god that offers the possibility to arise, to be immortal, is a god that does not judge.
It is about love. The way we will save ourselves is love."
If that sounds rather unlike the angry, hyper-judgmental religion of some believers these days, perhaps it's because Mahler's own faith has never been entirely clear. An Austrian Jew who converted to Catholicism out of professional expediency, Mahler has always, to my ears, shown a kind of joyous pantheism in his music that transcends the crabbed limitations of dogma. You hear it most prominently in his Symphony No. 3, but also in those lines that Mahler added to Klopstock's originals in the triumphal, ecstatic finale of the "Resurrection" (translation from the SLSO program):
O believe, my heart, believe:
Nothing will be lost to you!
Yours, yes, yours is what you longed for,
Yours what you loved,
What you fought for!
O believe:
You were not born in vain!
You have not lived in vain, nor suffered!
All that has come into being must perish!
All that has perished must rise again!
Cease from trembling!
Prepare to live!
O Pain, piercer of all things!
From you I have been wrested!
O Death, conqueror of all things!
Now you are conquered!
With wings I won for myself,
In love's ardent struggle,
I shall soar upwards
To that light which no eye has penetrated!
I shall die so as to live!
Rise again, yes, you will rise again,
My heart, in the twinkling of an eye!
What you have conquered,
Will bear you to God!
This God doesn't build walls. He doesn't have someone sitting at the gate of heaven to weigh souls. He's not interested in seeing anyone roast in hellfire. He's just welcoming back the part of himself that lives in everyone and everything.
Mezzo Tamara Mumford
Photo courtesy of Opus3 Artists
As you may have gathered from the preceding, the "Resurrection" Symphony has long been a favorite of mine, going back to my first encounter with the classic Otto Klemperer recording from early 1960s. A kind of Mahler multivitamin, the "Resurrection" contains all the key elements of the Viennese master's work: moments of chamber-music delicacy alternating with massive orchestral outbursts, vulgar marches, lilting Ländler, a darkly comic scherzo, and passages of sublime beauty, and, of course, that overwhelming final movement. And yet, in the musical equivalent of alchemy, Mahler's sense of architecture somehow transmutes it all in to a single, unified work that brilliantly encompasses the themes of death, rebirth, and transcendence.
Done well, the work's final glorious moments of spiritual rebirth never fail to move one to tears.
If you'd like a more detailed breakdown of the work, there's quite a good one in this week's program notes. For a lighter point of view, there's a droll article at Britain's commercial classical music station Classic FM that includes video snippets of great conductors going into near-orgasmic states of ecstasy conducting the work's final moments. It's irreverent but not inaccurate.
The Essentials: Stéphane Denève conducts The St. Louis Symphony Orchestra and Chorus along with soloists Joélle Harvey (soprano) and Tamara Mumford (mezzo-soprano) in a performance of Mahler's Symphony No. 2 ("Resurrection") Friday and Saturday at 8 pm September 27 and 28. Making her SLSO debut, Ms. Mumford appears as a substitute for Kelley O'Connor, who had to withdraw due to illness. Performances take place at Powel Symphony Hall in Grand Center.
Related Articles