Classical
Classical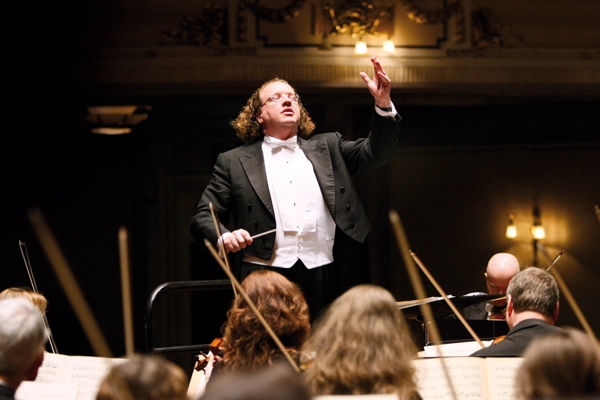 Review: The SLSO goes around the world in 120 minutes for New Year's Eve
By Chuck Lavazzi
When David Robertson was the Music Director, the St. Louis Symphony Orchestra's New Year's Eve Celebration concert was characterized by light, celebratory music, dashes of comedy, and surprise guest appearances. This year was the first such concert to be conducted by our new Music Director Stéphane Denève. Would it differ noticeably from Mr. Robertson's approach, I wondered, and would it be as much fun?
The answer to both questions was an emphatic "yes." This year there were fewer surprises (although the works on the program were, as usual, a secret until concert time), less visual comedy, and more dance-oriented music-all of which was fine with me. The bottom line is that the experience was just as entertaining and effervescent as the bubbly being served at the bar, and I loved every minute of it.
Andrea Jarrett
Photo courtesy of the SLSO
Like Mr. Robertson, Mr. Denève prefaced each piece with some informative and often very witty comments from the podium, starting with an explanation for the theme of the evening. Since the new year actually starts far to the east and gradually works its way west, he noted, the music on the program would start in the east and work its way around to the Americas before ending with some Viennese New Year's Day favorites.
The evening began with a pair of works from Japan and China, respectively, that were totally new to me: the "Waltz" from the 1966 film "The Face of Another," by Toru Takemitsu, and the overture to the "Spring Festival Suite," composed between 1955 and 1956 by Li Hanzhi. The former had that tinge of darkness I associate with (say) the waltz from Khachaturian's "Masquerade Suite," while the latter was reminiscent of the Westernized music produced during China's Cultural Revolution (1966-1976), albeit with more adventurous harmonies and considerably less bombast. Li's work was particularly upbeat, with a real workout for the percussion section, but both had the right celebratory feel.
Up next was a pair of old musical friends: the "Polonaise" from Tchaikovsky's opera "Eugene Onegin" and the "Dance of the Hours" from Ponchielli's 1876 opera "La Gioconda." Mr. Denève put his own stamp on both works, finding more variety of expression than is sometimes heard in performances of these old warhorses. This was especially true in his "Dance of the Hours" with its hushed, delicate opening and wide emotional range. That didn't stop the audience from chuckling at the overly familiar melody of the first section (thanks a lot Walt Disney and Alan Sherman), but Mr. Denève took it all in good-humored stride.
Next the spotlight shifted to SLSO second violinist Andrea Jarrett, who gave us a lovely rendition of Fritz Kreisler's sentimental "Liebesleid" (literally, "Love's Sorrow") and then to Opera Theatre alumna Elizabeth Sutphen for a delightfully theatrical performance of "Mein Herr Marquis" (a.k.a. "Adele's Laughing Song") from Johann Strauss Jr.'s "Die Fledermaus." The latter got an unexpected comic vocal assist from Mr. Denève and the orchestra.
Elizabeth Sutphen
Photo; elizabethsutphen.com
A spirited run through a couple of selections from "Gaîté Parisienne," the 1938 Manuel Rosenthal ballet based on the music of Jacques Offenbach, sent us out to the lobby for a libation with the sounds of the "Galop infernal" (a.k.a. the "Can-Can") from "Orfée aux enfers" still ringing in our ears.
Dance music dominated the second half of the concert, beginning with a somewhat muted performance of the "Ritual Fire Dance" from Falla's "El amor brujo" followed by the return of Ms. Sutphen for "I Could Have Danced All Night" from Lerner and Loewe's "My Fair Lady." Mr. Denève introduced the latter with the tongue in cheek comment that we were now "leaving Europe to go to England," which produced one of the biggest laughs of the evening. Clearly, this was a crowd that was up on its Brexit news.
Crossing the Atlantic to the Americas, we next got two of the most dramatic and sensual works of the evening, the "Libertango" by Argentina's Astor Piazzolla (orchestrated by Federico Mondelei) and the "Danzón No. 2" by contemporary Mexican composer Arturo Márquez.
For "Libertango" the orchestra was joined by Dustin Crumbaugh and Ellen Reed of the Big Muddy Dance Company, expertly executing fluid and subtly sexy choreography by Big Muddy artistic director Brian Reed. It owed more to classical ballet and modern dance than to the tango, but it worked perfectly with the music nevertheless.
Dustin Crumbaugh
Photo: Carly Venderheyden
The "Danzón" turned out to be one of those works I didn't know I knew until the band began playing it, at which point I realized I'd heard it several times on American Public Media's "Performance Today". The piece begins slowly and sensually, eventually building to an irresistibly energetic and rhythmically complex finale. There were some fine solo moments in the SLSO's dynamic performance from Associate Principal Trumpet Tom Drake, Concertmaster David Halen, Principal Clarinet Scott Andrews, and Peter Henderson on piano.
A chorus or two of J.K. Shannon and John Valentine Eppel's 1914 "Missouri Waltz" (our official state song) was next, although when he invited the audience to sing along, Mr. Denève seemed a bit bemused by the fact that almost nobody in the house (including yours truly) knew the lyrics.
Ellen Reed
Photo: Carly Venderheyden
The festivities concluded with a more familiar waltz, Strauss Jr.'s "Beautiful Blue Danube," followed by a truly electrifying reading of the "Farandole" from Bizet's "L'Arlésienne" incidental music-very appropriate for the season, given that it includes the 13th-century French carol "La Marche des Rois Mages" (usually translated as "The March of the Kings"). As Mr. Denève pointed out, the Strauss waltz is part of the traditional close of the Vienna Philharmonic's New Year's concert, as was the final work of the evening, Strauss Sr.'s "Radetzky March." With Mr. Denève cueing us, we all clapped along in Viennese style.
While introducing the Bizet, Mr. Denève pointed out that the farandole is an old French line dance in which everyone joins hands. It brings people together, he said, in the same way he believes music can bring us all together. In a world in which those in positions of power and influence are doing their best to drive us apart, that sounds like a fine hope for the new year.
A sing-along of "Auld Lang Syne" (to which everyone did know the words) sent the audience out with smiles on their faces and, I would like to believe, hopes for a new year in which Mr. Denève's conviction is realized. It certainly did that for me, anyway; if you were there, I hope it did the same for you.
Next at Powell Hall: Stéphane Denève conducts the orchestra and pianist Jean-Yves Thibaudet in Liszt's Piano Concerto No. 2, along with Wagner's "Siegfried Idyll," a suite from Richard Strauss's opera "Der Rosenkavalier," and Anna Clyne's "This Midnight Hour." Performances are Saturday at 8 pm and Sunday at 3 pm, January 18 and 19. Mr. Thibaudet will also join SLSO musicians for a program of chamber music by Poulenc and Shostakovich on Friday, January 17, at Washington University's 560 Music Center.
Related Articles