Classical
Classical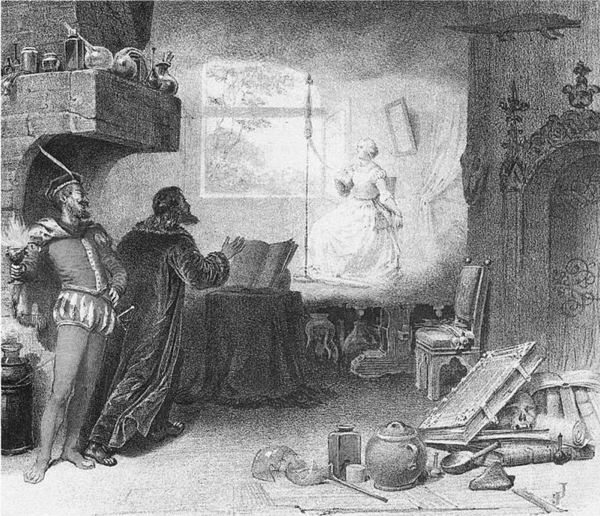 Symphony Preview: 'The Devil made me do it'
By
UPDATE A/O March 12th: The SLSO has cancelled this concert in response to a directive from the City of St. Louis to prohibit all gatherings of more than 1,000 people.
---
The one and only work on the St. Louis Symphony Orchestra (SLSO) program this weekend (March 13th and 14th) was described by Maestro Stéphane Denève in an interview last year as "almost psychedelic. It's extremely evocative and it's so powerful and it's very difficult." That remarkable work is the unusual (if not unique) 1846 opera/oratorio hybrid "The Damnation of Faust," by Hector Berlioz.
Berlioz in 1832
Painting by
If you're the sort of person who reads these previews and attends the symphony on even an occasional basis, you probably don't need me to tell you who Faust was. The legend of the elderly scholar who sells his soul to Mephistopheles in return for youth, vitality, and greater knowledge goes back at least as far as the late 16th century. It might have even been inspired by a real early 16th century alchemist named Johann Georg Faust. I say "might" because at this chronological distance, legend and history start to merge, like far-away objects on the highway.
What intrigued Berlioz, in any case, was neither history nor legend but rather Book One of Goethe's 1808 two-part "Faust: A Tragedy" in an 1827 French translation by Gerard de Nerval. In his "Memoirs," Berlioz wrote that "this marvellous book fascinated me from the first. I could not put it down. I read it incessantly, at meals, in the theatre, in the street."
Not while actually crossing the street, one hopes.
As described in Tim Munro's notes for this week's concerts, Berlioz spent years on what would eventually become the gripping mashup of symphony, oratorio, and opera that you'll hear this weekend. It calls for a huge orchestra--around 100 players will be on the Powell Hall stage--and makes sometimes extreme demands on the musicians. Add in the adult chorus, the children's chorus, and the soloists, and you have forces that are massive even by Berlioz standards.
Berlioz called it a "légende dramatique," and while it has occasionally been staged, it's mostly heard in a concert setting, as it will be this weekend.
Ultimately, "The Damnation of Faust" is a masterful piece of musical storytelling that requires little introduction. That said, if you want to familiarize yourself with the work in advance, there are plenty of resources on line. Mr. Munro's notes have a detailed summary of the story and there's a complete live, semi-staged performance on YouTube conducted by Jonas Kaufmann with José van Dam as Faust. If you're an Amazon Prime subscriber, you can listen to all of Sir Georg Solti's recording with the Chicago Symphony for free. Thanks to the Melbourne Symphony Orchestra, there's even a downloadable version of the original French text with a line-by-line English translation.
You won't need that at Powell Hall this weekend, of course, because the translation will be projected on a screen above the stage.
The SLSO Chorus
Photo courtesy of the SLSO
Mr. Denève has assembled an all-star cast for this performance. The role of Faust will be sung by American-born tenor Michael Spyres, who has just recorded the role with the Strasbourg Philharmonic under John Nelson. Marguerite, the object of his lust, will be mezzo Isabel Leonard, who sang Ravel's "Shéhérazade" with the New York Philharmonic last week. She has performed at the Metropolitan Opera and also on "Sesame Street" (although not at the same time).
Bass John Relya will be the cynically sinister Méphistophélès. A veteran of the opera stage and recital hall, the list of conductors he has worked with reads like a current "who's who" of international luminaries. The head shot on his web page even looks a bit wicked.
Completing the cast is baritone Anthony Clark Evans in the cameo role Brander, a student who sings a somewhat crass song in Scene 6 about a rat whose high life in the kitchen comes to an abrupt end:
Certain rat, dans une cuisine
Etabli, comme un vrai frater,
S'y traitait si bien que sa mine
Eût fait envie au gros Luther.
Mais un beau jour le pauvre diable,
Empoisonné sauta dehors
Aussi triste, aussi misérable
Que s'il eût eu l'amour au corps.
Which roughly translates as:
A rat once in a kitchen
Set itself up like a real monk,
And did itself so well that the sight of it
Would have moved the fat Luther to envy.
But one fine day the poor devil,
Ate poison, and leaped out
Just as wretched and frantic
As if it had been [in] heat.
This motivates Méphistophélès to reply with one of the more famous numbers from "Damnation," " Une puce gentille" ("A charming flea"), about a flea who rises above his station with rather more success than the poor rat.
But I digress.
The Essentials: Stéphane Denève conducts The St. Louis Symphony Orchestra and Chorus Children's Choirs, and vocal soloists on Friday and Saturday at 8 pm, March 13 and 14 in "The Damnation of Faust." It should run around two hours and fifteen minutes, plus intermission. Performances take place at Powell Symphony Hall in Grand Center.
Related Articles