Classical
Classical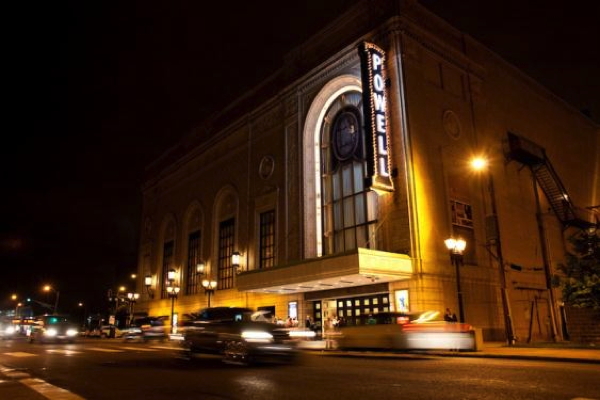 Where is the St. Louis Symphony during the pandemic? Almost everywhere!
By Chuck Lavazzi
A quick run through the St. Louis Symphony Orchestra (SLSO) concert calendar reveals a depressing truth:  everything, including the official 20-21 season is marked "currently unavailable." Some have been cancelled outright while others have been postponed.
Powell Hall
Photo courtesy of the SLSO
Which, frankly, is as it should be. Because, no matter what some politicians and pundits would have you believe, putting hundreds of people together in an enclosed space for a couple of hours is guaranteed to be a free buffet for the coronavirus. That's why the performing arts are, practically speaking, shut down for the foreseeable future.
As a music critic, I especially miss our evenings at Powell Hall. Fortunately, there are still many ways to see and hear members of the SLSO perform, if only from your living room.
Let's start with the obvious one: the rebroadcasts by St. Louis Public Radio of prior SLSO concerts. Every Saturday at 8 pm, you can revisit a great musical moment from the past by tuning your analog radio to 90.7 FM, tuning your HD radio (yes, some of us still have them) to 90.7 HD-1, or listening to the station's main Internet stream either at the SLPR web site or via the St. Louis Public Radio app. My experience has been that you'll get the best sound from either the web site or the app, but no matter how you get there you'll be happy with what you hear.
Stéphane Denève conducts
Photo courtesy of the SLSO
If the concerts I've heard so far are any indication, SLPR has assembled a carefully curated list of the orchestra's "greatest hits" for these broadcasts. Every one has been a winner. Over the last couple of months, for example, we've had Stéphane Denève's riveting Beethoven 9th and Mahler 2nd, as well as former Resident Conductor Gemma New's glowing account of music by Elgar, Sibelius, and Grieg, along with a wonderful new work by Aaron Jay Kernis. Upcoming concerts include an all-American program on July 11 under guest conductor Cristian Macelaru, Richard Strauss's monumental "Alpine Symphony" on July 18, and works by Shostakovich, Britten, and Thomas Adès on July 25.
I was out of town for the Strauss and am really looking forward to it. I was here for the others, and they were all tremendous successes.
But the SLSO's presence isn't just auditory. Take a look at their YouTube channel for a veritable cornucopia of music videos.
Lyric for Strings at the Soldiers Memorial
Photo courtesy of the SLSO
Start out with the orchestra's most recent project, "Songs of America". It's a solid half-hour of American classics ranging from "America the Beautiful" to Sam Cook's "A Change is Gonna Come" performed by members of the orchestra both in Powell Hall and at local landmark sites. You can see an irrepressibly jolly version of Scott Joplin's "The Easy Winners" at the Scott Joplin House, a moving version of "Lyric for Strings" by George Walker (one of the first black graduates of the Curtis Institute of Music) at the Soldiers Memorial downtown, and a rollicking "St. Louis Blues" by our own Music Director Stéphane Denève on the piano at his home. St. Louis's Brian Owens delivers a powerful "Change is Gonna Come" at Kiener Plaza, Malena Smith sings a heartfelt "America the Beautiful," and Kennedy Holmes wraps it up with a lovely "Amazing Grace," accompanied by a quartet of SLSO string players. Video and sound quality are beyond reproach, and it's all yours with the click of a mouse or a tap of your phone.
But wait—there's more! The #SLSOatHome series features SLSO musicians playing from (of course!) their homes. You can hear SLSO Chorus member Susan Patterson sing an English translation of Dvorak's "God is My Shepherd," violist Michael Casimir play the "Star Wars" theme while wearing a Storm Trooper helmet and using a light saber for a bow (it's a hoot, trust me), and SLSO horns Thomas Jöstlein, Tod Bowermaster, and Tricia Jöstlein play a brief trio for alphorns. Given the size of those instruments, physical distancing isn't just a good idea, it's inevitable.
Shannon Wood
Photo courtesy of the SLSO
My cabaret buddy and chorus member Mark Saunders sings Stephen Schwartz's wonderful "Meadowlark" (a song that always leaves me a bit weepy). Principal Horn Roger Kaza plays Schubert's "Auf dem Strom" ("On the River") while kayaking on (yes) a river. There's even a solo tympani version of the main theme from the third movement of Mahler's Symphony No. 1 arranged and performed by Shannon Wood.
He has a lot of drums at his house.
There's more—quite a lot more, really—at the orchestra's YouTube site. I have barely scratched the surface here. You'll want to surf over yourself and check it out, which you can do not only on your phone and computer but also on your smart TV at the YouTube channel.
Also on your TV: Nine Network's monthly "Night at the Symphony" broadcasts. On the first Sunday of every month at 5 pm you can enjoy selections from a previously recorded SLSO performance. Sound and video quality are quite good, but you will need a digital antenna to watch it. As far as I can tell, it's not available on the PBS smart TV app, but you can watch earlier episodes at the Nine Network web site.
So while it's anybody's guess as to when we'll all be together in Powell Hall again, we can at least stay in touch with St. Louis Symphony Orchestra from the comfort of our homes. Pour some prosecco into your SLSO "keep it cup" and enjoy.
Related Articles