Classical
Classical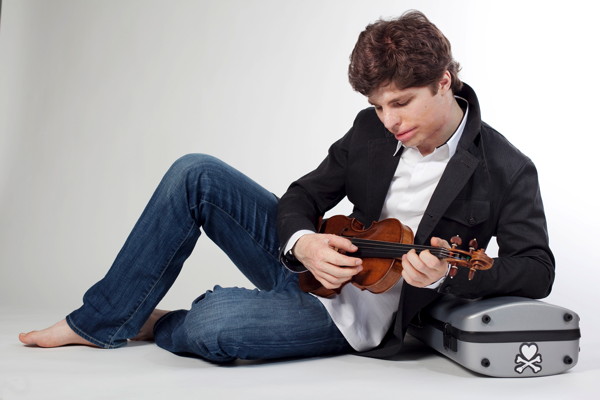 The accent is on youth in music by Adès, Britten, and Shostakovich at the symphony
By
The audience might have been grayer than usual at the St. Louis Symphony Orchestra's 10:30 am Coffee Concert Friday (January 12, 2018), but the music was all the work of composers in the prime of their youth.
The concert opened with a suite from the chamber opera (four singers and a small pit band in its original form) Powder Her Face, which premiered in 1995 when composer Thomas Adès was only 24. Based on the life of Margaret Campbell, Duchess of Argyll (1912-1993), whose elegant and fashionable life took a bizarre turn after a near-fatal fall down an elevator shaft in 1943 turned her into something of a sex addict, the opera has generally gotten good reviews despite (or maybe because of) the R-rated nature of its story.
You can hear a fair amount of the eccentricity in the suite--a 2017 co-commission by the SLSO along with four other notable orchestras and Carnegie Hall--which uses a full-size orchestra and a huge percussion battery. The tango-style Overture sounds like a dance band in hell complete with discordant, wailing saxophones (played with bluesy precision Friday morning), but the music soon gives way to an almost saccharine Scene with Song featuring impeccable solos by Concertmaster David Halen and Principal Clarinet Scott Andrews that wouldn't have sounded out of place in the Paul Whiteman Orchestra. There's also an intoxicated Waltz with icy string pizzicatos and a Hotel Manager's Aria with the horns, at the bottom of their register, acting as the voices of death.
There's humor, ingenuity, and aural variety in this music--more than I recall hearing in my only other exposure to Mr. Adès's work, his In Seven Days (Concerto for Piano With Moving Image), which the SLSO performed in 2012. It was, in fact, great fun to hear--something I find myself saying all too rarely about a lot of newer music--and performed with genuine élan (in the French sense of mouvement d'amour) by conductor David Robertson and his forces.
Up next was the Violin Concerto by Benjamin Britten, written in 1938 and 1939 when the composer was in his mid-twenties. Composed in response to the horror of the Spanish Civil War, the concerto was described by Britten as "without question my best piece," but he went on to say that it was "rather serious I'm afraid."
That it is. As an indictment of modern warfare with its ensuing trauma, I'd put it right up there with Nielsen's fifth symphony and Vaughan Williams's fourth. The concerto opens with a five-note figure on the tympani that's soon joined by an anguished, ascending theme on the violin. The two ideas dominate the rest of the movement, sometimes in opposition to each other, sometimes joined so closely that it's hard to tell them apart. The second movement is a wildly virtuosic scherzo that feels like one of Hieronymus Bosch's creepier paintings set to music. It's almost monothematic, based largely on a triplet figure that's first stated by the violin and then gurgles away in the bassoons before moving on to the rest of the orchestra. A cadenza leads to the final movement. Marked "Andante lento," it's a passacaglia (a series of variations on a repeating theme in the bass line) that moves contrapuntally around the orchestra and drips with anguish until the work concludes on a hushed and uncertain note, vacillating between major and minor but never really settling on either.
The soloist has his work cut out for him here. In a 2010 interview for violinist.com, violinist Janine Jansen describes the concerto as "quite demanding," and she's not exaggerating. The Vivace second movement is especially hair raising, with lots of "double stops and even double-stop harmonics" (to quote Ms. Jensen again), but the cadenza that leads into the Passacaglia is no less fearsome.
Nor are all the challenges technical. The emotional profundity of both the opening Moderato con moto and the closing Passacaglia demands a musician who has heart as well as nimble fingers. I'm happy to say that the young Italian-born violinist Augustin Hadelich is just such a performer.
His commitment to the music was obvious from the first notes, as both his facial expressions and body language displayed a deep, intense connection to both Mr. Britten and Mr. Robertson. Yes, his skill in negotiating the flashy stuff on his 1723 Stradivarius was unassailable, but what really made this performance work was his ability to put across the intense feeling behind those notes.
Mr. Robertson did a superb job shaping the music, bringing out all the drama and passion. He began slowly, on the low end of moderato, which made the build to the fervent central section of the first movement that much more powerful. He and Mr. Hadelich produced a second movement that hummed with energy, leading into a monumental final movement.
Music blogger Ben Hogwood once wrote that hearing this was like being in a "massive church." After Friday's performance, I see what he meant. I especially liked the fact that Mr. Robertson allowed the silence after the uncertain ending to linger before finally lowering his baton and accepting the applause. It was an incredibly dramatic moment.
The concert concluded with the Symphony No. 1 by Dmitri Shostakovich, written when the composer was still a student at the Leningrad Conservatory and first performed when he was 19 years old. It's a remarkable study in contrasts, with chamber music-style solo passages cheek by jowl with the full-tilt swagger of the composer's more popular works. Perky melodies reminiscent of the stuff Shostakovich probably heard during his work as a cinema pianist pop up in the first and second movements, standing in stark juxtaposition to the brooding and sporadically anguished gloom of the third. And the final Allegro molto wraps everything up in a classic flourish of brass and percussion, reflecting the young composer's brash confidence while still retaining the sense of sarcasm that is always just below the surface.
It's rather like a noisy and diverse party in which the guests have nothing much in common other than their relationships to the host.
There are a lot of great solo moments in this piece, such as Principal Oboe Jelena Dirks's plangent solo in the third movement, Mr. Halen's Korngold-esque moment in the finale, and Shannon Woods's tympani break in that same movement. There was excellent playing as well by Principal Flute Mark Sparks, Associate Principal Trumpet Thomas Drake, Principal Cello Daniel Lee, Principal Bassoon Andrew Cuneo, and Associate Principal Clarinet Diana Haskell. I'm told the reed players were a bit concerned about the effects of this weather on those little bits of cane that are the heart and soul of their instruments, but they sounded just fine to me.
The Shostakovich First is, to say the least, episodic, often coming to a complete halt while the composer shifts gears. Mr. Robertson's interpretation gave it a real sense of momentum nevertheless, building up considerable excitement in the more bombastic sections and bringing out all the details in the more transparently scored moments. Great work, and well deserving of the standing ovation it got.
There's one more performance of this program Saturday night, January 13th, at 8 pm. It will be broadcast on St. Louis Public Radio, but this is big, Technicolor music that should really be heard live.
Speaking of hearing it live, the SLSO will be taking this program on the road January 16-19, with performances at multiple venues in California at Palm Desert, Santa Barbara, UC-Davis, and Stanford. The season locally resumes the weekend of January 26-28.
Related Articles