Classical
Classical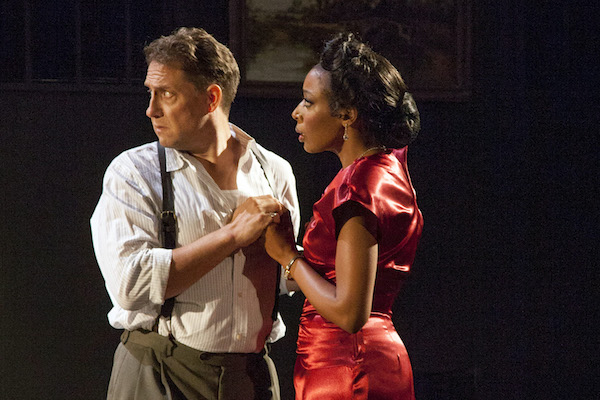 Passions blaze in Union Avenue's 'TOSCA'
By
The decade spanning the turn of the 20th century was a veritable decennium mirabilia, or "decade of wonders," for Puccini. In these years Puccini wrote three of the world's top five all-time favorite operas: La bohème (1896), Tosca (1900), and Madama Butterfly (1904)--all wonderful, but each quite distinct. La bohème was based on a collection of stories some fifty years old; Tosca drew from a play just thirteen years old; Butterfly came from a play only four years old and more representative of the new trend in realism. La bohème is nostalgic and romantic--Mimi and her friends are the original "poor people of Paris." Butterfly is filled with delicate oriental exoticism and gentle pathos. Tosca, on the other hand, is sheer nineteenth-century heroic melodrama. The libretto is based on a play by Vitorien Sardou, one of the most prolific and successful continental playwrights of his era, who (with Eugène Scribe) epitomized what was then called "the well-made play." These plays were heavily plot-driven and showed little interest in subtlety or depth of character. G. B. Shaw, who championed more modern drama, dismissed such "well-made" plays as "sardoodledom."
Well, Tosca is a classic melodrama, by which I mean a play driven by an evil villain. Many melodramas end with justice triumphant, but Tosca is a tragic melodrama, which means that everyone ends up dead--both the virtuous and the vile.
Puccini set his story in (precisely) 1800, when Italy was being tossed between Napoleon and the Austrian empire. It presents the conflicting forces of tyranny and the libertarian, egalitarian rebels who were inspired by the French Revolution. The Union Avenue production, under the skilled direction of John Truitt, transposes the story to sometime in the 1930's. This places the modern audience in a more accessible political framework: Fascism versus free democracy. It works well, though the Fascism is, one must admit, a bit heavy-handed.
Angelotti, an escaped political prisoner, seeks sanctuary in a church where his friend Cavaradossi is painting a portrait of Mary Magdalene. The painter offers his friend a hiding place on his villa. Floria Tosca, the painter's mistress, arrives. She's a famous opera singer and she succumbs to pangs of jealousy when she sees that the painting of the Magdalene looks not like her, but like some other woman. The ensuing plot involves the wicked chief of police, Baron Scarpia, and his effort to capture Angelotti. Now Scarpia is a villain as pitch-black as Iago and after various complications Scarpia has both Cavaradossi and Tosca in his hands. Will Tosca yield to Scarpia's lust for her in order to save Cavaradossi's life? Well, you just buy a ticket!
On stage the audience sees the stunningly beautiful interior of a church in Rome. When the orchestra strikes those first ominous bold, brassy modern-sounding chords we know we're in for something special.
Elena O'Connor sings the role of Tosca. She is a strikingly lovely, tall graceful woman, with an astonishingly powerful voice. In the memorable "Vissi d'arte" aria, where Tosca in anguish sings of her piety, she echoes the suffering of Job--and even Christ's words from the cross. Ms. O'Connor delivers this aria with a conquering power and clarity that makes it one of the most memorable moments of the evening.
Matthew Edwardsen sings a superb Cavaradossi, vocally strong and true. One most striking moment is when news comes that Napoleon (the good guy) has won a critical battle; Edwardsen pours out a cry of "VITTORIA! VITTORIA!" with an almost sky-shattering triumph. He is also a handsome, gifted actor and his passion is utterly convincing.
Neil Nelson makes Baron Scarpia the epitome of evil. Over and above his rich full baritone, he gives Scarpia intelligence and supreme confidence. His pledge of evil over the soft strains of the "Te Deum" is chilling in its irony.
Wayne Hu is particularly strong as Angelotti, the fleeing prisoner; Marc Schapman, Kurtis Shoemake and Randall McGee do fine work as police agents and a jailer. Mark Freiman gives a vocally strong Sacristan and fills him with wry comedy.
At the opening of Act 3, we hear a shepherd song that is so lovely I thought it must surely be coming from heaven--beautiful work by Katherine Menke.
Puccini's score for Tosca is more like a film score than are others of his works. It is more "through-written" and more programmatic--with musical phrases supporting very specific stage business. It's like the best film score ever--but for a highly melodramatic B-movie. The music is filled with Puccini's characteristic lyrical beauty and it wondrously supports the joys and fears of the characters, but there are only a few arias with deeply memorable melodies: Tosca's "Vissi d'arte," for example, and Cavaradossi's utterly gorgeous and melancholy "E lucevan le stelle"--so full of tender erotic memories.
Conductor Stephen Hargreaves draws consistently excellent work from his singers and orchestra.
But the story of Tosca is sheer, bald melodrama--a style long out of fashion. Scarpia doesn't actually tie Tosca to a railroad track but the effect is the same when he forces her to weigh her honor against her lover's life as Cavaradossi screams under torture off-stage. It is this melodrama which prevents us from bonding our hearts to these characters as we so readily do with Mimi and Butterfly.
The talented Kyra Bishop designed the remarkably fine set with excellent assistance from charge artist Cameron Tesson. The church has towering pillars and walls full of framed segments of a gorgeous sky-scape. And we find that this large set is wonderfully convertible: it changes into an excellent Palazzo Farnese, and then to a very convincing prison in the Castel Sant'Angelo. Costumes by Teresa Dogget exhibit her usual perfection in design and construction.
My one quarrel with the visuals of this production is with the new painting of Mary Magdalene. It is totally out of harmony with every other aspect of this Baroque church. Its style might be Fauvist or Expressionist, and the lady portrayed would certainly not inspire anyone to exclaim (as Tosca does), "She is too beautiful!"
Lighting designer Jeff Behm does beautiful work underscoring the high melodrama taking place. For example, as our hero is being tortured by the Fascists off-stage we are startled by the sudden dimming of the lights--like in all of those old death-row movies of the forties.
Union Avenue Opera's splendid production of Puccini's Tosca runs through August 6.
Related Articles