Classical
Classical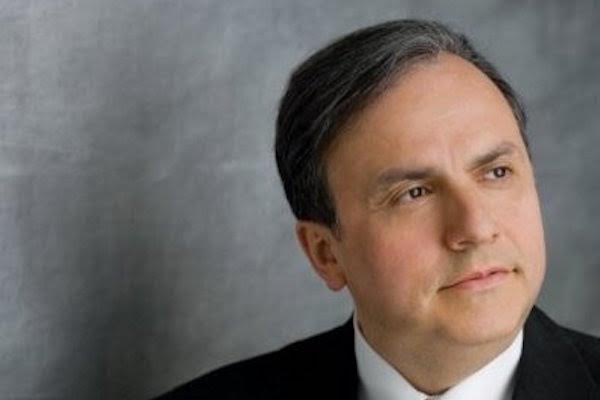 Symphony Preview: Beethoven's leading-edge technology
By Chuck Lavazzi
A vast chronological gulf separates three of the pieces on the St. Louis Symphony program for this Saturday and Sunday from the fourth. The works by Mozart, Haydn, and Beethoven all date from the final decade of the 18th century while the music that opens the second half of the program -- George Benjamin's Viola, Viola -- is from the final decade of the 20th. Yet they all, somehow, get lumped under the category of "classical music." SLSO program annotator René Spencer Saller rightly decries the term as an "annoying lower-case catch-all term for the sort of thing that symphony orchestras do" but goes on to offer us a sound reminder: "Benjamin might have been born 133 years after Beethoven's death, but he was still shaped by him. We all were. We all are." So maybe the "classical" label isn't entirely bogus.
The concerts open, appropriately, with an overture, specifically, the overture written for Die Zauberflöte -- better known in English as The Magic Flute -- which Mozart composed towards the end of his sadly brief life. (Mozart had only a few months to live when it premiered in September of 1791). Die Zauberflöte was intended not for an audience of nobles at court but rather for ordinary folks at a suburban theater closer in ambience to a tavern. A Singspiel with spoken dialog instead of recitatives and a text in German instead of the fashionable Italian, the work is the fantastic and somewhat incoherent tale of romance, magic and the triumph of love and reason over superstition.
Mozart was a Master Mason in the Zur neugekrönten Hoffnung lodge in Vienna (or "Newly Crowned Hope"), and both the overture and the opera are filled with Masonic musical references, including frequent uses of the number three in various combinations. One hears the use immediately in the three solemn chords that open the overture which quickly shifts gears to a sprightly and ingeniously constructed allegro. "Mozart treats us right away to fugue, transformation, delightful instrumental playfulness and an invigorating sense that something special is in store," writes Jeff Counts in program notes for the Utah Symphony. As Counts says, "This is the hopeful music of a man with plans for the future, not the last rites of someone who felt time slipping and assumed he had said enough. From this perspective, the Overture to The Magic Flute may well be the most rewarding six minutes in music." 
Up next is Beethoven's Piano Concerto No. 3 in C minor, Op. 37, a work which shows the composer in a role for which he is not, in my experience, always given enough credit: that of an "early adopter" of technology.
The technology in question is that of the piano. At the time Beethoven was writing the C minor concerto around 1800 -- although he had ideas for it a few years earlier -- major technological advances were being made in the design and construction of the instrument. It was becoming bigger and heavier, the sound was getting more robust and the range of notes wider. When Beethoven began composing in the 1780s, the piano (then called the fortepiano) was basically an amped-up harpsichord with strings that were struck instead of plucked and a range of around four or five octaves. By the time he died in 1827, the piano had evolved into something closely resembling the contemporary concert grand, with a range of nearly eight octaves and the ability to produce the kind of thunderous climaxes that (for example) Fanz Liszt loved so much.
A major player in this technological revolution was the English firm of John Broadwood and Sons. As part of their marketing campaign, they sent their new pianos to Haydn and Beethoven, with the result that Beethoven made use of the expanded range of notes for his new concerto. "As originally composed," writes Ms. Saller, "his Third Concerto requires the soloist to play a high G, which is believed to be the earliest instance of that particular note in the piano repertory. In 1804, after trying out a new expanded keyboard design, Beethoven extended the range to include the C that sits over the fifth ledger line above the treble staff. Even though going higher and higher meant that his concerto could be played only on new, state-of-the-art pianos, Beethoven wanted his concerto to reflect these technological advancements."
Beethoven's technological innovations will be played this weekend by Yefim Bronfman, a celebrated performer whose "volcanic pianism" so impressed me when he performed the Tchaikovsky Concerto No. 1 five years ago. He has the chops to deliver the big dramatic moments along with the musical sensitivity required for the largo second movement, with its improvisatory feel.
After these late 18th century masterpieces, the second half of the program opens with the local premiere of Viola, Viola. Written in 1997 by English composer George Benjamin (b. 1960), this intimate little piece for two violas is the product of a composer who, like Beethoven, continually revises and reworks his pieces until he's sure they're just right. Over the course of its ten minutes, the instruments converse, argue and finally combine so seamlessly that it can be hard to tell them apart. Keeping with the intimacy of the piece, the soloists will be the wife-and-husband team of Beth Guterman Chu (Principal Viola) and Jonathan Chu (Assistant Principal Viola).
The concerts end with Haydn's Symphony No. 102 in B-flat major. It was part of a dozen symphonies (the last ones he wrote, in fact) that Haydn composed for a pair of trips to London in the last decade of the 18th century. Those trips were highly successful, both in terms of critical reception and income. This piece -- No. 102 -- was written for the second sojourn, by which time Haydn had a pretty good idea of what his audiences wanted.
Those audiences were no longer what they were a few decades earlier. What we'd now call "classical concerts" had become public events, not private affairs for the nobility. Attendees were increasingly educated and middle-class. Trinity College's Tom Service writes in his analysis of the 102nd symphony of how carefully Hayden was able to build this new public: "He knew how much this middle-class audience of concert-goers...understood and appreciated his invention, his games of expectation and surprise, his effortless manipulation of genre, affect, and expressivity. And he knew he could push them and himself even further when he came back, when his celebrity and status were even greater than before. That means these symphonies are, in effect, palimpsests of listening, pieces composed with their effectiveness for a musically literate audience in mind."
And so we get a symphony that's filled with surprises, invention and the composer's trademark wit. "Haydn's 102nd, just like all of his London symphonies," writes Mr. Service, "consecrates a moment in symphonic history when this composer and his listeners were in excellent, mutually appreciative accord, a bond that's renewed every time this symphony is played or listened to today."
Listeners can renew that bond this weekend at Powell Hall on Saturday at 8 p.m. or Sunday at 3 p.m. The Saturday evening concert will be broadcast live on St. Louis Public Radio, but as always I recommend hearing it live.
Related Articles