Classical
Classical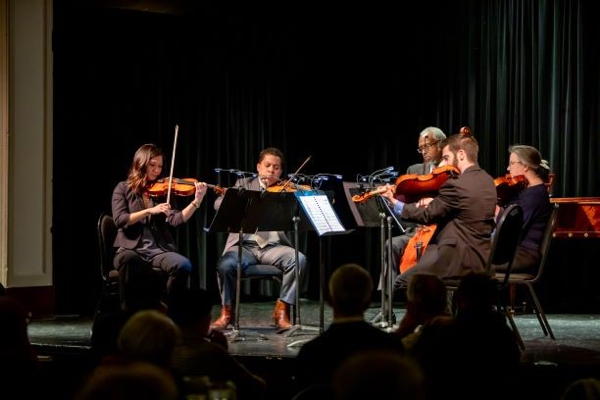 Chamber Music Society's 'Playing Favorites' lives up to its title
By Chuck Lavazzi
The Chamber Music Society of St. Louis is a glittering gem in the city's musical fabric. Since 2008 the Society has been offering rich seasons of chamber music as well as master classes in strings, winds, brass and piano. Now the Society is comfortably at home in the 560 Music Center in University City.
On Monday, November 28th, they presented a quite wonderful evening in the beautiful Lee Concert Hall at the Music Center. The program was called "Playing Favorites", and it consisted of:
Mozart's Flute Quartet #1 in D
Hoffstetter's String Quartet in F, and
Dvořák's Piano Quintet #2 in A
These pieces contain very familiar passages—they are, as advertised, "Favorites". Yet a couple of major surprises are revealed.
Mozart wrote his flute quartet while visiting Mannheim (with his mother) in the winter of 1777. At that time the flute had received a boost in status from King George III and Frederick the Great—both amateur performers on that instrument. It was still not Mozart's favorite instrument, but he grudgingly accepted a commission from another amateur flautist, Dr. Ferdinand de Jean, a medical doctor who had come back rich from long service in the Dutch East India Company. De Jean asked for "three easy flute quartets".
But young Mozart was distracted: he was vigorously wooing a girl. (She turned him down, but he later married her sister.) This leads us to Surprise #1: It wasn't really a flute quartet! Mozart took the lazy way of fulfilling his commission: he adapted his previously written oboe quartet. The good doctor found out, and paid Mozart only half of the promised fee.
But the quartet is nevertheless glorious! In its figures and dynamics it shows some influence from the Mannheim Orchestra and its school of composition. That style was to pervade serious music of the time—and it is still felt. (Where do you think the Mannheim Steamroller got its name?)
Flautist Jennifer Nitchman leads the group, with Jessie Chen on violin, Susan Gordon on viola, and Yin Xiong on cello. In the first movement (Allegro) Ms. Nitchman shows an astonishing virtuosity. If Dr. de Jean wanted an "easy" flute quartet, this movement confounds his expectations; it appears vastly difficult. But Susan Gordon handles it with panache and precision. It's exciting, free, happy and bright, with showers of sparkling notes and long pure tones, all supported with a lovely warmth from the strings.
The second movement (Adagio) is a serenade. It has been called "the most beautiful accompanied flute solo ever written". It's serene and easy. It's heartbreaking. The flute sings lyrical melodies while the strings lift gently with the most delicate pizzicati.
The third movement (Rondo) is brisk and fresh and filled with lovely swirls.
The second selection of the evening leads us to Surprise #2. Here, in lieu of Ms. Nitchman and her flute we add Angie Smart as first violin.
This quartet, which had long been known as the work of Josef Haydn, was proved, in 1965, to have been written by Roman Hoffstetter, a Benedictine monk. Hoffstetter idolized Haydn and avowedly tried to imitate the master as closely as possible. The first movement (Presto) is stately. Here, especially in the playing of Ms. Smart, I was aware of lovely aspects of timbre; just as good writing paper has a "tooth", there is a "tooth" in the glide of bow across string. That is one of the wonderful differences between recorded music and live performance in a good hall. One breathes the very air that vibrates from that string. One can almost smell the rosin dust from that contact.
The second movement (Andante Cantabile) is still widely called "Haydn's serenade". It became a favorite of mine when it was used in the 1955 caper-gone-wrong comedy The Ladykillers. Alec Guinness, Peter Sellars, and Herbert Lom were part of a bank-robbing gang who, disguised as a string quartet, rented rooms from a sweet little old lady. While they plotted, their gramophone kept spinning an old shellac disc with this utterly endearing melody. The sweet song wafts above a gentle, slow pizzicato from the lower strings.
The third movement (Minuet-Trio) is bright and forceful, then shows a gentle, almost mechanical tick-tock rhythm. The final movement (Scherzando) brings what I can only call a "civilizing influence". It is executed with remarkable precision.
Dvořák's Piano Quintet was written in1887—and we are definitely not in the Classical world anymore. The Romantic movement permeates the work, as do the nationalistic urges of (especially) Slavic composers. Here pianist Brian Woods joins the group, and Chris Tantillo takes the viola role.
There is great dramatic variety in mood. Each instrument is given a number of "cameo" moments. The first movement (Allegro ma non tropo) starts with piano and flowing cello—rich and sad. Then it's suddenly bright and forceful with romantic sweeps. The piano pursues a lightening-fast chase. There's drama in a viola solo, which is echoed bye the first violin—soaring, floating, singing. There's anger that melts to a soft murmur.
Throughout this piece there is the sense that the five instrumental voices constitute one single living organism. Again and again a musical idea begins with one voice, then seamlessly passes to another, then another and another. Unlike the Mozart and Hoffstetter works, where the soloist is intentionally isolated from the accompanying voices, here the organism speaks as a whole. Yes, Mr. Woods presents astonishing passages—long, streaking showers of notes. But then the piano retires into the ensemble. At one point the viola, rowing through a most emotional passage, allows others to complete a phrase—with the piano adding only a few bright drops of glistening water from the oars at the end of a stroke.
The third movement, a "dumka" or folkloric Slavic elegy, was especially moving. And in the final allegro movement, after a virtuoso showing by Mr. Woods, the strings join in like the voices of angels.
Chamber music in general has been called "the music of friends" and Goethe described the string quartet as "four rational people conversing." These descriptions are so fitting to the conversational nature of this beautiful ensemble.
The Chamber Music Society of St. Louis continues their wonderful program on December 19 with an all Beethoven program, "Write On, Ludwig".
Related Articles