Classical
Classical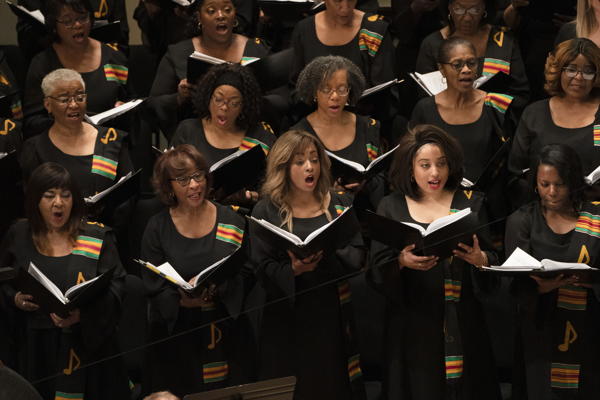 Symphony Review: It's a 'Gospel (and a lot of other stuff) Christmas' at Powell Hall
By Chuck Lavazzi
The St. Louis Symphony Orchestra and its In Unison Chorus filled the stage at Powell Hall on Thursday, December 15th, to present a seasonal offering, "A Gospel Christmas".  With more than eighty singers and perhaps forty instrumentalists it was a stage bursting with talent.  Maestro Kevin McBeth conducts this mighty musical multitude.
They give us a feast of Christmas fare.
The In Unison Chorus was founded in 1994 by Dr. Robert Ray as part of the Symphony's outreach initiative.  It drew together singers from a number of church choirs.  The goal was to perform and preserve Black American musical expression.  Planned as a one-time event, the Chorus was so successful and popular that it has been continued, year after year.  Now it's a pillar of SLSO outreach, and draws singers from college and university choirs and individual volunteers.
The Chorus performed beautifully, and its leaders deserve our thanks for helping to fulfill the basic (and neglected) human need to sing.  
The show started with a gorgeous, powerful, rocking version of Handel's "Hallelujah Chorus" featuring bass Reginald Davis.  This is indeed a very Joyful Noise!  
The orchestra consisted of the usual strings, woodwinds, brass, harp, and percussion instruments.  But these musicians were musically (and literally) upstaged by a drum-set dead-center, just above the conductor.  This drummer was flanked by two electric guitars—bass and rhythm.  There were heavy plexiglass panels separating these three from the other musicians.  Just who was being protected from whom was not immediately clear.
The full ensemble gave us an "Overture of Joy"—a medley of familiar carols, including "Hark, the Herald Angels Sing" (the Mendelssohn melody).  The arrangement was full of sweeping, surging strings, which gave it a very Hollywoody 1950's feeling.  
Throughout the evening it was a joy not only to hear the chorus, but to see the great enthusiasm and happiness with which the members sing.
The first taste we got of Gospel was in the sweet old favorite "Mary Had a Baby".  Here Tai Oney (a chorus member) took the spotlight.  He began in a warm tenor, then rose into counter-tenor to pour out delightful falsetto Gospel flourishes.  A lovely job.
Again, in "Beautiful City" and "Silent Night" we had lovely familiar songs in rather kitschy arrangements that, however well-performed, seemed to put us right into a village of glowing Thomas Kinkade cottages.
The big star of the evening was (drum-roll please) Sheléa!  This is a powerful singer who has topped the R&B charts for fifteen years or so.  She gained additional fame when, in 2010, she appeared in the film "The Clark Sisters: First Ladies of Gospel".   After that film, in a TV interview, Sheléa came across as a beautiful, intelligent, graceful, gracious, even demure young woman.   Here at Powell Hall she seemed pure Las Vegas.
Sheléa made an astonishing entrance in a vivid, glittering cherry-red strapless evening gown.  This was not a dress to wear to a Southern Baptist Gospel church  but Sheléa has a voice capable of overcoming even that distraction.   
She gave us a lovely "Ave Maria" and followed that with "The Christmas Song" and one of her own composing, "Don't Wanna Wait 'Til Christmas".
After intermission we heard sleigh-bells, as the flutes created swirling snow in "The Carol of the Bells".  Then, suddenly, we were into quite serious music:  with only the orchestral strings and the In Unison Men's Glee club we heard Saint-Saëns' "Praise Ye the Lord of Hosts".  It was solemn and stately;  it was forthright and manly.  It was musically pure.  It was gorgeous.
And now, at last, some real Gospel!  Michelle Byrd (soprano) and Alexander Johnson (bass) did beautiful work in the beloved "What Child Is This?"  It's a sweet and joyous arrangement, with complex interplay of voices.
Soprano De-Rance Blaylock sang a very jazzy "God Rest Ye Merry Gentlemen".  Filled with energy and growing more and more Gospelish it was the pinnacle of the evening.  Ms. Blaylock is the real McCoy—a stellar Gospel singer.   Amid shouts and responses she soared against a wailing choral background.  Quite wonderful!
A calm moment was welcome after all this.  Alto Kristin Jacobs sang "Silver and Gold", a smooth, warm ballad at an easy tempo.  She has a rich, fluid, graceful Gospel sound.  She sang a story against the choral background, then rose in passion into a Gospel shout, then traced an obligato against the fabric of those massed voices.
The orchestra gave us a restful "Have Yourself a Merry Little Christmas".
Then Sheléa returned to sing "Christmas Time is Here" (the Charlie Brown song), and "The First Noel".  The evening finished with Sheléa leading a rousing "Joy To The World".  It got very Gospely, with shout and response.  It was her strongest number.  It was glorious.
This "Gospel Christmas" seemed confused about its mission.  Gospel is a tradition with deep Christian roots.  It is, at once, both solemn and joyous.  It can be filled with frenzied energy—or the most broken of hearts.  The In Unison Chorus clearly has in its ranks some wonderful Gospel talent.  Sheléa has serious Gospel creds.  And the St. Louis Symphony—well, it can play anything.  So why include in this "Gospel" evening all of those purely commercial things—Mel Tormé's "Christmas Song", the Charlie Brown song, "Have Yourself a Merry Little Christmas"?  These we can hear anywhere—and have heard too often.
And why the drum-set dominating so much of the evening with that unrelenting "BAM" on every off-beat, that puts a "Pop Music" stamp on the forehead of each number?
But the audience loved the evening.  And they loved Sheléa.
Next at Powell Hall: It's a pair of seasonal film events. "Home Alone in Concert" on December 22 and 23 is sold out at this time, but tickets are still available for "Elf in Concert" on Thursday and Friday, December 29 and 30, at 7:30 pm. The festivities conclude with another annual event, the "New Year's Eve Celebration." Stephanie Childress conducts the orchestra and soloists Mikaela Bennett (soprano) and Jeff Kread (tenor) in performances at 2 and 7:30 pm on Saturday, December 31st.
Related Articles