Classical
Classical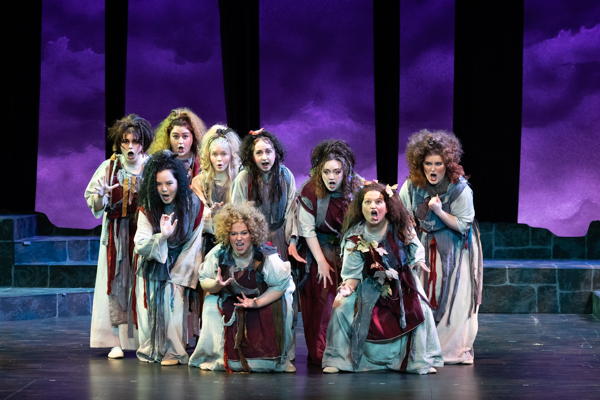 Opera Preview: Something wicked this way comes
By Chuck Lavazzi
Friday and Sunday, January 20 and 22, Winter Opera St. Louis presents Verdi's first Shakespearean opera "Macbeth." Premiered in 1847, it was revised in 1865 for a Paris production. This is the version usually performed today.
The banquet scene
Photo courtesy of Winter Opera
The libretto by Francesco Maria Piave and Andrea Maffei follows the bare bones of Shakespeare's original, although the story has been considerably streamlined and many secondary characters have been eliminated. The big moments are still there, though: the scenes with the witches, Lady Macbeth's "letter" and sleepwalking scenes, Macbeth's "dagger" monologue and, of course, the banquet with Banquo's ghost. And in Verdi's hands, they form the basis for very powerful theatrical moments.
Earlier today, I had a brief email conversation with stage director John Stephens, who directed Winter Opera's "Gondoliers" last year. This is how it went.  CL = me, JS = John Stephens
CL: As Verdi's first Shakespearean opera, Macbeth has somewhat suffered by comparison to later masterpieces like Otello and Falstaff, at least in the eyes of some critics (although it has proved popular with audiences). What do you find appealing about the opera as a director?
JS: I was initially attracted to Macbeth because it is a setting of the Shakespeare masterpiece by Verdi, the master of Italian opera. I love the complexity of the characters, and Verdi's use of the orchestra to enhance those complexities.
CL: Regarding Verdi's score: it makes some interesting musical and theatrical demands, especially for the witches. What do you see as the major challenges from the dramatic point of view?
Macbeth, Banquo, and the witches
Photo courtesy of Winter Opera
JS: Verdi's choice to turn the three witches into three small choruses gives the opportunity for some fun staging moments. Likewise, the full chorus witnessing Macbeth's mental breakdown provides some of the most powerful musical sections I have ever heard.
CL: It has been seven years since "Macbeth" has been produced here in St. Louis. For audiences who are making their first acquaintance with the work, what do you think they need to know about the opera and about your production?
JS: I wanted to keep the storyline moving along as smoothly as I could, and therefore fashioned the production with relatively simple settings, which move from location to location on the playing area.
Our production is set circa 1100 with magnificent period costumes, sung in Italian with an excellent translation. The leadings roles are performed by a very talented group of singing actors, several of whom have sung with Winter Opera previously.
The Essentials: Winter Opera presents Verdi's "Macbeth" Friday at 7:30 pm and Sunday at 2 pm, January 20 and 22, at the Kirkwood Performing Arts Center in Kirkwood, MO. Performances are sung in Italian with English supertitles. For more information: winteroperastl.org
Related Articles