Classical
Classical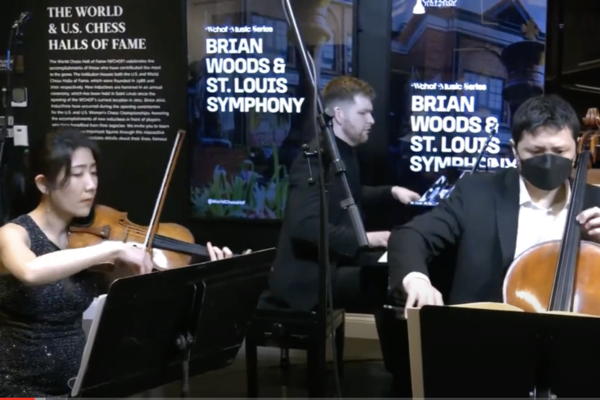 Classical Review: Old-school chamber music at the World Chess Hall of Fame
By George Yeh
During the first stages of the COVID-19 pandemic in the St. Louis community, various pop-up concerts, many of them outdoors, emerged to provide work for musicians who had lost all their engagements with the shuttering of music venues. One indoor contributor to the regional pandemic concert scene was the World Chess Hall of Fame (WCHoF), which began a series of livestreamed video concerts from its Central West End building, with musicians socially distanced and without audiences. Now in the COVID-19 endemic era, audiences have returned to WCHoF and elsewhere for in-person concerts, and WCHoF has continued to livestream concerts from its third floor, with seating for in-person audiences.
WCHoF's latest concert was this past Thursday (February 16 2023), a classical chamber music concert just shy of an hour in duration, with about 70% of the 69 or so seats taken. Brian Woods, one of the two Brians in charge of WCHoF music programming (Owens being the other), went for traditional old-school programming of chamber music by Wolfgang Amadeus Mozart and Antonín Dvořák. Joining Woods were 3 musicians from the St. Louis Symphony, violinist Xiaoxiao Qiang, violist Chris Tantillo, and cellist James Czyzewski. In the pre-concert discussion among the four musicians and moderator Julie Schuster from RAF-STL, Woods mentioned a sort of old home week vibe to working again with Czyzewski and Tantillo, as he had worked with them early on after he moved back to St. Louis. By contrast, this was Qiang's first time "with the band", so to speak. Woods also provided brief, genial introductions to each work during the concert.
The Mozart work was his 1788 Piano Trio No. 5 in C major, K. 548, for violin, cello and piano, in the traditional three-movement format of fast-slow-fast. In Mozart's own time, his keyboard instrument would have been a fortepiano, which has less carrying power than a modern grand piano, which performances like this one now generally use. Woods, however, minimized use of the piano pedals and employed a generally light touch, to stay well balanced with Qiang and Czyzweski. The overall ethos was of refinement (an umbrella from the audience hitting the floor in the first movement not withstanding).
By contrast, the Dvořák work, his Piano Quartet No. 2 in E flat major from 1889, kicks it up a notch in multiple senses, with four movements and four instruments, the latter per the addition of a viola, Dvořák's own instrument. This work takes us well into music's Romantic era, and the volume is pumped up appropriately. This made for a good contrast with the more delicate feel of the Mozart. The slow movement of the Dvořák gives the cellist a chance to shine, much more than in the Mozart, and Czyzewski certainly did so here. Likewise, the viola features prominently in the finale, fitting for Dvořák to show off his own skills, and for Tantillo to do likewise. In chamber works like these, the lead string voice tends to be the violinist, which Qiang dispatched very well. But given the strong caliber of St. Louis Symphony Orchestra musicians, their high level can pretty much be taken for granted. Woods, a very fine pianist, stayed well balanced with his colleagues, taking charge or supporting the other players where the music calls for it.
The WCHoF third floor acoustic is on the clear, dry and slightly hard side, which did allow each instrumental strand to register, to be sure. This is a space that, of course, was never designed with chamber music in mind. If you did not attend this concert, you have the chance to judge matters for yourself, as the archived livestream video of this concert is on YouTube for an indefinite period. And if you did attend, then you can compare your later reaction to the video to hearing the concert earlier in "the room where it happened".
Information on upcoming concerts at the WCHoF is available at their web site.
Related Articles