Classical
Classical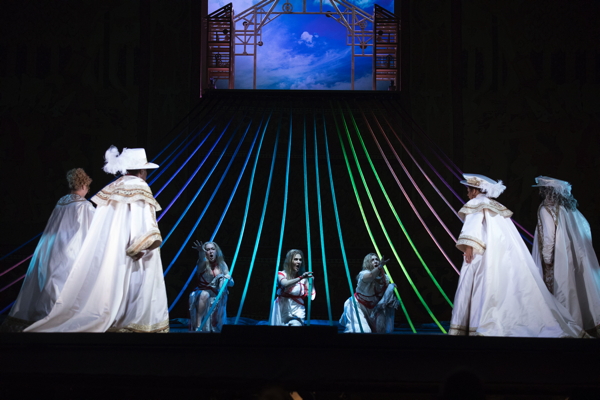 In Chicago, all the power of 'Das Rheingold' is in the music
By
It's always good to see a well-sung and expertly played production of Wagner's Ring cycle and the Lyric Opera of Chicago's mounting of Das Rheingold, which opens a four-season run through the entire thing, is certainly that. In addition, the libretto's focus on the cost of abusing power and personal trust feels very relevant in our current political environment.
A high-powered cast is led by bass-baritone Eric Owens, whose solid and voice and dramatic conviction give real gravitas to the role of Wotan, who wakes from his dream of power to learn that the giants Fasolt and Fafner have finished the construction of Valhalla. Bass-baritone Samuel Youn is also compelling as the dwarf Alberich. He's a complex character -- an unscrupulous bully but also wronged by the gods and less deluded than they about the cost of the Ring's power -- and Mr. Youn gives him real nuance.
Tenor Štefan Margita is a wonderfully wily Loge, making the most of the character's dry, self-aware humor. Tanja Ariane Baumgartner gives impressive voice to Fricka's misgivings over her husband's infidelity and dubious bargains. And tenor Rodell Rosel makes a strong impression as the querulous dwarf Mime.
Soprano Laura Wilde as Freia, tenor Jesse Donner as Froh, and baritone Zachary Nelson as Donner round out the cast of gods very effectively. Soprano Diana Newman, mezzo Annie Rosen, and mezzo Lindsay Ammann perfectly captured the allure and cruelty of the Rheinmaidens. And mezzo Okka von der Damerau was appropriately ominous as Erda.
That said, I wish director David Pountney and his design team had taken the whole project a bit more seriously. They have elected to make all the mechanics visible, bunraku style, so that (for example) the Rheinmaidens in the first scene float around on massive metal platforms manipulated by visible stagehands.
It works well there and in the Nibelheim sequence, which looks fittingly hellish; less so for the giants Fasolt and Fafner, who are nothing but huge platforms with plastic heads and inflatable arms that flop around absurdly. Fafner's murder of Fasolt ought to be chilling, as it's the first evidence of the ring's curse. Here, as the stagehands toss around inflated arms and boots, it just looks goofy. So does having Wotan tear Alberich's arm off to get the ring. Giving the audience a cheap laugh at that point makes no dramatic sense.
Other moments of imposed comedy feel equally out of place. But the concluding entry of the gods into Valhalla retains all of its musical and visual power, with the orchestra's brass ringing out as the gods literally ascend towards their gleaming (if skeletal) home. I'm willing to forgive a lot for that. Besides, the orchestra under the sure hand of Sir Andrew Davis does very well by Wagner's score throughout the evening, and that's a huge plus.
In an interview at the Lyric Opera web site, Mr. Pountney says that his staging of the Ring operas will be "united by a single theatrical device. We keep trying to go back to an empty stage to show, in the end, that this is all just a stage, just a theater. However splendid the effects are, when we roll them up and whisk them away, we go back to an empty stage." I'm not convinced that kind of Brechtian distancing serves Wagner all that well. We'll see how it works for Die Walküre next year.
Performances continue through October 22 at Lyric Opera's home in the magnificent Civic Opera House in the Chicago Loop. Information on Das Rheingold and the rest of the current season is available at their web site.
Related Articles