Classical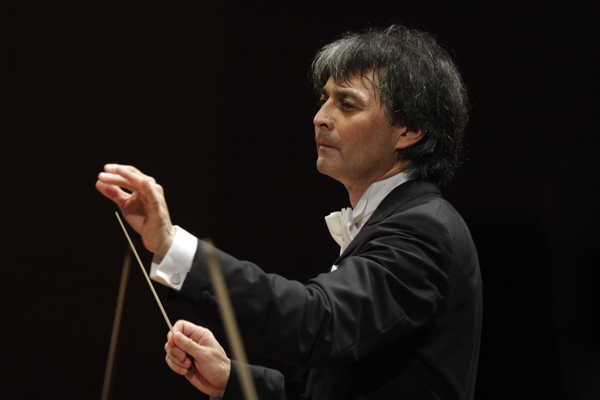 Everything old is new again with conductor Jun Märkl and the St. Louis Symphony
As the St. Louis Symphony concerts this past weekend demonstrated, the familiar can still feel fresh and new, especially in the hands of inventive and skilled performers like conductor Jun Märkl and pianist Jeremy Denk.
The concerts of October 28 and 29 opened with a work which, while probably familiar to many classical music lovers, was nevertheless new to the Powell Hall stage: Liszt's symphonic poem Prometheus. Originally written as the overture for Johann Gottfried Herder's play Prometheus Unbound in 1850 and then reworked five years later as a concise orchestral essay, the piece was inspired by the Greek myth of the god who gave humanity the secret of fire and was horribly punished for it.
For Liszt, it was a story of suffering and glorious redemption -- a theme that runs thorough many of Liszt's baker's dozen of symphonic poems (most famously in Les Preludes from 1854). In Prometheus the struggle plays out in an elaborate fugue, culminating in a short but triumphant coda. It's all a bit episodic, but Mr. Märkl gave it a sense of discipline that was very persuasive. The orchestra responded beautifully. The brass section sounded especially polished when we attended on Saturday night.
Next up was Mozart's Piano Concerto No. 23, the tenth of a set of twelve remarkable concerti the composer premiered in Vienna between 1784 and 1786. It's a work filled with many surprising touches, including a first movement cadenza that anticipates the harmonic developments of the Romantic era and an elegiac adagio second movement that hints at tragic depths without actually plumbing them.
In a 2013 interview for San Francisco Classical Voice, soloist Jeremy Denk observed that "a very important part of playing a Mozart concerto is the wonder of each moment." His impressively nuanced and sensitive performance certainly made the most of the work's many innovative moments while never losing sight of the concerto's structure overall. And like last week's soloist, Orli Shaham, Mr. Denk was always fully engaged with both the both the music and with Mr. Märkl's equally thoughtful interpretation.
His encore, the andante second movement of Mozart's Piano Sonata No. 16, showed that same intense concentration. It's not a technically challenging piece -- Mozart himself described the sonata as being "for beginners" -- but Mr. Denk found real depth in it nevertheless.
The concert concluded with Arnold Schoenberg's remarkable 1937 orchestration of Brahms's 1961 Piano Quartet No. 1 in G minor. Dark, dramatic and arresting in its original form, this music becomes in Schoenberg's radical re-imagining a stunning symphonic essay that sounds both old and new simultaneously.
Schoenberg uses a large orchestra with instruments that Brahms would never have employed, such as the bass clarinet and a sizeable percussion battery including a xylophone, resulting in a somewhat schizophrenic feel at times. The string quartet peeks out of this great mass of sound occasionally -- mostly notably in the final movement subtitled "Rondo alla zingarese" or "Gypsy Rondo," which also included a nice solo by concertmaster David Halen -- but for the most part this is music of Wagnerian intensity. Conducting without a score, Mr. Märkl brought out all of this work's wild variety, including the drama of the first movement, the agitation of the second, and the good-humored excess of the finale.
In an interview in the program book, SLSO bassist Sarah Hogan Kaiser says that Mr. Märkl is a favorite conductor with the musicians because "he has a way of expressing his love of music through his conducting in a very sincere and humble way. Everything he does makes the music better, it's not about anything except the music." I certainly heard that dedication to score Saturday night and the symphony musicians responded with virtuoso performances all the way around.
Next at Powell Hall: Han-Na Chang conducts the St. Louis Symphony Orchestra with violin soloist Jan Mráček in Glinka's overture to Ruslan and Lyudmila, Prokofiev's Violin Concerto No. 1, and Tchaikovsky's Fifth Symphony. Performances are Friday and Saturday at 8 p.m., November 4 and 5.
Related Articles