Classical
Classical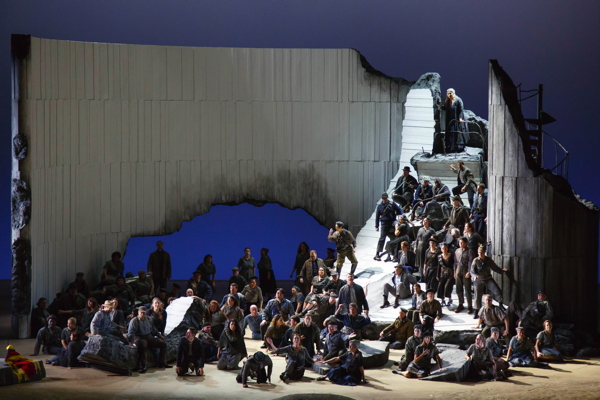 At Lyric Opera of Chicago, Berlioz's masterpiece 'Les Troyens' sounds great but looks bland
By
Through December 3, Lyric Opera of Chicago is presenting its first-ever production of Hector Berlioz's mammoth 1858 drama Les Troyens. For many Chicago opera lovers, that makes it a once-in-a-lifetime experience. Which puts them one up on Berlioz.
As I wrote in my review of the 2014 San Francisco production of Les Troyens, by the time Berlioz died in 1869, only the last three of his five acts had been performed, and then only in a drastically truncated and badly produced version by the Théâtre Lyrique, the Paris Opéra having dithered over it too long. The first full production didn't take place until 1890, and even then it languished for most of the nineteenth and early-twentieth centuries, taking on the reputation of (in the words of Berlioz biographer Ian Kemp) "a monster so unwieldy that it had to be split in two and trimmed to size."
That reputation wasn't entirely undeserved. Running around four hours and 45 minutes in Lyric's slightly trimmed version (a full-length production can run five hours and some change) and requiring a huge cast, massive orchestra, and (at least in the composer's original conception) elaborate stage machinery, Les Troyens requires both pockets and a talent pool of considerable depth.
The Lyric production certainly has that deep talent pool--and a good thing, since this modern dress version comes up short on visual impact. Troy is represented by a massive, semicircular, partly collapsed wall, mounted on a turntable and taking up the entire stage. Carthage is the same wall rebuilt and painted a bland white on the inside. The Trojan horse is literally a shadow of its legendary self, being reduced to a simple gobo that projects the horse's shadow on the ruined wall of Troy. The result is something less than the spectacle that Berlioz had in mind and that I had expected.
The story of Les Troyens begins on the eve of the fall of Troy, as the Greek army has apparently fled the scene, leaving behind only the fabled horse, which despite the dire warnings of Cassandra, the Trojans take into the city. The opera goes on to chronicle the fall of Troy, the suicide of the Trojan women, and Aeneas' tragic affair with the Carthaginian queen Dido. It ends with Dido's suicide and a chorus of vengeance by the Carthaginian people.
Through it all Berlioz (who wrote his own libretto, after Virgil's Aeneid) cannily mixes intimate solos and duets, massive choral scenes, elaborate ballet sequences, and vivid instrumental writing (he was, after all, a master orchestrator) in ways designed to keep the viewer engaged. Even without the visuals, this Troyens gives us the great sweep of historical events and the implacable hand of fate but never lets us lose sight of the intimate human relationships that are at the core of the story.
Heading the cast is mezzo Susan Graham as Dido, a part with which she has become strongly associated. When I saw her in the San Francisco production of Les Troyens two years ago, I wrote that her voice had a full, silky quality that, combined with her tasteful acting, made her character's heartbreak all too real. I see no reason to change that appraisal now.
Matching her in every respect was tenor Brandon Jovanovich as Aeneas. Although coping with a cold when we saw him, he displayed no signs of vocal strain. His long love duet with Dido in Act IV was flawless and his acting was never less than credible.
Soprano Christine Goerke was a deeply troubled Cassandra, almost physically incapacitated by the strength of her prophetic visions. The role is written for a mezzo, but Ms. Goerke was vocally powerful even if her lowest notes. Moreover, the migraine-level intensity of her prophecies made it easy to understand why they're deemed unbelievable, even by her doomed lover Chorebus. That role was sung with great authority by baritone Lucas Meachem.
Mezzo Okka von der Damerau brings a self-aware amusement to the role of Dido's sister Anna that made the character very engaging. Bass-baritone Christian Van Horn, who was so imposing as Dido's minister Narbal in San Francisco, reprises the role here with equal effect.
There is a host of other fine performances in smaller roles, including tenors Mingjeie Lei and Jonathan Johnson in the cameo roles of Iopas and Hylas, respectively. Each character has one lyrical spotlight aria, and both singers did very well by them. Bass-baritone Bradley Smoak, a familiar face at Opera Theatre of St. Louis, was properly fearsome as Hector's Ghost.
The chorus has a lot to do in Les Troyens, and Chorus Master Michael Black's singers deserve applause for singing with great clarity and force. Sir Andrew Davis leads a huge orchestra (including a sizeable complement of offstage players) in an authoritative interpretation of Berlioz's wonderfully varied and bracing score.
Ballet plays an important role in Les Troyens as well. The French always loved seeing dances in their operas, but Berlioz uses dance for narrative purposes as well as for sheer spectacle. The "Royal Hunt and Storm" sequence of Act IV is probably the most famous example, with Dido and Aeneas becoming separated from a hunting party during a storm and consummating their lover affair in a sheltered grotto. Unfortunately, director Tim Albery has tossed out everything leading up to that consummation, instead choosing to show (in his words) "multiple Didos and Aeneases living out her dream of a passionate affair with him."
Practically speaking, that involved choreographer Helen Pickett's lithe dancers dashing about in what came close to a parody of an orgy with an impressively three-dimensional forest projected on the wall as scenery. It doesn't match up with the story vividly depicted in Berlioz's music very well.
There's a lot to admire in the Lyric's Troyens, but in the final analysis the decision to make it drably contemporary robbed it, at least for me, of some of the epic sweep of the narrative. For information on upcoming performances, visit the Lyric Opera web site.
Related Articles