Classical
Classical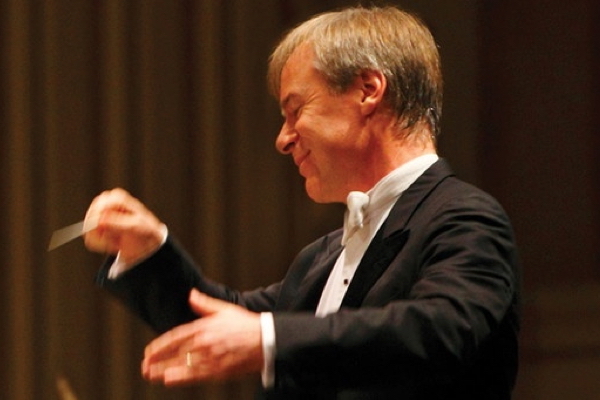 St. Louis Symphony explores the world beyond
By Gary Scott
A grief counselor once noted that even though everyone will sooner or later make an exit from this planet, nevertheless people avoid contemplating their own demise. Perhaps periodically we need to reflect upon the transitory nature of Life on our planet. Last weekend, November 18-20, the St. Louis Symphony brought that realization to life with a program of three works designed to make us contemplate the hereafter and that which lies beyond our knowledge at this point.  
Opening with one of his most sublime works, The Unanswered Question, the American composer Charles Ives reminded us that there yet remain questions that why beyond our ken. Consisting of a brief dialogue between a solo trumpet and strings and woodwinds, this work echoes the frustrations that many of us feel as we ponder our role in the universe. Principal trumpet Karin Bliznik performed eloquently, as we have already come to expect during her brief tenure, as the musical protagonist searching for answers to the riddle of life.  
Conductor David Robertson opted to proceed without interruption to the second work on the program, John Adams' On the Transmigration of Souls, written in commemoration of the attacks on 9/11. This was a good choice for two reasons. One, the events of 9/11 triggered many unanswered questions for those of us left behind, and secondly, Adams references Ives' work in the opening section of the piece with a brief trumpet solo. Quoting from other composers is an obsession with John Adams, much like his predilection for referencing family members in his titles. It is difficult to understand why a composer of Adams' stature and talents would trivialize his own work with such a practice, considering that Adams has become the predominant force in contemporary music, sometimes to the exclusion of other talented voices, and his works tend to be obligatory in the repertoire of every American orchestra today. In any case, though, this is a work of great originality and musical craftsmanship. 
The score of On the Transmigration of Souls calls for both adult and children's choruses, as well as spoken quotations from actual families and friends of victims, woven together with great intricacy and subtlety. Throughout the program, Robertson turned in a particularly fine job of navigating the orchestra and voices through both whispered passages as well as through more strident and bold sections, creating a tapestry of remarkable dynamic contrasts. The SLSO Chorus, under the direction of Amy Kaiser, seemed particularly well suited for this work. Their blend with the orchestra was so organic that at times it was difficult to separate instrumental voices from human ones. The St. Louis Children's Choirs, prepared under the supervision of artistic director Barbara Berner, likewise negotiated their part with the skill, intonation and careful phrasing that we would normally only expect of older performers.
The program concluded with Mozart's Requiem in D Minor, completed upon the composer's death by his student Franz Xaver Sussmayr. Again, special kudos must go to Kaiser and Robertson for the organic unity of voices and orchestra in this monumental work that provided the capstone to Mozart's short-lived yet effusive output. Robertson was able to create an effect that was both spontaneous yet reverential. Soloists Caitlin Lynch, soprano; Michelle DeYoung, mezzo; Nicholas Phan, tenor; and Kevin Thompson, bass, performed as a well-matched quartet. Each produced a warm, vibrant sound. Occasionally, it would have been nice to hear a bit more projection from each of them, but that is part of the challenge of performing against a full orchestra in a large hall. Now and then it also seemed that chorus and soloists were not using uniform Latin diction, but that is surely a minor point and subject to debate. 
This program was themed "Sorrow, Solace and Mystery." Certainly ruminating upon the afterlife is bound to churn up unresolved sorrows and bring to mind the thirst that we each carry to know what really does lie beyond the mystery of life. Do we find solace in these works? That is something each listener must determine personally. Do we cope with death and loss by facing it squarely, or by acknowledging that life here is indeed transitory? Perhaps the ultimate value of musical works such as these is simply that they make us think.
Related Articles